On Closing the US-Mexican Border
Trump's threat will not make things better (and the notion of actually closing the border is insane).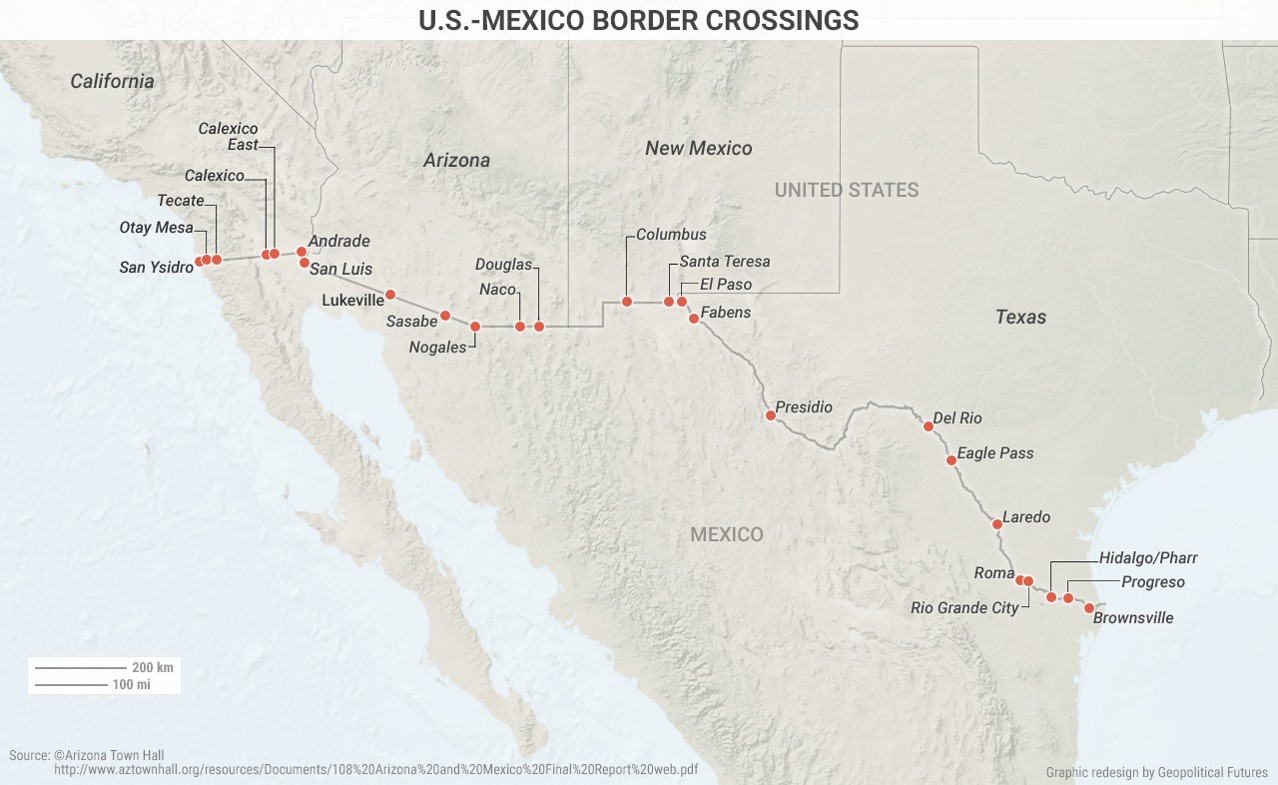 In addition to stating he would stop aid to El Salvador, Honduras, and Guatemala, Trump also threatened on Friday to close the border with Mexico.  Via WaPo:  Trump threatens to close the southern border next week, saying he's 'not playing games' 
This morning, Kellyanne Conway reiterated this position.  Via Politico:  Trump not bluffing about closing U.S.-Mexico border, Conway says
White House counselor Kellyanne Conway said Sunday that President Donald Trump is serious about possibly closing the U.S.-Mexico border this week.

"It certainly isn't a bluff. You can take the president seriously," she said on "Fox News Sunday," adding, Congress "can fix this."

"Congress can fix the problem of immigration that they've failed to fix. This president is looking at the metrics," she said, adding the U.S. has "never seen a surge" in immigration "like this."

On Friday, Trump said "there's a very good likelihood" he would close the southern border this week.

"Mexico is going to have to do something, otherwise I'm closing the border," Trump said.
I will start off by saying that Conway is actually right, at least in part, on the macro level:  we need a significant overhaul of our immigration laws and system, and the responsibility for that overhaul is squarely within the purview of Congress.  And Congress has, in fact, failed in this area.
However, in the more short-term, the Trump administration deserves a lot of blame for turning this current situation into a humanitarian crisis.  Their insistence on things like making asylum-seekers wait in Mexico before being attended to by US officials, as well as slowing the process, has led to desperate people acting in a desperate fashion, which has included illegally crossing the border rather than seeking asylum at border crossings
One thing is for certain:  a border wall will not fix any of this.  And if we are going to divert monies for the purpose of dealing with this situation, those funds need to go to dealing with asylum-seekers, not for wall construction.  Indeed, focusing on walls and closing the border will likely exacerbate the short-term crisis as desperate people try to come to the US before it is "closed."
For example, the administration has put in place a process called "metering" to slow the access of migrants seeking asylum.  From a Vox piece from later last year:
Before 2016, and in some cases as recently as six months ago, they would have had no problem and no delay. But for the last several months, the Trump administration has made a practice of limiting the number of asylum seekers allowed to enter the US each day — a policy it calls "metering." It's the counterpart of the Trump administration's months-long crackdown on asylum seekers entering the US illegally — telling those who do try to come legally that there's no room for them, and ordering them to wait.

They don't say how long the wait will be. And there's no official way for asylum seekers to hold their spot or secure an appointment, no guarantee that they'll ever be allowed to cross.

And so asylum seekers wait, for days or weeks or (increasingly) months: sometimes in migrant shelters whose capacity has stretched to the breaking point, sometimes huddling together on bridges, sleeping on the street, in the cold, vulnerable to the violence they hoped to escape in their home countries.

[…]

The Trump administration's proposed solution is to legally codify the idea that asylum seekers should be held in Mexico, in limbo. On Saturday, the Washington Post reported that the administration would sign an agreement with the incoming government of Mexico that would force asylum seekers to wait in Mexico after starting the asylum process — changing the current practice of allowing them into the US to wait for their asylum claims to be heard. Dubbed "Remain in Mexico," the new policy, if enacted, would essentially formalize what's been happening on the ground these past few months.
More on metering from the NYT:
The agency is relying on a process called "metering" to limit the number of people who can be processed daily for asylum. Thousands of migrants are waiting on the Mexican side of the border as Customs and Border Protection officers process small numbers of people — 40 to 100 — each day.
So, let take very desperate people, make their situation more desperate, and then expect then not to behave even more desperately?  This defies any understanding of human behavior.
To all of this, a Bloomberg editorial notes the following:
Kevin McAleenan, the head of U.S. Customs and Border Protection, summed up the problem: Central American families "know that DHS must release them within 20 days, under court order, and that they will be allowed to stay in the U.S. indefinitely while awaiting immigration court proceedings." With a growing backlog of nearly 830,000 cases, the wait can be years.

Rather than fixing the asylum system, the Trump administration has tried to drive applicants away. Federal courts blocked the effort to separate children from their families and to refuse applications from people crossing the border illegally between ports of entry. Now officials are trying to discourage asylum seekers at ports of entry by "metering" applications and forcing them to wait in Mexico while their cases are processed. (This may be unlawful too.)

In any event, the result is perverse: More asylum seekers are crossing the border illegally, in large groups, with the aim of turning themselves in. This is good news for the cartels that profit from their plight and use the ensuing distraction to draw resources away from policing drug-smuggling elsewhere on the border.

The answer isn't walls and states of emergency, but more immigration judges and better policies. Process cases faster and the incentive to file bogus claims would diminish. That means appointing more judges, fixing the courts' paper-based record-keeping system, hiring more asylum officers and letting them bring cases to conclusion. Press Mexico to control its southern border, where enforcement has lagged under the new administration. Don't cut aid to Central America: Boost it, to strengthen justice and expand economic opportunity.
Beyond all of that, the notion of closing the US-Mexican border is simply insane.  There are almost one million legal crossings (by foot, by car, by bus, by truck, etc,) a day between the US and Mexico.  There are massive amounts of economic activity across that border daily.  And it isn't just Mexicans who make money off those crossings.  Mexico is the US' largest trading partner in the world.  And, of course, these border communities are symbiotically tied together–people live on one side of the border, and work on the other. Families live on both sides.  But sure, let's just close it down, which won't stop illegal crossings, by way, it will just shut down the legal one.
We desperately need some fundamental realism on the nature of the border, as well as the nature of the problems we are currently facing.  We need policies aimed at families seeking asylum, not individuals crossing primarily for jobs.  We need a better legal regime, and we need to move off simplistic answers like walls.  A lot of people also need to recognize the overwhelmingly positive aspects of our relationship with Mexico and with migrants from the south.