On the Potential Global Consequences of a Trump Presidency
The reputation of the US matters in global affairs.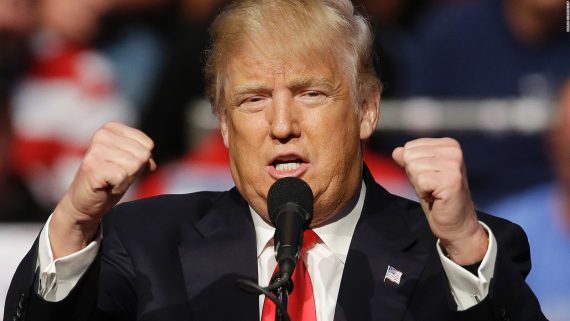 Of the various problems with a potential Trump presidency, foreign policy is high on the list given the direct amount of power that the President has in this arena coupled with Trump's rather obvious ignorance of world affairs.   Not only does he lack adequate knowledge of the world (to put it both mildly and kindly), his approach to international affairs to this point in time indicates a person unlikely to inspire trust and confidence in our allies and partners.  This is a major problem, as Martin Wolf rightly notes in a recent column in the Financial Times:  How the west might soon be lost:
the ability of the US to shape the world to its liking will rest increasingly on its influence over the global economic and political systems. Indeed, this is not new. It has been a feature of US hegemony since the 1940s. But this is even more important today. The alliances the US creates, the institutions it supports and the prestige it possesses are truly invaluable assets. All such strategic assets would be in grave peril if Mr Trump were to be president.

The biggest contrast between the US and China is that the former has so many powerful allies. Even Vladimir Putin is not a reliable ally for China. America's allies support the US largely because they trust it. That trust is based on its perceived commitment to predictable, values-based behaviour. Its alliances have not been problem-free, far from it. But they have worked. Mr Trump's cherished unpredictability and transactional approach to partnerships would damage the alliances irreparably.

A vital feature of the US-led global order has been the role of multilateral institutions, such as the IMF, the World Bank and the World Trade Organisation. In binding itself by the rules of an open economic system, the US has encouraged others to do the same. The result has been extraordinary growth in prosperity: between 1950 and 2015, average global real output per head rose sixfold. Mr Trump does not understand this system. The results of repudiation could be calamitous for all.
The US is by no means perfect, but it is a global leader in the international system and is also a guarantor of many international institutions.  Trump has already signaled an utter lack of understanding of NATO (to name one such institution).  Institutions require a certain level of  trust by participants and his cavalier attitude towards decades-old agreements will rapidly erode that trust. The notion that he thinks his alleged real estate acumen will aid him on the global stage is simply folly.  And for those who still think he will be controlled/handled/guided by cooler heads, I would note that the persons he surrounds himself with for their campaign expertise cannot reign him in from making self-inflicting comments about a beauty queen whose reign was over 20 years ago.  This man is not going to be reigned it.  He is not going to be taught.  He is not going to be responsible.   Not to mention that his choice of advisors shows profoundly bad judgement (e.g., Bannon, Ailes, Giuliani, etc.).
Let me underscore:  US influence is linked to trust, and "That trust is based on its perceived commitment to predictable, values-based behavior."  Trump is not predictable (at least not in ways relevant to this conversation) and it is wholly unclear he is committed to any specific values-based set of behaviors (aside from self-aggrandizement).  Trump is a danger to the US' place in the world.
Also:
After all this damage, election of a man as unqualified as Mr Trump would call into question something even more fundamental: belief in the capacity of the US to choose reasonably well-informed and competent leaders. Under a President Trump, the democratic system would lose much of its credibility as a model for the organisation of a civilised political life. Mr Putin and other actual or would-be despots would cheer. Their belief that talk of western values is just hypocrisy would be vindicated. But those who see the US as a bastion of democracy would despair.
Some may see this is as hysterical or hyperbolic, but I do not.  I think that Wolf is making a very important point. There is plenty to criticize about US foreign policy and the promotion of democracy.  It not always done a good job of it (see, for example, Latin American during the Cold War).  It has often used democratic promotion as a motivation for policy disaster (see, for example, the invasion of Iraq).  However, the fact remains that for its faults and mistakes, the US does play a role as a pro-democracy, pro-liberal (in the broad sense of the term) super-power. If is elects Donald Trump, that reputation will suffer greatly and it will empower authoritarians like Putin.  It will certain severely damage US influence globally (note, for example, my brief post earlier today about Latin America).  At a minimum, many around the world will rightly wonder if "the greatest democracy in the world" can claim such a title if it elects an inexperienced, self-absorbed reality TV start to the most powerful office in the world.  If that's what democracy gets you, where is democracy's moral claim to desirability?
An ancillary to this problem is the fact that markets don't like uncertainty and Trump will represent significant levels of uncertainty.  Should he be elected there will be, at least initially, global economic repercussions as investors attempt to determine the safest financial routes forward.
Donald Trump presents a plethora of domestic policy problems and implications, but as serious as they are, they pale in comparison to the damage he could do to the global order.  Again:  the presidency of the United States of the America is the most powerful position in the world.  It is not the place for amateur know-nothing with the temperature of a spoiled child.