On The Syrian Refugee Issue And The Internment Of Japanese-Americans During World War II
Remarks by a Democratic politician in Virginia regarding the Administration's Syrian refugee program have brought up disturbing reminders of a shameful time in American history.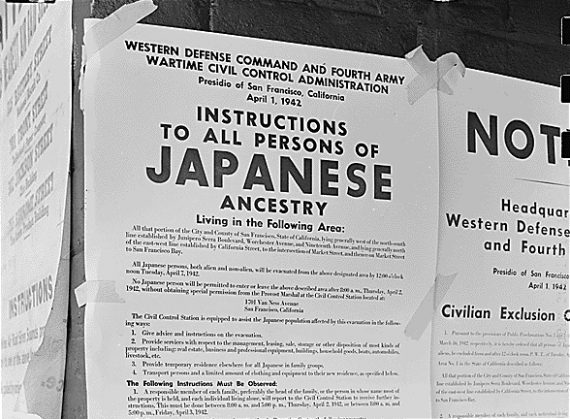 The Democratic Mayor of Roanoke, Virginia is under fire after having cited the World War II era internment of Americans of Japanese ancestry in support of his argument for halting the program to bring Syrian refuges to the United States:
The small, southwestern Virginia city of Roanoke should refuse to help settle Syrian refugees in the U.S. just as Franklin Delano Roosevelt interned Japanese Americans in America during World War II.

That's the argument being made by Roanoke's Democratic mayor, David Bowers. In a statement Wednesday, he said he was requesting that all government and non-government organizations in the city of 99,000 suspend any assistance to Syrian refugees "until these serious hostilities and atrocities end."

As justification, he compared the situation to World War II.

"President Franklin D. Roosevelt felt compelled to sequester Japanese foreign nationals after the bombing of Pearl Harbor," he said, "and it appears that the threat of harm to America from ISIS now is just as real and serious as that from our enemies then."

In fact, it was not just Japanese foreign nationals but Japanese American citizens who were put in camps during World War II. In 1988, the U.S. government officially apologized for the policy and paid $20,000 to each survivor of what was deemed the result of "race prejudice, war hysteria and a failure of political leadership." In the end more than $1.6 billion was distributed in reparations.

The mayor did not immediately return a request for comment.

"I think most Americans with the benefit of history realize that interning Japanese-Americans for years during World War II was not appropriate," said Sen. Mark R. Warner (D) in an interview with MSNBC.

Bowers's stance is also at odds with Virginia Gov. Terry McAuliffe (D), who has said his state will continue to accept refugees. Across the country, several mayors have also said they would welcome Syrians — often going against the governors of their states.

"What the hell did he say that for?" wondered state Sen. John S. Edwards (D), who represents Roanoke. "I'm surprised; I'm with the governor and the president on this."

(…)

Bowers, a lawyer, is not planning to run for reelection in 2016. Vice Mayor David Trinkle, who is running to replace him, distanced himself from Bowers. He released his own statement, calling the World War II comparison in particular "unfortunate."

"This is not how Roanoke feels," Trinkle said in a statement. "It's just the opinion of the mayor, sending that out unbeknownst to any of the city leaders. … We are a very warm and inclusive community and the community is up in arms about his statement."

He also emphasized that the mayor, who is only one member of a seven-person council that hires a city manager, does not have the power to halt any assistance to refugees.

Democratic Party of Virginia Chairwoman Susan Swecker likewise called Bowers "absolutely wrong" and said the party did not stand by his statement.

The Virginia American Civil Liberties Union also condemned Bowers's statement, labeling the request to withhold aid "a call to violate the Constitution and laws of the United States."
Bowers has also been removed from a "Leadership Team" of Virginia Democrats who had endorsed Hillary Clinton's candidacy for President and his remarks denounced by the Clinton campaign. This was a largely ceremonial position for Bowers, and he wasn't really involved in the campaign in any significant way, but the fact that the campaign moved so swiftly to act was politically smart on their part since Republicans online were already asking if Clinton would denounce his comments.
More than anything else that became public yesterday, though, Bowers remarks seemed to hit a strong chord across the country even though he is, in reality, the relatively powerless outgoing Mayor of a city in Virginia's southwestern region who has no legal authority to enact any policies supporting his comments. In part, that is because he specifically reached back to one of the most shameful and unfortunate events in American history during World War II, when hundreds of thousands of Americans of American citizens of Japanese descent were rounded up and sent off to camps far from their homes, losing their jobs, their property and their businesses. The fact that there were no similar policies applied to Americans of German or Italian descent on the same wholesale basis, but rather that individual members of those communities who engaged in actions supporting the Axis Powers were dealt with on an individual basis, made clear from the start that the entire policy was based in racism, irrationality, and fear. When one American citizen of Japanese ancestry, a man named Fred Korematsu who had been born in Oakland, California in 1919, and been rejected by the Army specially because of his race at the start of the war before the military formed units like the one that the late Senator Daniel Inouye served in, challenged the government's efforts to enforce the policy against him. That case, Korematsu v. United States, made it's way all the way to the U.S. Supreme Court, resulted in one of the most infamous decisions in Supreme Court history when a 6-3 majority led by Justice Hugo Black, ruled that there policy was acceptable under the Constitution notwithstanding the rather clear 14th Amendment and Due Process objections that Korematsu raised. Notwithstanding the fact that the Federal Government has subsequently apologized for the internment program and instituted a program to compensate the people victimized by it and their descendants, remains good law today in the sense that it has never been explicitly overruled.
George Takei, the former Star Trek actor who as a child was among those detained for the duration of the war in an interment camp and has since become one of the leaders of the movement to make sure the events of that era are properly remembered, issued a blistering responsev to the Mayor's comments on Facebook:
Mayor Bowers, there are a few key points of history you seem to have missed:

1) The internment (not a "sequester") was not of Japanese "foreign nationals," but of Japanese Americans, two-thirds of whom were U.S. citizens. I was one of them, and my family and I spent 4 years in prison camps because we happened to look like the people who bombed Pearl Harbor. It is my life's mission to never let such a thing happen again in America.

2) There never was any proven incident of espionage or sabotage from the suspected "enemies" then, just as there has been no act of terrorism from any of the 1,854 Syrian refugees the U.S. already has accepted. We were judged based on who we looked like, and that is about as un-American as it gets.

3) If you are attempting to compare the actual threat of harm from the 120,000 of us who were interned then to the Syrian situation now, the simple answer is this: There was no threat. We loved America. We were decent, honest, hard-working folks. Tens of thousands of lives were ruined, over nothing.

Mayor Bowers, one of the reasons I am telling our story on Broadway eight times a week in Allegiance is because of people like you. You who hold a position of authority and power, but you demonstrably have failed to learn the most basic of American civics or history lessons. So Mayor Bowers, I am officially inviting you to come see our show, as my personal guest. Perhaps you, too, will come away with more compassion and understanding.
The Broadway play that Takei refers to is called Allegience, and it had toured the United States in pre-Broadway showings for the better part of the past year before beginning its current run at the Longacre Theater in Manhattan. Along with a long-term project to create a museum dedicated to telling the story of the internment camps, it has been at the forefront of Takei's efforts to tell the story of what he and more than 100,000 other American citizens lived through.
Bower's statement is hardly the first by a politician to jump on the bandwagon of paranoia and misinformation that has been displayed over the past week in discussions regarding the refugee issue, and it probably won't be the last. New Jersey Governor Chris Christie, for example, told radio host Hugh Hewitt that he would even bar Syrian orphans from entering his state. To the south of Bowers in Tennessee, the head of the Republican Caucus in the state's House of Representatives said that he would support activating the state's National Guard to round up any Syrian refugees in the state and force them out of the state, a move chillingly reminiscent of the moves that the United States Government actually did undertake in enforcing the World War II era internment campaign, although he did not specifically mention it.
What the remarks of this Mayor from Roanoke did, though, was lay bare the reality of what it is that the opponents of the refugee program are really talking about. Much like Americans judged Americans of Japanese ancestry as the "enemy" in the wake of the Pearl Harbor attack notwithstanding the fact that there was largely no evidence that any of them sympathized in any way with the actions of Imperial Japan or had any loyalty to it at all. Obviously, the internment program is "worse" than what we're seeing today in the fact that it involved involuntarily detaining American citizens and stealing their property for no justifiable reason whatsoever, the fact that both cases involve projecting fear and prejudice on a group of people who have done no wrong strikes a nerve that even Americans who have merely expressed somewhat understandable doubts about the security implications of the refugee program ought to cause people to pause and think about what they're saying. We're not getting that, of course. We're instead getting fearmongering and political pandering that plays into many of the worst aspects of American politics. Maybe, by reminding us that a lot of what's being said and done here mirrors one of the most shameful episodes in American history, Mayor Bowers will actually have served a purpose for good in the end.
Photo source: United States Government via Wikipedia