Once Again, Allen West Proves Himself To Be An Embarrassment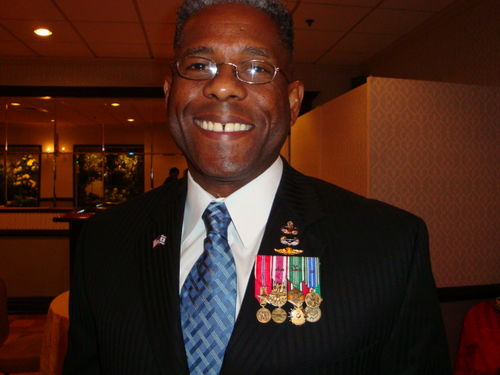 Allen West, the Florida Congressman whose military career came to an ignominious end when he was relieved from command and investigated for attempted murder over an incident involving the questioning of an Iraqi police officer, has decided to weigh in on the controversy that has erupted over the Marines who were recorded on video urinating on the corpses of Taliban dead:
"I have sat back and assessed the incident with the video of our Marines urinating on Taliban corpses. I do not recall any self-righteous indignation when our Delta snipers Shugart and Gordon had their bodies dragged through Mogadishu. Neither do I recall media outrage and condemnation of our Blackwater security contractors being killed, their bodies burned, and hung from a bridge in Fallujah.

"All these over-emotional pundits and armchair quarterbacks need to chill. Does anyone remember the two Soldiers from the 101st Airborne Division who were beheaded and gutted in Iraq?

"The Marines were wrong. Give them a maximum punishment under field grade level Article 15 (non-judicial punishment), place a General Officer level letter of reprimand in their personnel file, and have them in full dress uniform stand before their Battalion, each personally apologize to God, Country, and Corps videotaped and conclude by singing the full US Marine Corps Hymn without a teleprompter.

"As for everyone else, unless you have been shot at by the Taliban, shut your mouth, war is hell."
In other words, West's attitude is that unless you have actually been in combat you have no right to criticize these Marines. Sorry, but that isn't how it works. We live in a country where people are allowed to speak their mind regardless of their life experiences and, when it comes something this outrageous telling people to "Shut up" is little more than the kind of juvenile twaddle I'd expect from a drunken frat boy, not a Member of Congress and former officer in the United States military. Of course, this is the same Allen West who once suggested that an anti-war Congressman should get shot a few times, sent out an offensive email regarding a fellow Member of Congress in a manner that he knew would become public, and said that anyone with an Obama bumper sticker is a threat to the gene pool.
Perhaps West is concerned that his newly revised district won't send him back to Congress in November so he's auditioning for a talk radio spot, because he'd fit right in along side the Limbaugh's, Hannity's, and Levin's of the world. As a Member Of Congress, though, he needs to develop a lot more maturity.