Once Again, U.S. Military Spending Dwarfs Russia, China
Even in an era of budget cuts, America's military spending still outpaces the rest of the world:
Despite falling spending, America's military pre-eminence is vast. A budget of $600 billion for 2014, including $84 billion for "overseas contingency operations" such as Afghanistan, buys a weighty punch. Next year, when the Pentagon's base budget is expected to fall to $498 billion (spending in Afghanistan is uncertain, but will be much lower), America's military outlays will still be around 35% of the global total. Its main allies account for another 25% or so. China and Russia combined spend less than half what America does, though their costs are lower.
The chart tells it all: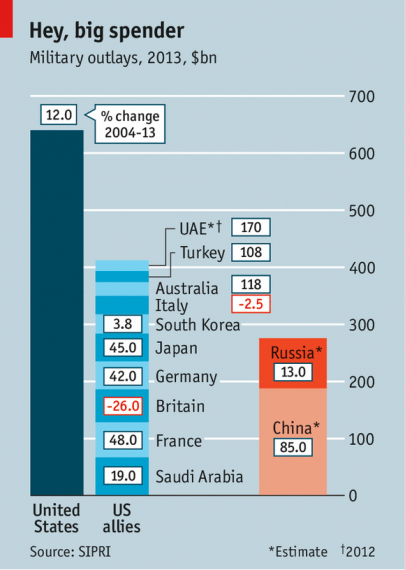 Remember this the next time some pundit or politician starts talking about military threats.