One World Trade Center Officially Open For Business As First Tenant Moves In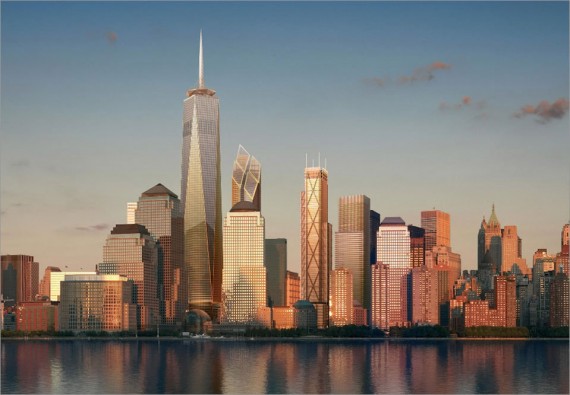 One World Trade Center, the 1,776 foot toward built to replace the Twin Towers, officially has its first tenant:
More than 13 years after a terrorist attack destroyed the twin towers — symbols of New York City's might, financially and structurally — the first employees of the first tenant in the building erected to take their place arrived for their first workday there on Monday.

"The building is open for business," said Jordan Barowitz, an official of the Durst Organization, a leasing agent for the building. "It's a beautiful building, it's a historic building but it's an office building and it's open for business."

At 1,776 feet, the building, 1 World Trade Center, is steps from where the old north tower stood until Sept. 11, 2001. But where that sunny morning held a still-summery promise until the first jetliner lacerated the building and smoke filled the shimmering blue sky, Monday was chilly as employees of the magazine publisher Condé Nast arrived.

As they entered the building, they walked through the lobby adorned in white marble from the same quarry that produced the marble in the old twin towers — one of the many details that will remind workers daily that they work in a building buffeted by history.

The company's arrival was an extraordinary moment that passed in the most ordinary of ways, with employees simply walking in and taking an elevator to their floors. There were no ribbons to be cut, no marching bands and no elected officials on hand, in part because Gov. Andrew M. Cuomo's schedule took him elsewhere for campaign appearances.

Glamour? It will come later, as will Vogue, Vanity Fair, The New Yorker and Condé Nast's other magazines.

It was the culmination of 13 years of unusually public squabbles over architects and designs; of political jockeying and bureaucratic bickering; and of complicated construction work. Much of it had to be done underground, unseen. But there were some spectacular moments for would-be sidewalk superintendents when impossibly tall cranes lifted the building's impossibly large columns.

Even if Monday morning was meant to be about something as mundane as office space, the beginning of the first workday at 1 World Trade Center was a powerful moment because, once again, there was an office building on that 16-acre lot in Lower Manhattan where the twin towers once stood.

By Monday, 4,802 days had passed since Sept. 11. At 8:46 a.m. — when the first plane slammed into the north face of the north tower in 2001 — 115,224 hours had gone by.

The Condé Nast employees had been without offices since Thursday. Their workaday possessions — computers, files and photographs that put personal touches on a boss's desk or an assistant's cubicle — were packed and moved on Friday and through the weekend. Condé Nast's headquarters had been in Times Square since 1999.

The 175 Condé Nast employees who went to work in the new building on Monday were the first wave of an eventual total of 3,400. They are what the company calls corporate employees, meaning that they do not work for any one of its famous magazines in particular. Some work in human relations, some in accounting.

Condé Nast issued a statement saying it was "proud to be a part of this important moment of renewal for the city."
Other tenants are scheduled to move in over the coming months, although it is unclear at this point if all of the available space has been rented as of this point, or when fuller occupation might take place. Whenever that is, though, it is good to see yet another sign of that part of New York City returning to normal. It certainly took long enough.