Originalism and the Declaration of Independence
The implications of modes of interpretation.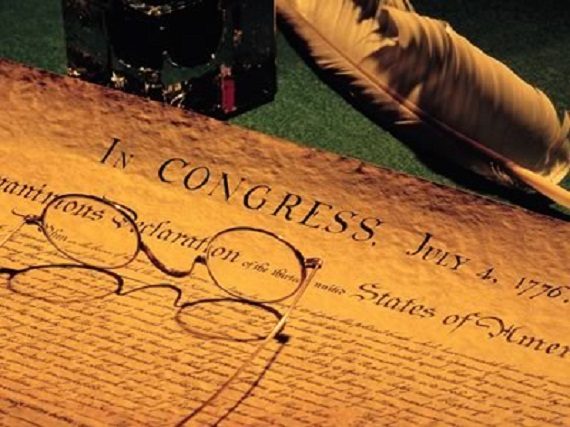 For a variety of reasons, some linked to recent SCOTUS decisions, some linked to events in daily life, and some linked to today's date, I have been thinking about the problems that the Declaration of Independence creates for originalist interpretations of the founding documents of the United States. It all starts with how one looks at one of the most fundamental statements of the country's founding:
We hold these truths to be self-evident, that all men are created equal, that they are endowed by their Creator with certain unalienable Rights, that among these are Life, Liberty and the pursuit of Happiness.
Should we look at this statement for what it meant to Thomas Jefferson (and to those who read it) when he penned them in 1776? Or should we read it in a more universalistic, inclusive, and aspirational sense?
The key phrase is that "all men are created equal."
I recall learning as a child that, as a general matter, when the male construction (e.g., "men" or "mankind" and the like) was used that it should be considered inclusive of all humans, male and female. This was before we moved, societally, to a more gender-neutral language. Such an interpretation allows for this phrase to be more inclusive than it sounds to our contemporary ears.*
It is quite clearly the case that Jefferson didn't mean it that way, but we (largely) treat it as such.
Indeed, we treat this phrase like a sacred text, and with some good cause. Taken as aspirational philosophy it is practically a purpose statement of classical liberalism that treats humans as inherently equal with natural, equal rights. It is a statement (copied and sightly altered, I should note, from John Locke) that is requisite for the notion of self-government as it undercuts the notion of a special ruling class, i.e., aristocracy, and make way for democratic governance.
After all, if all people are equal, they should have an equal say in how they are governed.**
But, if the phrase is not inclusive, nor aspirational, then there are some pretty significant implications.
If one takes a textualist/originalist approach, as defined by the late Associate Justice Antonin Scalia, we should not worry about intent or aspiration, but we should (as he said in defining his approach in 2005) "give the text the meaning it had when it was adopted."
That approach has some pretty significant implications. In fact, Scalia was quite dismissive of the general notion of treating documents with aspirational intent. As he stated in a speech in 1996:
What happens if the Constitution is, rather, a sort of an empty bottle that contains the aspirations of the society, just all sorts of wonderful aspirations, the precise content of which is quite indeterminate? Today, the Eighth Amendment ban against "cruel and unusual punishment" may mean the death penalty is ok, but tomorrow it won't mean that. "Due process of law," whatever that means will vary over time, the due process clauses in the Fifth and Fourteenth Amendments meaning one thing today and something else tomorrow. We're so in love with these abstractions, and, in the future, the Supreme Court shall decree for us what these abstractions mean. Now, if that's what the Constitution is, sort of a list of aspirations, not a real law, then Marbury v. Madison is wrong.
So, what happens if we eschew an aspirational interpretation and try to understand the text as understood by those who wrote it and those who would have read it in 1776? We don't need to wonder, since that was the precise logic of Chief Justice Taney in Dred Scott v. Sanford. He reached the conclusion that Blacks could not be citizens, and had to rights, using the text of the Declaration itself and some decidedly originalist/textualist logic (emphases mine).
It then proceeds to say: "We hold these truths to be self-evident: that all men are created equal; that they are endowed by their Creator with certain unalienable rights; that among them is life, liberty, and the pursuit of happiness; that to secure these rights, Governments are instituted, deriving their just powers from the consent of the governed."

The general words above quoted would seem to embrace the whole human family, and if they were used in a similar instrument at this day would be so understood. But it is too clear for dispute, that the enslaved African race were not intended to be included, and formed no part of the people who framed and adopted this declaration; for if the language, as understood in that day, would embrace them, the conduct of the distinguished men who framed the Declaration of Independence would have been utterly and flagrantly inconsistent with the principles they asserted; and instead of the sympathy of mankind, to which they so confidently appealed, they would have deserved and received universal rebuke and reprobation.

Yet the men who framed this declaration were great men–high in literary acquirements–high in their sense of honor, and incapable of asserting principles inconsistent with those on which they were acting. They perfectly understood the meaning of the language they used, and how it would be understood by others; and they knew that it would not in any part of the civilized world be supposed to embrace the negro race, which by common consent, had been excluded from civilized Governments and the family of nations, and doomed to slavery. They spoke and acted according to the then established doctrines and principles, and in the ordinary language of the day, and no one misunderstood them. The unhappy black race were separated from the white by indelible marks, and laws long before established, and were never thought of or spoken of except as property, and when the claims of the owner or the profit of the trader were supposed to need protection.
There is a lot to take in here, but the bottom line is that a reading of the Declaration in a non-aspirational, non-evolutionary way leads to some pretty grim conclusions.
A side note that is worth noting. Taney states that as of his writing in 1857 that the words of Jefferson would have been understood to be inclusive: "The general words above quoted would seem to embrace the whole human family, and if they were used in a similar instrument at this day would be so understood" (emphasis mine). This is stunning in a number of ways. It is basically an admission that sure, these days equal means equal, but it didn't back then, so whaddya gonna do? The text is the text, after all. To me this is a blistering indictment of the very notion of originalism/textualism. And lest anyone accuse me of being unfair, I would ask the sincere question as to how Scalia's logic is any significant deviation from Taney's.
Of course, when Jefferson wrote the words "all men" what was in his mind? We know that he did not mean that Blacks were included. After all, at the time of the writing of the document, it is estimated that he owned between 165 and 225 slaves. We know that women were not considered equal to men. Indeed, we know that at the time voting rights, such as they were, had property restrictions on them.
The implications of such a reading are clear, and Taney's originalist interpretation was sound if such logic is applied. In fact, one could argue (and I am not, to be clear) that Taney was correct in his interpretation and only the 13th and 14th Amendments corrected the situation. That is to say that the 13th banned slavery and the 14th made all former slaves into citizens and dictated equal protection under the law.
By the way, I get (to a degree, at least) the plain, clean logic of the following:
Words mean what they mean when written.
If meaning changes, change the law to add new words.
I think that the complexities of #2 are ignored when it comes to the actual human rights of large swaths of people (again, see Dred Scott).
For example, Scalia noted the following about woman's suffrage in his 1996 speech linked above:
That the people thought the way I think is demonstrated by the Nineteenth Amendment, adopted in 1920. That is the amendment which guaranteed women the right to vote. As you know, there was a national campaign of "suffragettes" to get this constitutional amendment adopted, a very big deal to get a constitutional amendment adopted. Why? Why did they go through all that trouble? 

If people then thought the way people think now, there would have been no need to add the Nineteenth Amendment to the Constitution. In 1920, there was an equal protection clause, right there in the Constitution, in the Fourteenth Amendment. As an abstract matter, what in the world could be a greater denial of equal protection of the laws in a representative democracy than denial of the electoral franchise–the right to vote–to women or to any other group of adult citizens with sound minds. The suffragettes could just come to the court and say, "This is a denial of equal protection," and petition the U.S. Supreme Court to invalidate all state laws denying the franchise to women, to declare such laws to be violations of the Federal Constitution and therefore unconstitutional and null and void. 

Why didn't the suffragetters take this course of action? Because they didn't think that way. 

Equal protection could mean that everybody has to have the vote. It could mean that. It could mean a lot of things in the abstract. It could have meant that women must be sent into military combat, for example. It could have meant that we have to have unisex toilets in public buildings. But does it mean those things? Of course, it doesn't mean those things. It could have meant all those things. But it just never did. That was not its understood meaning. And since that was not its meaning in 1871, it's not its meaning today. The meaning doesn't change.
The degree to which his example demonstrates that people used to think as Scalia did is a highly debatable question (or, at best, simplistic), but the passage above underscores his logic, and it is one that fits Taney's: even if society evolves in what the words mean (such as "equal protection" or "all men are created equal") it doesn't matter: we are bound by the past. I understand that the notion of a fixed meaning is appealing, but I think such an endeavor is far too dismissive of the obviously evolutionary nature of language (not to mention society itself) and it also consigns whole classes of persons into second-class (or worse) status because the need for consistency trumps their humanity. Not to mention I am less willing to assume that it is possible to understand the original meaning as Scalia and his fellow adherents are willing to do. (See, for example, some of Samuel Alito's tortured, at least in my view, attempts at making history and tradition fit his preferences. The notion that judges have the chops to draw well-researched historical conclusions is, quite frankly, a bit ridiculous).***
All of this is to say that if we don't take an evolutionary, aspirational understanding of statements like "All men are created equal" then we are stuck in a past in which men were legally superior to women and Blacks were property. And if we are stuck in that past, then the Declaration is nothing to celebrate.
To be clear, I do want to celebrate the notion that human beings are equal and that they have rights due to their existence. But that requires recognizing that property ownership/wealth does not make one human better than another. It means recognizing that if one is male or female does not matter (nor, indeed, if one is trans or identifies in some other way). It doesn't matter one's ethnicity, race, or other factors. Humans are humans in all our manifest diversity, and either we have to take an evolutionary view on our founding, or we have to take a dim view of the slave-owners of the time and wash our hands of it and focus on something more contemporary.
Let's face facts, if we are going to read the Declaration the way Jefferson's contemporaries would have, then that's a problem, is it not? But if we read it aspirationally that changes the meaning considerably.
I am firm in my belief (and in my normative preference) that "We hold these truths to be self-evident, that all men are created equal, that they are endowed by their Creator with certain unalienable Rights, that among these are Life, Liberty and the pursuit of Happiness" should be a mission statement for the United States. Still, for it to be such, we have to read it aspirationally, else it is just a statement about the political power of white males with property who owned other human beings and thought that was morally justifiable. There is also the broad question of the definitions of "liberty" as well as the "pursuit of happiness."
All of this does, at a minimum, raise questions of what it means to simplistically look to the Founding or to the Founders in constructing moral political stances in the now.
Indeed, I would argue that a patriotic interpretation requires an acknowledgment that we have evolved and should continue to seek to do so. But this requires a clear-eyed understanding of where we started, where we are, and how we got here (not to mention, considerations of where we yet might go).
---
*It is also a reminder that debates over gendered language are not all that new, and that we survived the question of whether using male-specific language should be seen as inclusive or not and we will survive whatever other travails of the ever-evolving usage of words have for us going forward. It is worth noting that the year after I was born, Neil Armstrong took "One small step for a man, one giant leap for mankind" and that was understood at the time to mean all of humanity. Or, on a more pop-culture level, two years before I was born, James Kirk was boldly going where "no man has gone before" but the year after I started college, Jean-Luc Picard was going "where no one has gone before."
**This raises a huge number of questions about democratic governance that goes well beyond the scope of this post, but which informs a lot of what I write. It certainly has significant implications for certain versions of "we have a republic, not a democracy."
***Of course, all of this really makes me wonder how "giv[ing] the text the meaning it had when it was adopted" means we have the current legal regime around guns that the Court has created, but that's another discussion. It seems to me that if we are really, truly going to take that approach, then what Madison thought were "arms" and what we have today aren't even the same thing. Why we should take an evolutionary approach of musket to AK-47, but not on human rights is, dare I say, a loaded topic.