OTB Caption Contest Winners
The Binder Face Edition OTB Caption ContestTM is now over.
The Binder Face Edition OTB Caption ContestTM is now over.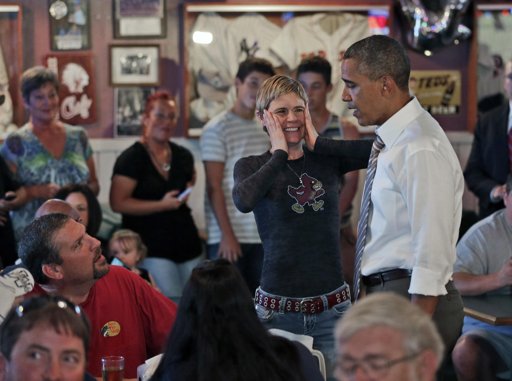 Photo By Pablo Martinez Monsivais

✰ THE WINNERS ✰
First(tie): He who must not be named – "I don't care, Obama is awesome."

First(tie): Stormy Dragon – "Oh no! I left Kevin home alone!"

Second: Tillman – OMG!!! (repeat as necessary) (caused another woman to say, "I'll have what she's having…" – rodney)

Third: Hal 10000 – "What is she doing, Mr. President?" "Like most of my supporters, she's trying to cover her ears when the subject of Benghazi comes up."
HONORABLE MENTION
Jc – "That is correct sir, the healthcare law means your wife cannot be declined coverage due to her Pre existing condition"

JKB – Having drunk the kool-aid, Kari felt her reason and accountability drain from her as she was assimilated.

Drew – If I vote for you I get to sit next to Whoopie on the view……really ?!?!

OzarkHillbilly – "No, you can not have a french fry." ("Not even if its a tax?" – rodney)

Butch Bracknell – Mr President!! I like Angry Birds!! Here, look at my tee shirt! My favorite is the yellow turbo bird…

Robert W. Armijo – "Please excuse my wife, Mr. President. She suffers from SOS (Spontaneous Orgasm Syndrome)."
ℛODNEY'S BOTTOM OF THE BARREL
"…and that's how I killed Bin Ladin."

woman: I can usually read minds, but I'm drawing a blank.
Obama: Bingo.

OMG It's full of czars

woman: "…and you were my first."
Sitting Man: "WTF?"

"Yup… worst case of binderface I've ever seen."
The Monday Contest has already been ridden hard and put away wet.