The Obama Campaign's Absurd 'Big Bird' Ad
This campaign has gone to the birds.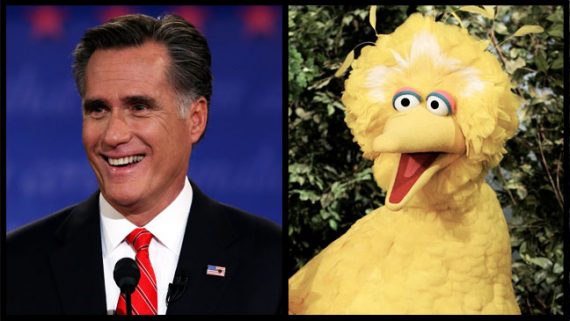 The news of the morning involves a web ad put out overnight by the Obama campaign that features an eight foot tall yellow bird:
The Obama campaign on Tuesday unveiled a television ad mocking GOP candidate Mitt Romney for his calls to cut federal funding for PBS, saying it would do little to address the deficit.

The sardonic ad compares "Sesame Street" character Big Bird, whom Romney mentioned during last Wednesday's presidential debate, to corporate titans prosecuted for financial misdeeds.

"Bernie Madoff. Ken Lay. Dennis Kozlowski: Criminals. Gluttons of greed. And the evil genius who towered over them?" a voiceover says as a silhouette of Big Bird moves on screen.

"Big. Yellow. A menace to our economy. Mitt Romney knows it's not Wall Street you have to worry about, it's Sesame Street," the ad says.

The video then plays a clip of Romney vowing "to stop the subsidy to PBS."

(…)

The Romney campaign dismissed the ad, saying Obama was attempting to distract voters from his own record.

"The choice in this election is becoming more clear each day. Four years ago, President Obama said that if you don't have a record to run on, 'you make a big election about small things.' With 23 million people struggling for work, incomes falling and gas prices soaring, Americans deserve more from their president," said campaign spokeswoman Amanda Henneberg in a statement.

"Mitt Romney knows we can't afford four more years like the last four, and he will lead us to a real recovery."
Here's the ad:
The political press has reacted fairly negatively to the ad in the hours since its been available. Politico noted that the Obama campaign appeared to be playing "small ball" and that it wasn't being serious all. National Journal noted that Obama's team seems to be taking silly season to a whole new level. NBC's Peter Alexander called the ad "absurd" while his colleague Chuck Todd wondered why the Obama campaign was still talking about a debate that has been universally perceived as a horrible loss for the President. ABC's Rick Klein, meanwhile, wonders where the Obama campaign's priorities are at the moment:
Four weeks out, in the midst of a race showing signs of heading in much different directions, Team Obama makes a play using … Big Bird? The new Obama campaign ad uses a mock-serious tone to jump on Mitt Romney's most famous debate line. It's all in good fun, but the contrast may not be what President Obama is after, not now, not in this race. Romney is getting more serious by the day, with a foreign-policy speech and now Paul Ryan about to make the case for conservative fiscal policies. Romney marches toward Benghazi, while the president marches down Sesame Street?
I get what the Obama campaign is doing here. They are looking for something to salvage out of a pretty terrible debate for their candidate and they've latched on to an offhand remark that Mitt Romney made about how he'd approach Federal spending. His comment, which essentially boiled down to the idea that funding for PBS should not be considered a sacred cow when we sit down to decide what to cut from the Federal Budget.  Even though PBS funding only amounts to some $450 million per year and there are plenty of other areas of the budget that we need to focus on if we're going to get spending under control, I find nothing controversial about this. Given that federal funding amounts to less than 15% of PBS's annual funding, the argument reducing or eliminating federal subsidies. Moreover, Sesame Street itself gets the vast, vast majority of its funding from outside sponsors and licensing revenues of its beloved characters, not from PBS or the Federal Government. Cutting the PBS subsidy isn't going to kill Big Bird or Elmo. However, the Obama campaign is latching onto this because, well, it's Big Bird and who doesn't love a big yellow bird. Serious politics, though, it isn't.
The other problem with this, of course, is that there's just something, well not Presidential about stuff like this. Is this really what the President wants to use to turn around his campaign, a silly commercial that ignores the real issues. The RNC alleges that Obama and/or his campaign has mentioned Big Bird or Elmo in public  more than a dozen times, but hasn't mentioned the terrorist attack in Benghazi a single time. That strikes me as profoundly misplaced priorities. Up until now, Obama for America was running a polished, nearly error-free, campaign. Ever since the debate, it's seemed as though they've not known which direction to go as the momentum of the race as clearly changed. If this is the kind of ideas they're coming up with, then perhaps the men and women in Chicago aren't as professional as I thought they were.
Update: The people behind Big Bird aren't too thrilled about the Obama campaign's "Big Bird" ad:
The folks on "Sesame Street" aren't happy with the Obama campaign.

The Sesame Workshop, which runs "Sesame Street," put out a statement on Tuesday asking the campaign to take down a cheeky ad that prominently features Big Bird.

The ad mocks Mitt Romney's vow to end the federal subsidy to PBS. It paints Big Bird as the shady criminal mastermind behind a raft of financial scandals.

The Sesame Workshop objected to having its characters used in a partisan context, as it said in its statement:

Sesame Workshop is a nonpartisan, nonprofit organization and we do not endorse candidates or participate in political campaigns. We have approved no campaign ads, and as is our general practice, have requested that the ad be taken down.
The Obama campaign says they are reviewing the request.
Photo via The Hollywood Reporter