Poet, Author, Civil Rights Activist Maya Angelou Dies At 86
A great American writer has passed away.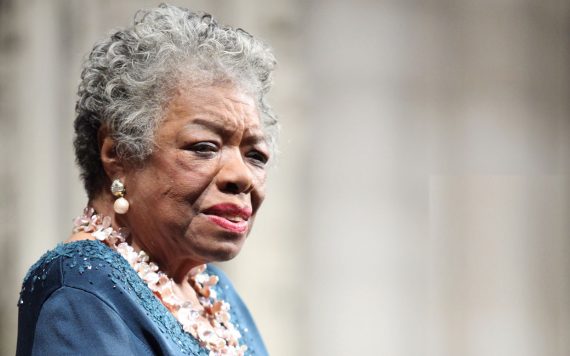 Maya Angelou, a woman who grew up in the Jim Crow South to become the leading American poet of her generation, has died at the age of 86:
Maya Angelou, the memoirist and poet whose landmark book of 1969, "I Know Why the Caged Bird Sings" — which describes in lyrical, unsparing prose her childhood in the Jim Crow South — was among the first autobiographies by a 20th-century black woman to reach a wide general readership, died on Wednesday in her home. She was 86 and lived in Winston-Salem, N.C.

Her death was confirmed by her longtime literary agent, Helen Brann. No immediate cause of death had been determined, but Ms. Brann said Ms. Angelou had been in frail health for some time and had had heart problems.

As well known as she was for her memoirs, which eventually filled six volumes, Ms. Angelou very likely received her widest exposure on a chilly January day in 1993, when she delivered the inaugural poem, "On the Pulse of Morning," at the swearing-in of Bill Clinton, the nation's 42nd president, who, like Ms. Angelou, had grown up poor in rural Arkansas.

(…)

Long before that day, as she recounted in "Caged Bird" and its five sequels, she had already been a dancer, calypso singer, streetcar conductor, single mother, magazine editor in Cairo, administrative assistant in Ghana, official of the Southern Christian Leadership Conference and friend or associate of some of the most eminent black Americans of the mid-20th century, including James Baldwin, the Rev. Dr. Martin Luther King Jr. and Malcolm X.

Afterward (her six-volume memoir takes her only to the age of 40), Ms. Angelou (pronounced AHN-zhe-lo) was a Tony-nominated stage actress; college professor (she was for many years the Reynolds professor of American studies at Wake Forest University in Winston-Salem); ubiquitous presence on the lecture circuit; frequent guest on television shows, from "Oprah" to "Sesame Street"; and subject of a string of scholarly studies.

In February 2011, President Obama presented her with the Presidential Medal of Freedom, the country's highest civilian honor.

Throughout her writing, Ms. Angelou explored the concepts of personal identity and resilience through the multifaceted lens of race, sex, family, community and the collective past. As a whole, her work offered a cleareyed examination of the ways in which the socially marginalizing forces of racism and sexism played out at the level of the individual.

"If growing up is painful for the Southern Black girl, being aware of her displacement is the rust on the razor that threatens the throat," Ms. Angelou wrote in "I Know Why the Caged Bird Sings."

Hallmarks of Ms. Angelou's prose style included a directness of voice that recalls African-American oral tradition and gives her work the quality of testimony. She was also intimately concerned with sensation, describing the world around her — be it Arkansas, San Francisco or the foreign cities in which she lived — with palpable feeling for its sights, sounds and smells.

"I Know Why the Caged Bird Sings," published when Ms. Angelou was in her early 40s, spans only her first 17 years. But what powerfully formative years they were.
As with many great writers, it was Angelou's personal experiences, and specifically her childhood, that formed the basis for much of what came later:
The children returned periodically to St. Louis to live with their mother. On one such occasion, when Maya was 7 or 8 (her age varies slightly across her memoirs, which employ the techniques of fiction to recount actual events), she was raped by her mother's boyfriend.

She told her brother, who alerted the family, and the man was tried and convicted. Before he could begin serving his sentence, he was murdered — probably, Ms. Angelou wrote, by her uncles.

Believing that her words had brought about the death, Maya did not speak for the next five years. Her love of literature, as she later wrote, helped restore language to her.

As a teenager, now living with her mother in San Francisco, she studied dance and drama at the California Labor School and became the first black woman to work as a streetcar conductor there. At 16, after a casual liaison with a neighborhood youth, she became pregnant and gave birth to a son. There the first book ends.

Reviewing "I Know Why the Caged Bird Sings" in The New York Times,Christopher Lehmann-Haupt called it "a carefully wrought, simultaneously touching and comic memoir."

The book — its title is a line from "Sympathy," by the African-American poetPaul Laurence Dunbar — became a best seller, confounding the pervasive stereotype that black women's lives were unworthy of memoir.

The next five volumes of Ms. Angelou's memoir, all, like the first, originally published by Random House, were "Gather Together in My Name" (1974), "Singin' and Swingin' and Gettin' Merry Like Christmas" (1976), "The Heart of a Woman" (1981), "All God's Children Need Traveling Shoes" (1986) and "A Song Flung Up to Heaven" (2002).
More from The Washington Post:
As a child growing up in the Jim Crow South, Maya Angelou was raped by her mother's boyfriend; as a young woman, she worked briefly as a brothel madam and a prostitute. From those roots in powerlessness and violence, she rose to international recognition as a writer known for her frank chronicles of personal history and a performer instantly identified by her regal presence and rich, honeyed voice.

Ms. Angelou established her literary reputation in 1970 with "I Know Why the Caged Bird Sings," a memoir detailing her harrowing upbringing.

From her desperate early years, Ms. Angelou gradually moved into nightclub dancing and from there began a career in the arts that spanned more than 60 years. She sang cabaret and calypso, danced with Alvin Ailey, acted on Broadway, directed for film and television and wrote more than 30 books, including poetry, essays and, responding to the public's appetite for her life story, six autobiographies.

She won three Grammy Awards for spoken-word recordings of her poetry and prose and was invited by President-elect Bill Clinton to read an original poem at his first inauguration in 1993, making her only the second poet in history, after Robert Frost, to be so honored.

Her poem, "On the Pulse of Morning," spoke of a hope that the country's diverse people would find new unity after chapters in American history of oppression and division.

"Lift up your eyes upon/The day breaking for you," she said as the nation watched. "Give birth again/To the dream."

It was her story of personal transformation in "I Know Why the Caged Bird Sings" that launched Ms. Angelou's career and brought her wide recognition as a symbol of strength overcoming struggle.

"She brought an understanding of the dilemmas and dangers and exhilarations of black womanhood more to the fore than almost any autobiographer before her time," said Arnold Rampersad, a literary critic and professor emeritus of English at Stanford University. "She challenged assumptions about what was possible for a poor black girl from the South, and she emerged as a figure of courage, honesty and grace."

(…)

The idea for "I Know Why the Caged Bird Sings" arose during conversations with friends, including James Baldwin, whom she'd met in Paris. Ms. Angelou initially resisted the suggestion that she write her story, giving in only after an editor goaded her by suggesting that writing autobiography as literature was too difficult for anyone to do well.

"I Know Why the Caged Bird Sings" focused on growing up in her grandmother's care in segregated Stamps, Ark., and on the rape at age 7, "a breaking and entering when even the senses are torn apart." After she spoke her attacker's name, he was found kicked to death in a lot behind a slaughterhouse. Convinced that her voice had the power to kill, she fell nearly silent for nearly five years. She spoke only to her beloved older brother, Bailey.

"I had to stop talking," she wrote. "I walked into rooms where people were laughing, their voices hitting the walls like stones, and I simply stood still — in the midst of a riot of sound. After a minute or two, silence would rush into the room from its hiding place because I had eaten up all the sounds."

The book, which came at the leading edge of a renaissance in literature by black female writers such as Toni Morrison and Alice Walker, traces the young Ms. Angelou's effort to recover her voice and a sense of control over her body and her life, beginning with her recitation of "A Tale of Two Cities" at the behest of a family friend.

Enduringly popular, "I Know Why the Caged Bird Sings" has been translated into 17 languages, sold more than one million copies and still appears on high school and college reading lists.

"There isn't any easy, which is to say false line in the book," wrote the novelist Ward Just in a Washington Post review. "It is not propaganda nor a history of the blacks, nor, most blessedly, sociology. It is one woman, Maya Angelou, writing about her life and times and writing from a talent so strong as to make each part of it immediate, direct, devastating and — oddly — beautiful."
When a great writer dies, it seems almost inadequate for those of us who are nowhere near as great to write excessively about them. Instead, it seems to me the best tribute to a great writer is to appreciate their own writing, such as this from I Know Why The Caged Bird Sings:
The free bird leaps
on the back of the wind
and floats downstream
till the current ends
and dips his wings
in the orange sun rays
and dares to claim the sky.

But a bird that stalks
down his narrow cage
can seldom see through
his bars of rage
his wings are clipped and
his feet are tied
so he opens his throat to sing.

The caged bird sings
with fearful trill
of the things unknown
but longed for still
and his tune is heard
on the distant hill
for the caged bird
sings of freedom

The free bird thinks of another breeze
and the trade winds soft through the sighing trees
and the fat worms waiting on a dawn-bright lawn
and he names the sky his own.

But a caged bird stands on the grave of dreams
his shadow shouts on a nightmare scream
his wings are clipped and his feet are tied
so he opens his throat to sing

The caged bird sings
with a fearful trill
of things unknown
but longed for still
and his tune is heard
on the distant hill
for the caged bird
sings of freedom.
Of course, for most Americans Angelou is perhaps best remembered for being only the second poet to compose and deliver a poem at a Presidential Inauguration, when she spoke at President Clinton's First Inaugural on January 20, 1993:
As I was pulling this together, the one thing that surprised me was that Angelou had never won a Nobel Prize in Literature. At some point, I had thought for certain that she had but I suppose that I may have confused her and Toni Morrison. Nonetheless, Angelou won many awards in her own right and she leaves behind a legacy of work that will be read far into the future. We were lucky enough to have been around to see it being created.
Video courtesy of the William J. Clinton Presidential Library