OTB Caption Contest Winners
The Pole Dance Edition OTB Caption ContestTM is now over.
The Pole Dance Edition OTB Caption ContestTM is now over.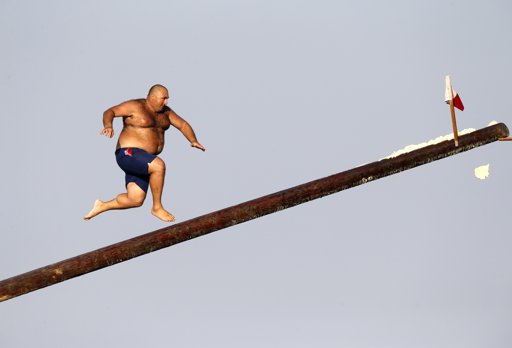 Photo by DARRIN ZAMMIT LUPI/REUTERS

✰ THE WINNERS ✰
First: Pinky – when Fear Factor meets The Biggest Loser

Second: OzarkHillbilly – "Hold my beer and watch this!"

Third: al-Ameda – 64oz Mountain Dew here I come
HONORABLE MENTION
Tony W – Wile-E-Coyote has gained some weight in recent years…

He who must not be named – They took Greco-Roman wrestling out of the Olympics for this?.

David in KC – Chris Christie is pretty fly for a fat guy.

john425 – Regretfully, James Gandolfini did not make it to the end of the line.

Mu – Ignoring the flag Andrew Zimmern went straight for the whipped cream

markm – Still trying to recover from the 'red line' statement of a year ago President Obama issues a new global warning: "LET ME BE CLEAR….any regime anywhere that does something we don't like…..this is a brown pole with a flag thingy on it for us. Anyone that climbs it….then this would change my calculus. That would change my equation".
ℛODNEY'S BOTTOM OF THE BARREL
"That's no moon."

The pole dancing exhibition left a little to be desired.

The first American Ninja Warrior turned out to be a little different than expected.

So what are Chris Christie's chances of winning the Presidency?

A politician is measured by how well he does in the poles.
The Monday Contest is already off to the races.