OTB Caption Contest Winners
The Cobbler's Son Edition OTB Caption ContestTM is now over.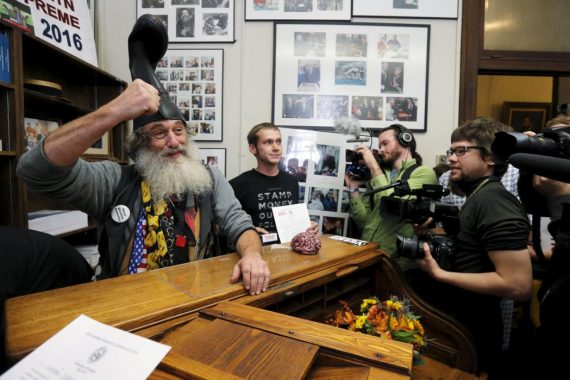 (REUTERS/Brian Snyder) 28/39

✰ THE WINNERS ✰
First: Franklin – The "I'm a lover not a fighter" candidate reminds us all to wear our rubbers.

Second: RockThisTown – Obama's new Defense Secretary shows the administration's 'no boots on the ground' strategy.

Third: Jc – Robert Deniro in – "Vermin Supreme – 2016, Grassroots and black boots!" This film is not yet relevant.
HONORABLE MENTION
Mu – "And CSPAN is not going to show any speaker deviating from the new dress code".

Jeron – These boots are made for walking, Johnny.

CSK – Vermin Supreme's true ambition was to be chosen as Donald Trump's running mate.

Tony W – After the film went viral all over the internet, Santa finally agreed it was time to stop drinking.

markm – "…and my running mate will be Pastafarian Lindsay Miller from the Church of the Flying Spaghetti Monster"

al-Ameda – "I remain fully committed to repealing every single word of Obamacare."

Sudo Nimgh – Gandalf's demonstrates at the Mordor County Clerk's office, stating the bill allowing religious grounds for the refusal to issue same-sex marriage licenses "shall…NOT…PASS!" His domestic partner Dumbledore had no comment.

Paul Hooson – "Je Suis Paul Hooson!"
ℛODNEY'S BOTTOM OF THE BARREL
The Democrats finally find a Presidential candidate with a sole.

By Happenstance the lead Republican Presidential candidate is also a vermin.

"Whaddya Das Boot is really about a submarine?"

"Ya der hey!"

A well heeled candidate.