OTB Caption Contest Winners
The Stan Nousman Edition OTB Caption ContestTM is now over.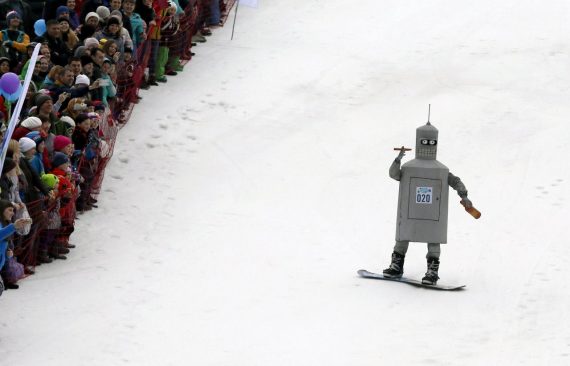 (Photo: Ilya Naymushin/Reuters)

✰ THE WINNERS ✰
First: Hal_10000 – The appearance of fully functional robots in society has ignited a fierce debate among Republicans as to which bathrooms they will be allowed to use.

Second: Tom – Rad Tin Man from 2016 Wizard of Oddz

Third: al-Ameda – "Am I not in Kansas anymore?"
HONORABLE MENTION
Franklin – Introducing the not-very-efficient but very stylish Roomba snow grooming machine.

john430 – Kim Jong Un unveils new, cold-weather fighting gear.

Guarneri – The most interesting man in the world, 3016

Mu – C3PO was not happy how the repair job after his latest mishap turned out.

Paul Hooson – It only gets worst….His ski instructor was Sonny Bono…

T – Yeah well, I'm gonna go write my own caption! With blackjack! and.. hookers! In fact, forget the caption!
ℛODNEY'S BOTTOM OF THE BARREL
My other ride is a Zamboni.

Once the audition tapes were released everyone understood why Robert Downey, Jr. and not Charlie Sheen got the role of Iron Man.

Oil can….. oil can…. oil can…..

The Schwartz is strong with this one…..

This is not the 'droid you're schussing for…..