OTB Caption Contest Winners
The Ramming Speed Edition OTB Caption ContestTM is now over.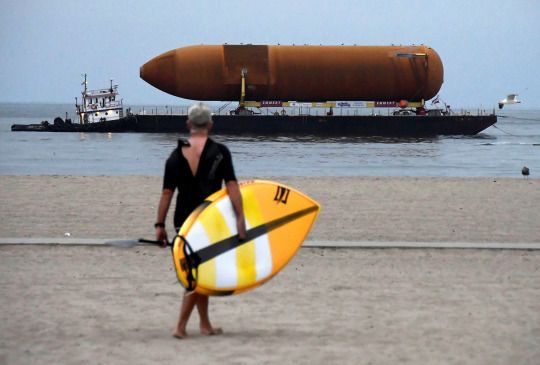 (Gene Blevins/Reuters)

✰ THE WINNERS ✰
First: RockThisTown – The USS Anthony Weiner being prepared for its maiden voyage.

Second: Kylopod – "My crayons are yuuuuuuge." (must be compensating for something – rodney)

Third: Jenos Idanian – In a stunning demonstration of performance art, Christo arranges for a special delivery to Liberty island, where this will be… introduced to the Statue of Liberty. The artist says it symbolizes the 2016 presidential election.
HONORABLE MENTION
Hal_10000 – The press were shocked to find that the event involving a giant orange explosive container of hot gas was not, in fact, a Trump appearance.

markm – Iran: "That?!?!?!?…NO….no-no-no….that is not a MOANW (mother of all nuclear war heads), that is a….fishing buoy. Yeah, that's the ticket."

Franklin – Roger Goodell taunts Tom Brady by sending a giant deflated football to the Patriot's oceanside mansion.

Jc – Ball Park Franks releases a prototype of its newest hot dog "The Chris Christie"

Paul Hooson – Thank God the North Korean nukes are no good without a reliable delivery system…

Guarneri – Peering out the front window, it was a Captain's sixth sense that told him. "Don't yell fire!"

Robert W. Armijo – Shwing!

lethbridge – President Trump sends iron sculpture to North Korea
ℛODNEY'S BOTTOM OF THE BARREL
Ivana Trump: "No, Not really. Donald is more a canoe with a hot water heater."

Another delivery of hot air to Washington D.C.

Hillary begins to wonder just how many D-cells it takes.

First attempt at the Airhogs speed boat record

Kim Jong-Un: "Now where did I leave the Illudium pu-36 explosive space modulator."