Our Present Petty Polarized Politics
Common ground is, sadly, bad politics.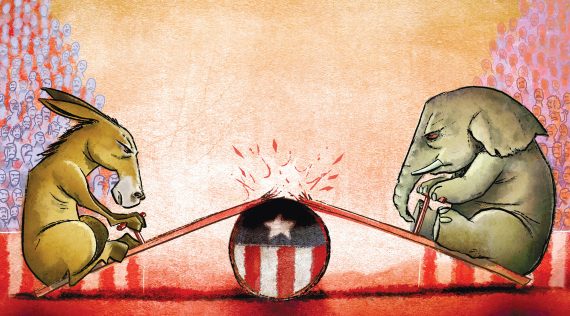 Politico reports: DeSantis will not meet with Biden in Florida on Saturday.
Ron DeSantis will not meet Joe Biden on Saturday when the president comes to Florida to survey damage from Hurricane Idalia, the governor's administration said Friday.

The governor's office, in a statement, said the visit will disrupt recovery efforts.
Of course, that's not the reason. The reason is that it would disrupt DeSantis politically.
And, he isn't wrong.
In our current political climate a Republican politician, especially one in a primary, can only see more downside than up in appearing with the president of the opposing party–especially in a context wherein said Republican would be forced to say nice things about said president.
See, e.g., Chris Christie, Barack Obama, and Superstorm Sandy relief.
It reminds me of when President Biden visited Alabama a few years ago and Governor Ivey was "too busy" to meet with him (she was involved in a campaign at the time).
It is a troubling, but unsurprising, aspect of our current era that opposing partisans see downsides to being cooperative with their opponents even in the name of the public good.
I would note that at least part of the reason for this is that the candidate selection process in the US privileges partisan point-scoring and fundraising nonsense over public policy competence.