DeSantis Pandering to the Deplorables
Out Trumping Trump is possible because of Trump.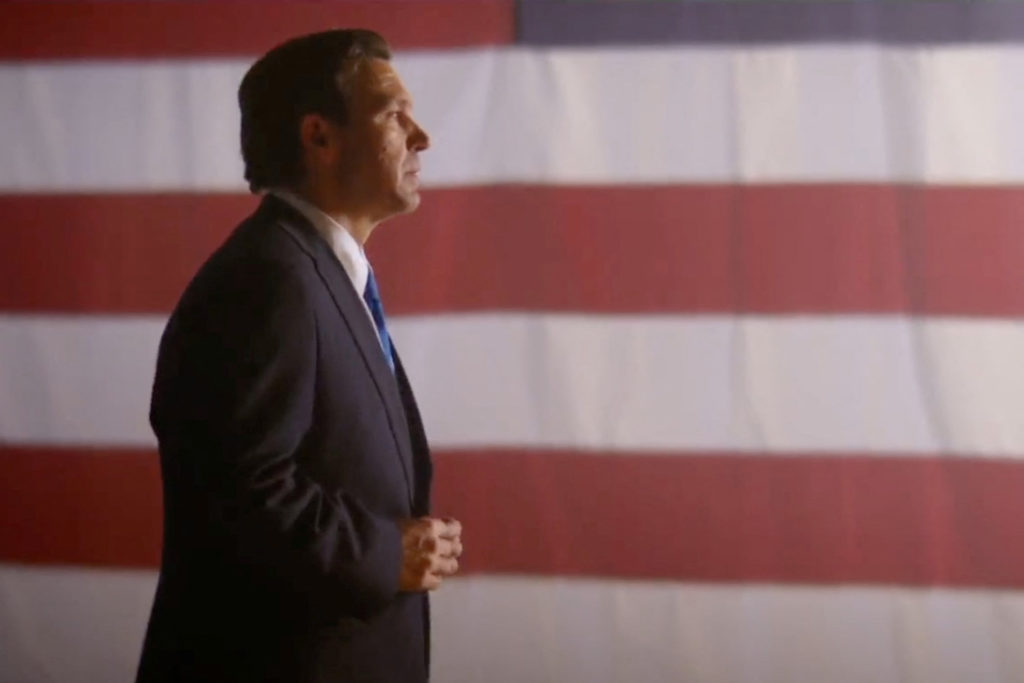 Hillary Clinton infamously dubbed "half" of her 2016 opponent's supporters part of "a basket of deplorables" in a speech to the LGBT for Hillary gala. In context, her analysis held up pretty well:
I think we know what we're up against. We do, don't we?

Donald Trump has pledged for appoint Supreme Court justices who will overturn marriage equality—

And if you have read about the ones he says he's likely to support, he's not kidding. In fact, if you look at his running mate, his running-mate signed a law that would have allowed businesses to discriminate against LGBT Americans. And there's so much more than I find deplorable in his campaign: the way that he cozies up to white supremacist, makes racist attacks, calls women pigs, mocks people with disabilities — you can't make this up. He wants to round up and deport 16 million people, calls our military a disaster. And every day he says something else which I find so personally offensive, but also dangerous.

[…]

We are living in a volatile political environment. You know, to just be grossly generalistic, you could put half of Trump's supporters into what I call the basket of deplorables. Right?

The racist, sexist, homophobic, xenophobic, Islamaphobic — you name it. And unfortunately there are people like that. And he has lifted them up. He has given voice to their websites that used to only have 11,000 people — now how 11 million. He tweets and retweets their offensive hateful mean-spirited rhetoric. Now, some of those folks — they are irredeemable, but thankfully they are not America. But the other basket — and I know this because I see friends from all over America here — I see friends from Florida and Georgia and South Carolina and Texas — as well as, you know, New York and California — but that other basket of people are people who feel that the government has let them down, the economy has let them down, nobody cares about them, nobody worries about what happens to their lives and their futures, and they're just desperate for change. It doesn't really even matter where it comes from. They don't buy everything he says, but he seems to hold out some hope that their lives will be different. They won't wake up and see their jobs disappear, lose a kid to heroine, feel like they're in a dead-end. Those are people we have to understand and empathize with as well. [emphases added -jj]
Re-reading that now, she was rather prescient. Whether the "about half" part was right remains debatable. But, certainly, Trump unabashedly appealed to the worst instincts of Americans. Moreover, what Clinton got especially right was the degree to which he amplified their power, moving them from the shadows of the Dark Web into prominence. Not only were the Proud Boys suddenly in the spotlight but movements like Qanon and networks like Newsmax suddenly became viable.
Florida Governor Ron DeSantis, long considered the most potent of the challengers to former President Donald Trump for the 2024 Republican nomination, is taking advantage of that, unabashedly seeking to be the new leader of the Deplorables.
Aside from a deplorable set of public policies in Florida, his campaign rollout isn't even trying to make a broad appeal. Why else would you launch your campaign with Elon Musk on Twitter Live, a platform increasingly under fire for being newly friendly to the alt-Right? Or follow that up with an appearance on Newsmax?
William Vaillancourt, The Daily Beast ("DeSantis Suffers Yet ANOTHER Technical Issue as Newsmax Feed Cuts Out"):
For the second consecutive night, 2024 GOP presidential candidate Ron DeSantis ran into a technical difficulty during an important moment—this time during a Newsmax interview.

On Wednesday evening, DeSantis' much-awaited campaign announcement during a Twitter Spaces event was marred by crashes, which caused a roughly 20-minute delay. DeSantis appeared on Fox News later that night, where guest host Trey Gowdy poked fun at the inconvenience, joking, "Fox News will not crash during this interview." Indeed, it did not.
Despite my schadenfreude, I can hardly blame DeSantis for technical glitches on platforms he doesn't operate. But I can blame him for launching his campaign on niche platforms that pander to the worst of us. Even Trump didn't do that: he descended the escalator and gave a campaign speech that was covered by all the major press outlets.
While DeSantis was punished for his choice by amateur-hour technology, he was rewarded with questioning that allowed him to stay on brand:
On The Balance, host Eric Bolling asked the Florida governor about the NAACP issuing a travel advisory for minorities and LGBTQ+ individuals planning on going to the state, citing DeSantis' "unrelenting attacks on fundamental freedoms" through actions like book bans and defunding diversity programs at state colleges. (Bolling incorrectly referred to the advisory as a "ban.")

"What's your response to the NAACP for our audience?" Bolling asked, just as that audience saw a frozen split-screen.

"This is such a stunt. It's a typical political farce," DeSantis can still be heard saying, despite the frozen image. Shortly thereafter, the picture feed did resume, only to freeze again about 40 seconds later when DeSantis was talking about minorities in places that aren't Florida.

"If you're in Chicago or you're in Baltimore, these kids have a better chance of getting shot than getting a decent education. I don't see the NAACP talking about Chicago or Baltimore. No, they're focused on Florida, where people of all races are having the opportunity to get ahead," he claimed.
Sigh. And he wasn't done.
WaPo ("DeSantis says, if elected president, he'd consider pardons for Jan. 6 offenders"):
Florida Gov. Ron DeSantis said Thursday that, if elected president, he would consider pardoning some of those convicted on charges related to the deadly Jan. 6, 2021, insurrection at the U.S. Capitol.

Hosts of the conservative "The Clay Travis & Buck Sexton Show" asked DeSantis if he thinks Jan. 6 defendants "deserve to have their cases examined by a Republican president," and whether he would pardon former president Donald Trump if he were "charged with federal offenses." DeSantis said that on his first day in office, he would "have folks that will get together and look at all these cases."

"Now, some of these case, some people may have a technical violation of the law," DeSantis said. "But if there are three other people who did the same thing but just in a context, like [the Black Lives Matter protests in 2020] and they don't get prosecuted at all, that is uneven application of justice, and so … we will use the pardon power."
For those unfamiliar, Travis is the founder of Outkick The Coverage, a website dedicated to countering the "woke" take on sports that ESPN and others were criticized for in the wake of Black Lives Matter. Which, again, is a weirdly niche outlet for a major candidate in the midst of rolling out a campaign. I could at least understand why a Vivek Ramaswamy would take that approach (I have no idea whether he is). But the sitting Governor of the third largest state in the union?
Twice in the interview, DeSantis avoided directly answering questions on whether he'd pardon Trump but left open the possibility.
"I would say any example of this favored treatment based on politics, or weaponization, would be included in that review, no matter how small or how big," the GOP presidential candidate said.

DeSantis said he would use his pardon powers "at the front end" of his administration, noting that "a lot of people wait until the end of the administration to issue pardons." Trump issued pardons throughout his presidency, including a flurry as he was leaving office to many of his allies.
Beyond the venue, who is it that is sitting around the kitchen table worried about the fate of the January 6 rioters? I can't imagine that even the average Republican primary voter has that near the top of their priority list. And, while I understand that there's still widespread support for Trump among the base, I don't see how kissing his ass is the path to defeating him in the primaries.
Regardless, disastrous as it appears from the outside, the campaign launch seems to be working.
NYT ("DeSantis Campaign Says It Raised $8.2 Million in First 24 Hours"):
Gov. Ron DeSantis of Florida raised $8.2 million in his first 24 hours as a presidential candidate, his campaign said on Thursday, a huge sum that cements his standing as the leading Republican rival to Donald J. Trump.

Mr. DeSantis's campaign began on Wednesday evening with a glitch-filled kickoff on Twitter, but that apparently did not slow donor enthusiasm. The campaign said on Wednesday that it had raised $1 million during a single hour.

The $8.2 million figure is more than the $6.3 million that Joseph R. Biden Jr. raised in his first 24 hours as a candidate in 2019, or the $6.1 million raised by former Representative Beto O'Rourke that same year.

The haul will immediately infuse his campaign with the money needed to finance a growing political operation and aggressive travel schedule that will take the governor to 12 cities across three states next week.

The sum is roughly double the $4 million that Mr. Trump's campaign said it had raised in the 24 hours after his criminal indictment earlier this year, though most of that money was raised organically online.

[…]

The sum does not include any of the funds that the pro-DeSantis super PAC, Never Back Down, has raised in recent months into a Draft DeSantis account that can be directly transferred to the campaign, according to Mr. Griffin. It is unclear how much money is in that account.
The donations, presumably, are as much a function of monied interests betting he's the best shot at unseating Trump as a response to the launch events. Still, it's rather depressing.