Over 200 Dead in Sri Lanka Church Attacks
Blasts at Christian churches and tourist hotels appear to be a coordinated terrorist attack.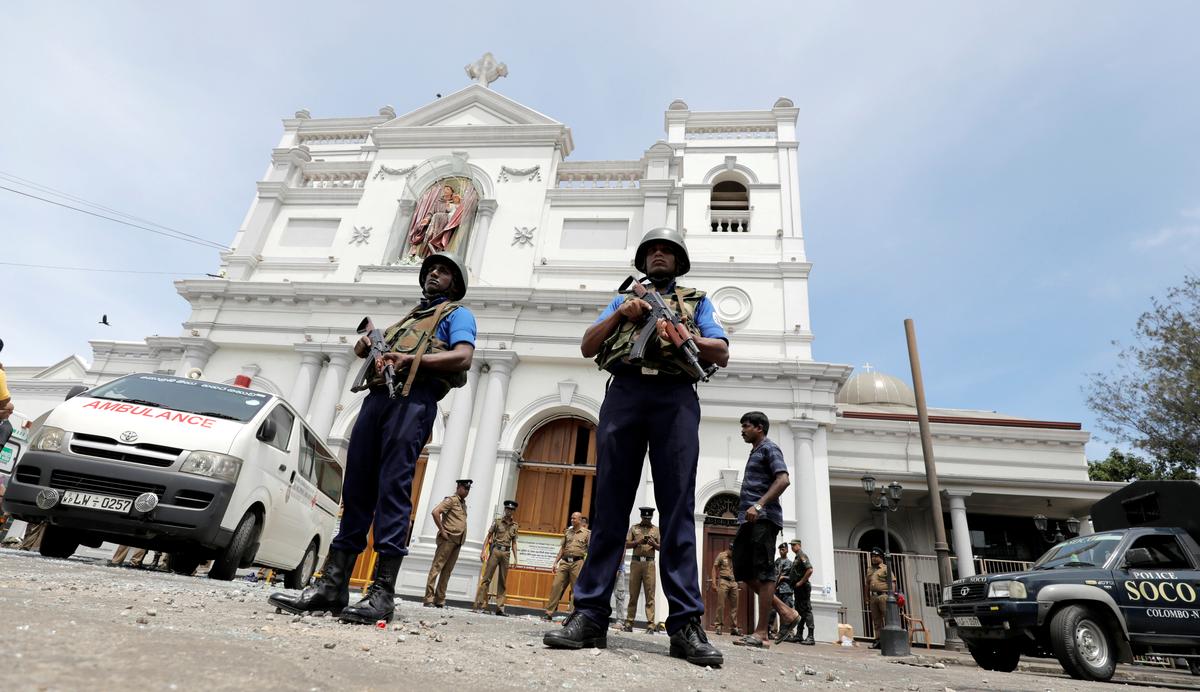 Horrific attacks have killed at least 207 people and wounded at least 450 others.
A series of coordinated bombings ripped across Sri Lanka on Sunday morning, striking hotels and churches, killing almost 200 people and shattering the relative calm that the war-torn nation had enjoyed in recent years.


The targets of the attacks were Catholic worshipers attending Easter Mass and guests at high-end hotels that are popular with foreign tourists.

The deadliest of the explosions, which began around 8:45 a.m., appeared to be at St. Sebastian's Church in Negombo, a city about 20 miles north of Colombo, the capital. Pictures posted on social media showed blood and rubble as members of the congregation tended to wounded people strewn across pews.


The other churches attacked were St. Anthony's Shrine in Colombo and Zion Church in the eastern city of Batticaloa.

[…]

There were also explosions at three hotels in Colombo: the Shangri-La, the Cinnamon Grand and the Kingsbury.

[…]

Sri Lanka, an island nation in the Indian Ocean, suffered decades of civil war that ended in 2009. Since then, there has been some political instability and sporadic attacks, but nothing on this scale.


Though it was not immediately clear who was responsible for the attacks, the police said they appeared to have been coordinated. A senior presidential aide said early investigations suggested that the attacks had been carried out by suicide bombers.


With President Maithripala Sirisena away on an overseas trip, Prime Minister Ranil Wickremesinghe was running the government's emergency meetings.

— NYT, "Blasts at Churches and Hotels in Sri Lanka Said to Kill Almost 200"
An AP report that's being continuously updated has the most recent figures.
I don't have much to add in the way of analysis here. A grad school office-mate was Sri Lankan, so I have a passing familiarity of the conflict as it stood at its height, but it's not something I've studied with any depth.
Authorities are rightly being cautious but it's inconceivable to me that six separate attacks against Christians and Westerners on Easter Sunday are anything other than a coordinated terrorist attack.
UPDATE (1244 Eastern): AP points to significant new developments.
More than 200 people were killed and hundreds more wounded in eight bomb blasts that rocked churches and luxury hotels in or near Sri Lanka's capital on Easter Sunday — the deadliest violence the South Asian island country has seen since a bloody civil war ended a decade ago.

Defense Minister Ruwan Wijewardena described the bombings as a terrorist attack by religious extremists and said seven suspects were arrested, though there was no immediate claim of responsibility. He said most of the blasts were believed to have been suicide attacks.

[…]

Prime Minister Ranil Wickremesinghe said he feared the massacre could trigger instability in Sri Lanka, a country of about 21 million people, and vowed to "vest all necessary powers with the defense forces" to take action against those responsible. The government imposed a nationwide curfew from 6 p.m. to 6 a.m.


The Archbishop of Colombo, Cardinal Malcolm Ranjith, called on Sri Lanka's government to "mercilessly" punish those responsible "because only animals can behave like that."
The YahooNews headline pointing me to the AP piece referenced 7 arrests but it's nowhere in the story.