Over a Million Americans Dead from COVID
Another grim---and substantially avoidable---milestone.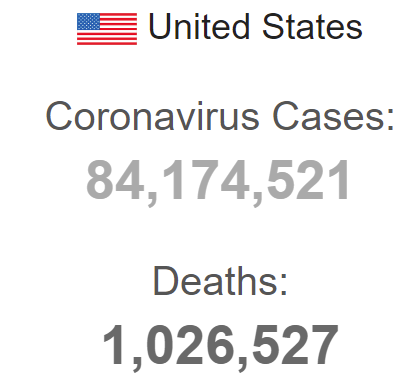 Working on a military base, I walk past a flagpole every morning on the way into the office. The flag is often at half-staff commemorating the passing of a senior official (as it was recently with the passing of former Secretary of State Madeleine Albright) or some tragedy that the President has seen fit to observe. I noticed it had been lowered again as of Thursday and couldn't figure out why. It turned out, President Biden wanted to draw our attention to the millionth American death from COVID-19.
Today, we mark a tragic milestone: one million American lives lost to COVID-19. One million empty chairs around the dinner table. Each an irreplaceable loss. Each leaving behind a family, a community, and a nation forever changed because of this pandemic. Jill and I pray for each of them.

To those who are grieving, and asking yourself how will you go on without him or what will you do without her, I understand. I know the pain of that black hole in your heart. It is unrelenting. But I also know the ones you love are never truly gone. They will always be with you.

As a nation, we must not grow numb to such sorrow. To heal, we must remember. We must remain vigilant against this pandemic and do everything we can to save as many lives as possible, as we have with more testing, vaccines, and treatments than ever before. It's critical that Congress sustain these resources in the coming months.

In remembrance, let us draw strength from each other as fellow Americans. For while we have been humbled, we never give up. We can and will do this together as the United States of America.

May God bless the one million American lives lost and their loved ones left behind.
When, exactly, the number was hit is hotly debated. Some government experts, looking at excess mortality numbers, think we actually lost a million by late December. The Worldometer data that I've relied on since the earliest days had us there weeks ago. And, of course, skeptics charge that the numbers are wildly inflated because there are incentives to categorize any death that can be as "COVID-related." Regardless, the toll has been massive.
When the virus hit our shores in early 2020, few experts were predicting anything like this toll. As shocking as that number is, what's almost unfathomable is that more than half of them have died since vaccines began rolling out. Indeed, looking at the trendline (via Worldometer) it's hard to see where vaccines even kicked in: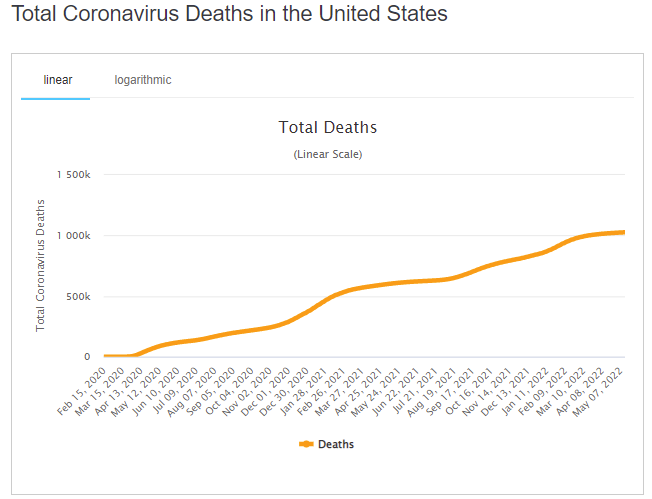 Even the logarithmic scale, which I find less intuitive but public health professionals find more useful, doesn't help: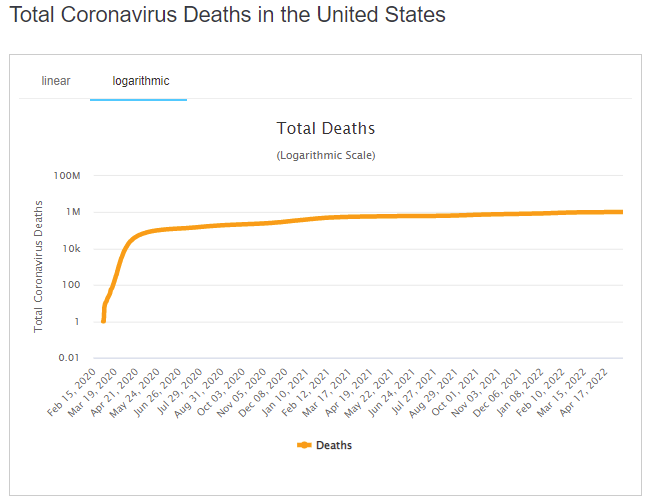 NPR cites an estimate that 319,000 American lives could have been saved if everyone had gotten vaccinated when they were eligible.
These figures come from an analysis released Friday by researchers at Brown University and Microsoft AI Health — shared exclusively with NPR — that estimates the portion of vaccine-preventable deaths in each state since COVID-19 vaccines became available at the start of 2021.

In early 2021, when the vaccines were widely distributed, there was huge demand. At the peak of the vaccination campaign in the spring, 4 million people got vaccinated in one day. That demand dropped off by summer. A year later, many states are still barely north of 50% of people fully vaccinated.

How many lives would have been saved if that slump in vaccine demand had never happened? To answer that question, Brown and Microsoft researchers calculated the peak vaccination rate for each state, and then imagined that rate continued until all adults in the state were fully vaccinated.

The total for the country is stark: Many of the nearly 1 million COVID deaths took place in 2020 before the vaccines were available. But of the more than 641,000 people who died after vaccines were available, half of those deaths could have been averted – 318,981 – had every eligible adult gotten vaccinated. And those numbers are even more striking in certain states where more than half of deaths could have been avoided.
It's really stunning. Alas, the deaths were, to use a bit of social science jargon, overdetermined. Most of the people who chose not to get vaccinated also failed to follow recommended precautions like masking, social distancing, avoiding unnecessary exposure to crowds, and the like. They were also more likely to have comorbidities such as physical impairments. (Although, interestingly, not to be elderly; vaccine refusal is disproportionately a phenomenon of the young.)