Palin: Party Like It's 1773
Sarah Palin and the Tea Party aren't as clueless as their detractors think.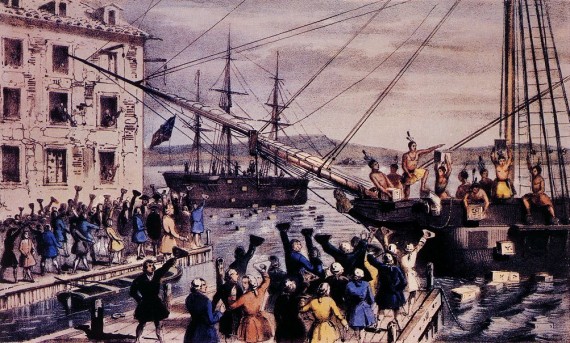 So, it seems that Sarah Palin told a crowd of Tea Party-ers to that the shouldn't "party like it's 1773" because there's lots of work to do between now and the election.
Several detractors, notably Markos Moulitsas and Gwen Ifil, mocked her for being an idiot.  Melissa Clouthier, Michelle Malkin, and tons of others quickly point out that 1773 was the year in which the Boston Tea Party took place — a point made earlier in the speech and rather obvious in context, anyway.   So, for once at least, Palin's not the idiot.
Not a big deal, really.  Twitter is a medium that rewards instant snark, not restraint.  And one could be forgiven for seeing the quote out of context, not recognizing the date, and just assuming Palin goofed.  There is, after all, precedent for that.  But the thing to do after discovering the error is to correct it and move on.
But Scott Eric Kaufman, aka SEK, goes in the other direction:
Conservatives are extremely amused by the fact that Markos Moulitsas et al.apparently didn't know that the Boston Tea Party took place in 1773 but Sarah Palin did. Not mentioned so often is that she knew it because it was written down on a sheet of paper in front of her. Like Sarah Palin, I can appear very knowledgeable about almost anything when I'm reading a speech written by someone who actually knows something. The larger irony here, though, is that a group of people who have no idea why the Boston Tea Party happened are crowing because a few liberal bloggers aren't exactly sure when it did. Such is the legacy of No Child Left Behind: they memorize the dates, but have little or no idea why they're actually memorable.
Look, I'm no fan of Palin.  She's decidedly not, so to speak, my cup of tea.   But she's hardly the only major politician who reads speeches that others wrote.   Barack Obama, for example,  is a very bright, highly educated fellow and doesn't write his own speeches.   Does she get any great credit for being able to read the year 1773?  No.  But nobody is crowing about that, but rather that people who consider themselves her intellectual superior got it wrong when she got it right.
Similarly, I'm not a Tea Party guy.   While I share some of their broad ideological goals, I'm not a fan of the leadership, rhetoric, and lack of policy sophistication inherent in the movement.   But what's the evidence that they're any less knowledgeable about the Boston Tea Party or American history than the average citizen?
(While we're at it, whether NCLB was good policy or not, primary and secondary history classes have mostly been about memorizing dates for decades.  It's a common frustration for college social science teachers that students who've theoretically had coursework on the basics are generally clueless.)
I gather from a comment he makes in the discussion section that Kaufman's point is that people have no right to complain about "taxation without representation" when, in fact, they have representation.   And I tend to agree.   But the current Tea Party movement has essentially the same gripe as did its predecessor:  That they have no voice in their government because out of touch elites living far away in different circumstances are making public policy.
Recall that the Brits considered the idea that the Colonists had no representation absurd.  They were subjects of king and Parliament represented the interests of all of England — which was more than a century away from anything like universal manhood suffrage.
And recall that the modern Tea Party protest was an uprising against a series of very unpopular bailouts of banks, underwater lenders, car companies, and others.   The polls showed that the overwhelming majority of people opposed these measures.  But Congress and two successive presidents pushed them through, anyway, thinking they knew better.    While Edmund Burke would applaud this type of representation, it's not entirely unreasonable for people to be frustrated and think their vote doesn't matter.   Especially when an unpopular policy continues after an election in which the sitting president is thrown out and his party's legislative delegation punished a second straight time.
Unlike the original Tea Party, they're not engaging in acts of criminality and terrorism to make their point.  Fully recognizing that they're in a democratic society, they're holding peaceful rallies and fully operating within the existing system to change it.   While the Tea Party is largely Republican, it's populist and anti-Establishment.   They're organizing to throw out Establishment Republicans like Mike Castle and Lisa Murkowski and are willing to risk losing elections rather than elect bland centrists like Mike Castle.   They're extremely frustrated with the status quo and demanding change.
Editor's note:  The original version of the penultimate paragraph said "Congress and the president" when, in fact, President Bush began the policy, which was continued and accelerated under President Obama.