Pastor of First Baptist Dallas' View on Refugees and Carpet Bombings
A five minute segment on the O'Reilly Factor clearly underscores how intertwined he is in secular politics.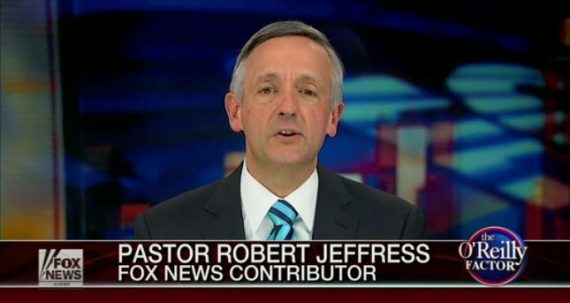 Pastor Robert Jeffress of First Baptist Dallas was on Fox News (via the DMN's Trail Blazers blog) disucssing the question of a Christian response to the Syrian refugees:
"Most people assume the Christian response is to allow immigrants and refugees' unconditional entrance into this country, and I think they think that because they confuse Jesus with the Statue of Liberty — give me your tired, your poor, your huddled masses. But in fact the real historical Jesus did urge compassion for those in need, but he also said, 'Render unto Caesar the things that are Caesar's.' In other words, support government with your taxes because they have a legitimate function like protecting citizens. Those of us who believe in the sanctity of life believe that sanctity serves to not only to protect the unborn but to protect the born from terrorist attacks. That's a Christian value as well."
A number of thoughts come to mind:
 No one of any seriousness is suggesting that the refugees be allowed unconditional entrance into the United States.  Rather, the refugees from Syria have to undergo a rigorous process before being allowed to enter.  Even on the broader immigration issue, the argument is not about fettered v. unfettered border crossing, but about updating a manifestly broken set of rules.  Sure, there are a handful of true open border types, but to present this debate as about allowing unconditional entrance is a straw man (and an anemic, if not anorexic, one at that).
So, the Statue of Liberty is more compassionate than Jesus? An odd claim for a pastor.
However, the Statue of Liberty is just a super-compassionate statue with a cool poem whose sentiments Americans should ignore?
The "Render unto Caesar" argument is profoundly weird here because if the argument is that Christians have an obligation to let the government govern, then that should mean letting the government pursue the refugee policy that has been designed and deployed.  Pastor Jeffress seems to be claiming that Christians must submit to government to only pursue policies that they like.
Really, we need to make this into an abortion discussion? There is more of this in the video after the quote above, in fact and a direct link to the current Planned Parenthood funding issue (and it quickly becomes Jeffress handicapping the GOP primary contest).
Video here:
It is interesting that Jeffress is a "Fox News Contributor" which honestly strikes me as an odd choice for a pastor as it creates a clear affiliation that is non-religious (especially since his commentary is basically about secular politics with only a thin veneer of theology).
The most remarkable part of the discussion, however, is towards the very end (starting at about the 4:40 mark) where the host quotes Trump and Cruz about "bomb[ing] the ass out of ISIS" (Trump) and "carpet bomb[ing]" ISIS (Cruz) and Jeffress responds with "Well, that's right and that's a biblical value" and then cites Romans 13 as proof that governments are supposed to punish wrong doers.  The cavalier endorsement of carpet bombing as a "biblical value" is pretty stunning (and in an interview that aired two days before Christmas–peace on Earth, goodwill towards men, indeed).  I fully understand that one can reach the conclusion that war is sometimes necessary via theological means, but to quickly endorse the simplistic belligerence of Trump and Cruz is stunning to behold from a pastor.
At a minimum, I suppose this helps illustrate how conservative Christians may find it possible to rationalize support for a candidate like Trump.   In Jeffress' case in particular, a five minute segment on the O'Reilly Factor clearly underscores how intertwined he is in secular politics.