Perry: Mormonism Not a Cult
Rick Perry's unforced error streak continues.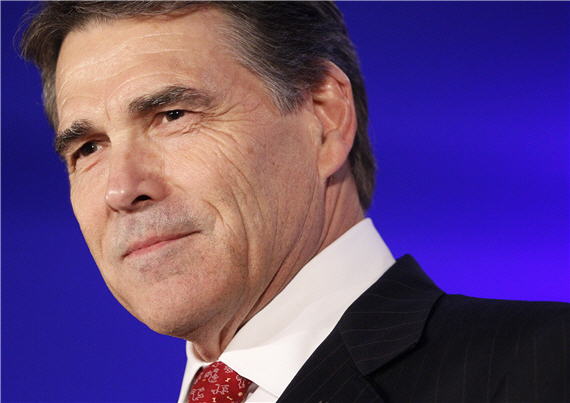 Rick Perry's unforced error streak continues. Now, he's having to distance himself from the remarks of a pastor who introduced him at the Value Voters Summit.
Politico ("Rick Perry backer Robert Jeffress: Mitt Romney not a Christian"):
Texas evangelical leader Robert Jeffress, the Baptist megachurch pastor who introduced Rick Perry at the Values Voter Summit, said Friday afternoon he does not believe Mitt Romney is a Christian.

Jeffress described Romney's Mormon faith as a "cult," and said evangelicals had only one real option in the 2012 primaries. "That is a mainstream view, that Mormonism is a cult," Jeffress told reporters here. "Every true, born again follower of Christ ought to embrace a Christian over a non-Christian."

Asked by POLITICO if he believed Romney is a Christian, Jeffress answered: "No."

Jeffress's comments represent the first major attack of the 2012 cycle on Romney over his membership in the Church of Jesus Christ of Latter-Day Saints, an issue that some Romney supporters believe cost the former Massachusetts governor in his last presidential run.
I'm not sure whether I'd go so far as "mainstream," but huge numbers of evangelical Christians–including some highly intelligent, educated ones–share Jeffress' view that Mormonism is a cult and that the added mythology of Joseph Smith is enough to render it a faith outside of Christianity.  See , Steven Taylor's 2006 essay "On Romney and the Politics of Mormonism" and E.D. Kain's 2009 "by no definition of the word," both referenced in my February 2009 post "Why Mormons Aren't Christians." (That seems an odd headline in retrospect, since I say "I've always considered Mormons to be Christians since they're believers in the divinity of Jesus Christ. " Clearly, I was using the title to convey the meme, not my own view.)
This isn't a view that one wants to take out on the stump for a presidential run, however, so Perry had little choice but to disassociate himself from it.
CNN ("Perry on pastor's Mormonism remark: 'I don't think it is' a cult"):
On Friday evening, Rick Perry stepped into the controversy surrounding comments made by a prominent pastor who said Republicans should vote against Mitt Romney because of his Mormonism and who called the Mormon faith a "cult."

Making his first public comments since the controversy erupted earlier Friday, the Republican presidential candidate disagreed with Robert Jeffress, pastor of the First Baptist Church of Dallas.

"No. I don't think it is," Perry said when asked by a reporter if he believes the Church of Jesus Christ of Latter-day Saints is a cult. Perry was also asked if he associated himself with Jeffress' comments.

Though the Texas governor disagreed with Jeffress' words, he did not outright denounce them. Reporters attempted to ask Perry more questions, but were unsuccessful. Instead, Perry was ushered out with his wife, Anita Perry, and his campaign staff.
Perry is in the uncomfortable position of having to both distance himself from the pastor to reassure mainstream voters while not going too far and alienating the evangelicals that are the core of his support.