Romney's Mormon Problem Returns
Is Mitt Romney's religion returning as an issue for Republican voters?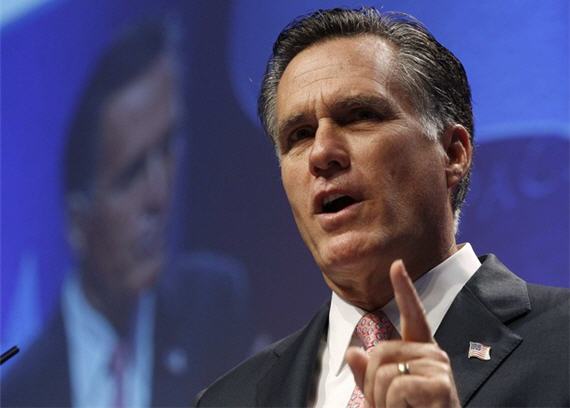 It probably never really went away, but this weekend's Values Voter Summit made clear that Mitt Romney's Mormon problem is back for sure:
The Values Voter Summit in Washington this weekend left no doubt about it: The Mormon issue is back.

A Texas pastor's inflammatory remarks here — calling Mormonism a "cult" — thrust Mitt Romney's faith into the center of a 2012 campaign overwhelmingly focused on the economy. It was a transparent attempt by Baptist minister Robert Jeffress, a Rick Perry supporter, to drive a wedge between Romney and evangelical voters.

The attack amounted to a test for Romney, forcing him to respond to a rhetorical assault on his faith that flouted the standard rules of American political debate.

Rather than answering Jeffress directly, Romney came to the summit on Saturday and rebuked another hardline social conservative: Bryan Fischer, a controversial official at the American Family Association who has disparaged Mormonism, as well as homosexuality, Islam and more.

"We should remember that decency and civility are values too," Romney said Saturday. "One of the speakers who will follow me today has crossed that line, I think. Poisonous language doesn't advance our cause."

It was a careful response that allowed Romney to criticize a detractor of his faith without inviting a lengthy public conversation about Mormonism.

The response also hewed close to the role he's tried to craft for himself in the GOP primary, as the grown-up who will talk to the extreme wings of his party, but not work overtime to appease them.

It's unclear whether that will be enough to win over many social conservatives, who harbor deep distrust of Romney for his history of changing positions on abortion and gay rights.

But Romney supporters say there's little point in trying to sway voters who may have ruled out the Republican for his Mormon religion – a group that may or may not be large enough to pose a serious political obstacle to the former Massachusetts governor.
or
"For social and religious conservatives who really care primarily about values, I think they'll be very happy with Mitt Romney," said evangelical public relations executive Mark DeMoss, a Romney supporter. "For those few who are bent on drawing theological boundaries, it'll be different."
In the long run, this seems like the wisest choice. Trying to have a theological debate in the middle of a Presidential campaign makes little sense, and trying to convince people who think Mormonism is a cult akin to Scientology that they're wrong strikes me as pretty much being a waste of time. Even if they didn't hold this particular belief, it seems unlikely that they'd be prospective Romney voters anyway. So, perhaps it's best for Romney to leave this issue be. The question is what his opponents are going to do about it. During the 2008 campaign, Mike Huckabee was shameless in his pandering to evangelical doubts about Mormons, at one point even asking "Don't Mormons believe Jesus Christ and the Devil are brothers?" Additionally, there seems to be little doubt that those doubts helped Huckabee in his race against Romney in states like Iowa.
The question is, what will Romney's opponents do this time around?
As James Joyner noted this weekend, Rick Perry's campaign responded with a statement that the Governor did not consider Mormonism to be a cult, but he didn't comment any further on Jeffers remarks in the introduction. Jonathan Toobin regrets that Perry didn't go further and condemn Jeffers remarks outright, and notes that his campaign does have the temptation before it of taking the Mike Huckabee route:
The temptation for the Perry campaign to take advantage of Jeffress' opening up of this Pandora's Box of prejudice will be great. All they have to do is to continue to publicly deny they agree with the pastor while at the same time produce campaign material and speeches hyping their candidate's Christianity, in the same way Huckabee did, in order to remind evangelicals they have a reason not to vote for Romney.

But Perry has another, better choice. He can use the controversy as a platform to show what kind of president he would be if he got the opportunity.

Rather than merely deny he agrees with Jeffress about whether Mormonism is a cult, Perry can unequivocally denounce religious prejudice of any kind and say he doesn't want votes based on bias. Perhaps that would lose Perry some support, but it might also be a chance for him to show there is real substance to his own very public expression of faith than we have already seen on the campaign trail. Doing so would allow him to seize the moment and illustrate that the bumbling speaker who has shown up at the last few GOP debates is not the real Rick Perry.
The odds that Perry will do this seem slim at best, though. With Herman Cain breathing down his neck, there's little reason for him to alienate the evangelical Christians that are such a large part of the voting bloc in states like Iowa and New Hampshire. While he doesn't necessarily need to go as far as Huckabee did, it doesn't take much to draw the subtle, unstated contrast between himself and Romney for those voters for whom this is and issue. Moreover, as Steve Benen points out, there's plenty of poll evidence out there to support the idea that Romney's religion is a big enough issue for some segment of the public that it isn't necesarily in the interest of a candidate like Perry to condemn the Rev. Jeffers of the world
A month ago, a New York Times/CBS News poll included a questionrelated to the subject, without mentioning any candidates' names: "Do you think most people you know would vote for a presidential candidate who is a Mormon, or not?" A 40% plurality said they believe people they know wouldn't vote for a Mormon candidate.

Over the summer, Gallup asked voters — not just Republicans, but the public in general — whether they'd be willing to vote for a Mormon presidential candidate. The poll found 22% said they would not, a figure that's up over the last few years.
The other candidates, Bachmann, Cain, and Gingrich, gave very similar responses to Romney and dismissed the idea that this was a serious issue in the campaign, but similarly failed to condemn Jeffers statements, or the idea that Romeny's faith somehow disqualifies him from holding office. (It's worth noting that Cain has previously said that he didn't believe that Romney could win the nomination, principally because of his faith.) Again, they are probably looking at the same polls that Perry is looking at, and are unwilling to alienate the evangelical voters that they all want to appeal to.
It's unfortunate, really. As I noted over the summer when this issue first came back up, it doesn't seem to me that religion has any place at all in politics, at least no in the sense that someone's religious faith, or lack thereof, ought to be considered a per se disqualification. For one thing, this whole question of whether or not Mormonism is a "cult" strikes me as rather silly. If the Church of Jesus Christ of Later Day Saints were 2000 years old instead of  181 years old, it would be called a "sect," not a cult. Leaving all the theological issues aside, the main reasons Mormomism is shunned by some Christians, it seems, is simply because its so relatively new compared to either Christianity itself, of the various Protestant sects that broke off from it beginning in the 16th Century. For another, one would have thought we'd left this silliness behind us long ago. Al Smith famously lost the 1928 Election due in major part to his Catholic faith, but 32 years later we elected a Catholic President and it seemed like these idiotic biases were behind us. Sadly, that doesn't seem to be the case.