Anti-Mormon Sentiment Increasing
The "Mormon Question" that has long plagued Mitt Romney is being raised again by a new study showing the sentiment rising among liberals and non-believers.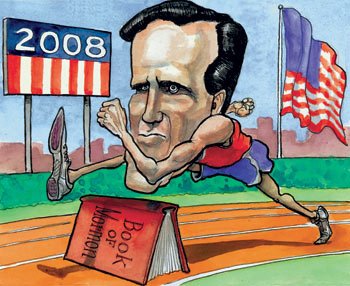 The "Mormon Question" that has long plagued Mitt Romney is being raised again by a new study showing the sentiment rising among liberals and non-believers.
BuzzFeed ("Study: Liberal Anti-Mormonism On The Rise"):
Americans' aversion to voting for Mormons has spiked since Mitt Romney's first presidential bid in 2007 — and that the people most wary of Mormon candidates are not Evangelicals, but rather political liberals and non-religious voters, according to new research from a leading scholar of anti-Mormon attitudes.

The overall increase in anti-Mormon attitudes among liberals may be an unanticipated consequence of the "the continuing candidacy of Mitt Romney and Mormon activism against same-sex marriage," the study suggests. And its findings may be alarming to the Romney campaign because among the study's other findings is that voters' perceptions of Mormonism are closely tied to whether they'll vote for him.

According to American National Election Studies, nearly 35 percent of national respondents said in February they were "less likely" to vote for a Mormon. That's up nine points from 2007, when Pew found 26 percent of voters expressing concern about pulling the lever for a Latter-day Saint.

The uptick in anti-Mormon voter attitudes may come as a surprise to those who predicted Romney's candidacy would have a mainstreaming effect on his faith. But as University of Sydney scholar David Smith, the paper's author, writes, just as President Obama's successful candidacy didn't put an end to tense race relations in America, Romney's political assent hasn't cured the country of anti-Mormonism. In fact, as the data shows, Romney's rise may have lead to increased anxiety about his religion among his natural political opponents.

According to the paper, concern about Mormonism has remained relatively stable among Evangelicals, with 36 percent expressing aversion to an LDS candidate in 2007 and 33 percent doing so in 2012. But among non-religious voters, that number shot up 20 points in the past five years, from 21 percent in 2007 to 41 percent in February. There were also substantial increases in Mormon-averse voters among liberals — 28 percent in 2007 and 43 percent in 2012 — as well as moderates, who went from 22 percent in 2007 to 32 percent this year.

"Aversion to Mormons is still an important foce in American public opinion, and one that seriously affects Romney's chances even if he ultimately overcomes it," Smith writes in his paper, available online here.
Fox News ("Liberals increasingly wary of Mormons in office, study shows")
The GOP's all-important social conservatives may be getting more comfortable with Mitt Romney's Mormon faith — but liberals are increasingly wary about the candidate's religion in the run-up to November, according to a new study.

The study found anti-Mormon attitudes have increased since Romney's 2008 presidential bid and are highest among liberal and non-religious voters. Their discomfort could pose a problem for the Republican candidate in November.

"The victory of Mitt Romney in the 2012 Republican primary has convinced many observers that Romney's Mormon religion is now irrelevant to his electoral chances," wrote study author David Smith. But "aversion to Mormons is still an important force in American public opinion, and one that seriously affects Romney's chances even if he ultimately overcomes it."

The study found attitudes about Mormonism among Evangelicals has largely remained unchanged since 2007 — when 37 percent said they were "less likely to vote for a Mormon candidate for president," compared with 33 percent this year.

However, that sentiment among non-religious voters increased from 21 percent to 41 percent over roughly the same period.

Among liberal voters, 43 percent said they were less likely to vote for a Mormon presidential candidate in 2012, compared with 28 percent in 2007.

Political strategist Elliott Curson said Thursday that Romney's religion becomes less of concern "as each day goes by."

"Still, some people will not vote for Romney because he's not of their religion, and some people will not vote for Obama because he's not like them," said Curson, a media consultant for Ronald Reagan in the 1980s.

He said whether independents — which could include those non-religious and liberal voters — will swing toward Romney despite religious concerns is too difficult to predict because people typically don't give accurate information to such questions in polls.

The study by Smith, a University of Sydney scholar, found the apparent anti-Mormon sentiment among liberal votes might be the result of the member's activism against "same-sex" marriage.

The findings come as acceptance of Mormonism in America appears to have reached a record high. Members of the religion can be found on both sides of the aisle, with Senate Majority Leader Harry Reid (D-Nevada), one of the more prominent Democrat Mormons.
This isn't particularly shocking. Recall that back in 2007 a prescient Gallup poll told us that a black president was more likely than a Mormon or atheist. While a mere 4 percent of Americans admitted that they would definitely not vote for a black candidate for president, 24 percent said that of a Mormon and a whopping 53 percent said it of an atheist.
That said, while prejudice is widespread, it's usually general rather than specific. That is, people might be uncomfortable with a notional Mormon but be willing to vote for Mitt Romney, a specific Mormon. Just as anti-black racists will cheer for black athletes or recognize a particular co-worker as "one of the good ones," many Evangelicals who are queasy about what they see as the cult of Mormonism will nonetheless happily pull the lever for Romney.
As for the uptick in anti-Mormon sentiment among liberals, it's unlikely to have much to do with the election. After all, they weren't going to vote for Romney, anyway.