Is Mitt Romney's Religion Still An Issue? Or, Why We Need To Separate Religion And Politics
Some people still think Mitt Romney's religion is a relevant issue.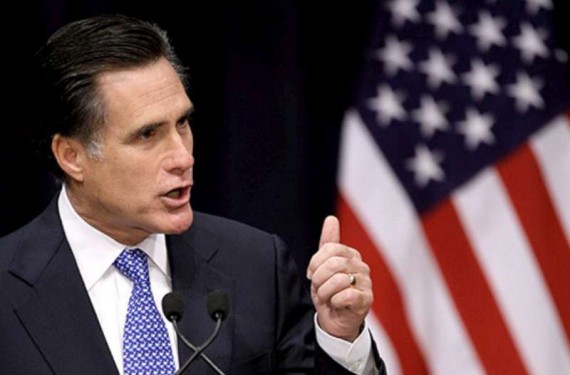 During the 2008 Presidential campaign, Mitt Romney's religious faith became the issue of the day for several days as it became apparent that evangelical voters harbored doubts about him based in part, if not primarily, because of his Mormon faith. The controversy became serious enough to lead Romney to deliver a speech on religion and politics, akin at least in topic to John F. Kennedy's address in 1960, at the George H.W. Bush Presidential Library in Houston. At that point, there seemed to be some consensus that he had push the issue behind him, but at least one evangelical writer believes its still an issue:
Romney's Christian defenders often say that while the theology of Mormonism is very different from orthodox Christian theology, its social teachings on abortion, same-sex marriage, and a range of other issues are very similar. They sometimes cite Francis Schaeffer's concept of "co-belligerents." In pro-life battles and other battles, Schaeffer said, evangelicals should fight alongside Catholics, Mormons, and others who do not agree with us on theological particulars but do agree with us on social policy positions.

Weyrich ultimately repented of this view. Before Weyrich died in 2008, one of his last public appearances was to a small group of conservative leaders who were discussing whether to endorse John McCain for president after it became obvious that he would be the GOP nominee. Weyrich, though frail and bound to a wheelchair, said clearly and emphatically that he had made a grave mistake endorsing Romney, and essentially asked the social conservatives in the room to forgive him. For many of us, it was the last time we saw Weyrich alive.

What Weyrich understood was that you can't have it "both ways" when it comes to Romney's faith. You can't say that his religious beliefs don't matter, but his "values" do. The Christian worldview teaches that there is a short tether binding beliefs to the values and behaviors that flow from them. If the beliefs are false, then the behavior will eventually—but inevitably—be warped. Mormonism is particularly troubling on this point because Mormons believe in the idea of "continuing revelation." They may believe one thing today, and something else tomorrow. This is why Mormons have changed their views, for example, on marriage and race. Polygamy was once a key distinctive of the religion. Now, of course, it is not. Mormons once forbade blacks from leadership roles. Now they do not. What else will change?

Even if a Mormon social teaching happens to concur with orthodox Christianity at this point in time, it is unreliable and subject to alteration. It's tempting to say that "continuing revelation" has defined Romney's career, who has changed his positions on same-sex marriage and abortion and just about every major "culture war" issue.

For evangelical Christians, Romney has some additional explaining to do. On such essential doctrines as the Trinity and the role of Jesus in salvation, there are major differences between orthodox (biblical) Christianity and Mormonism. But the real problem is that Mormons believe and teach an American history that is in many particulars completely unsubstantiated and in others demonstrably false. Mormons believe that the "lost tribes" of Israel actually ended up in America, and that Jesus visited America and these tribes during his incarnation. These are just a few of Mormonism's highly idiosyncratic views of history.

Does Mitt Romney believe these views? Why or why not? Does he believe historical facts are matters of personal opinion? More to the point, does he really believe that, if he were to become the GOP nominee, he would not have to answer these questions before the world? Romney will face a Hobson's choice. He will either affirm certain beliefs about reality and American history that most Americans will find false or flimsy, or else he will reject them be thereby "outed" as a hypocrite or traitor to his own belief system.

The vast majority of Americans won't care about these theological implications. Indeed, Americans are generally tone-deaf to theological nuances. But to all American voters—religious or not—I would ask this question: Do we want a person who believes that history is something you can "make up as you go along" negotiating the outcomes of conflicts with real histories that go back thousands of years? Conflicts in the Middle East, in Asia, and elsewhere require an understanding of history and human nature that are not fabricated out of whole cloth.
The author goes on:
Certain qualifications make a candidate unfit to serve. I believe a candidate who either by intent or effect promotes a false and dangerous religion is unfit to serve. Mitt Romney has said it is not his intent to promote Mormonism. Yet there can be little doubt that the effect of his candidacy—whether or not this is his intent—will be to promote Mormonism. A Romney presidency would have the effect of actively promoting a false religion in the world. If you have any regard for the Gospel of Christ, you should care. A false religion should not prosper with the support of Christians. The salvation of souls is at stake.For me, that alone disqualifies him from my vote. Because Mormons believe in continuing revelation, it is possible that in the future the LDS church will renounce its heretical beliefs and come fully into the fold of orthodox Christianity. Many theologians and church historians believe the church is on such a trajectory. But if that happens, it is an event still well in the future. The Mormon Church of today is, by the lights of biblical evangelical Christianity, a false religion. If Mitt Romney believes what the Mormon Church teaches about the world and how it operates, then he is unfit to serve. We make him our President at great peril to the intellectual and spiritual health of our nation.
Now people are entitled to vote for or against someone for whatever reasons they choose, including their religion and even their race. That doesn't mean, however, that their reasons are respectable or worthy of serious debate. I'm no expert in theology, so I can't comment on the authors claims about Mormon theology. However, I do know religious intolerance when I see it and what he and others have said about Romney and Mormons is not much different from what was being said about Catholics when Al Smith ran for President in 1928 and even in 1960 when John F. Kennedy faced anti-Catholic bigotry in places like West Virginia. In both cases, I think that self-assuredness about one's own religious beliefs combines with ignorance about other faiths (Catholicism up until Vatican II was in some was as mysterious to non-Catholics as Mormonism is to non-Mormons) and the result is a form of religious intolerance that really has no place in politics.
I'm no Romney fan, but that's because of his record as Governor, his flip-flopping, and, quite honestly, something he said in the very religion speech that was supposed to have put this issue to bed for him:
"There are some who may feel that religion is not a matter to be seriously considered in the context of the weighty threats that face us. If so, they are at odds with the nation's founders, for they, when our nation faced its greatest peril, sought the blessings of the Creator. And further, they discovered the essential connection between the survival of a free land and the protection of religious freedom. In John Adams' words: 'We have no government armed with power capable of contending with human passions unbridled by morality and religion… Our constitution was made for a moral and religious people.'

"Freedom requires religion just as religion requires freedom. Freedom opens the windows of the soul so that man can discover his most profound beliefs and commune with God. Freedom and religion endure together, or perish alone."
You're wrong there Governor. Freedom, in the sense of individual liberty, does not require religion and more than it requires one to believe in the existence of extraterrestrials. Individuals possess rights because of their nature as individuals, not because of doctrines established 1,000 years ago at a religious conference. And, more importantly, one can believe in individual liberty without believing in any god.
Before he continues down the path that he laid out in his speech, perhaps Romney should consider the words of America's 3rd President:
Believing with you that religion is a matter which lies solely between man and his God, that he owes account to none other for his faith or his worship, that the legislative powers of government reach actions only, and not opinions, I contemplate with sovereign reverence that act of the whole American people which declared that their legislature should 'make no law respecting an establishment of religion, or prohibiting the free exercise thereof,' thus building a wall of separation between church and State.
It's time to extend that wall and separate religion and politics.