Paul Ryan Joins Republican Calls For Halt To Accepting Syrian Refugees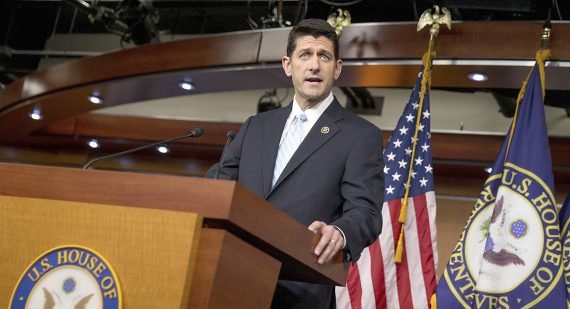 Speaker of the House Paul Ryan is the latest Republican to call for a halt to the processing of Syrian refugees who may eventually be brought to the United States:
WASHINGTON — House Speaker Paul D. Ryan called Tuesday for the suspension of a program to accept Syrian refugees into the United States, and two influential senators announced a renewed push for a formal authorization of military force against the Islamic State as Congress moved to respond to the terrorist attacks in Paris.

For two years, Congress has been conflicted about supporting military action in Syria, preferring to mostly let the Obama administration fashion a strategy on its own, while Republicans have accused the White House of failing to come up with a coherent approach.

The developments on Tuesday suggested that the attacks in Paris had shifted the calculations on Capitol Hill, with potentially greater support for authorizing military force against the Islamic State. But there was also a fast-rising backlash, particularly among Republicans, against allowing Syrian refugees into the United States.

Led by Mr. Ryan, the Republicans said there were grave reasons to fear that terrorists would be permitted to enter the country posing as refugees.

"Our nation has always been welcoming," Mr. Ryan said at a news conference. "But we cannot allow terrorists to take advantage of our compassion. This is a moment where it is better to be safe than to be sorry. So we think the prudent, the responsible thing is to take a pause in this particular aspect of this refugee program in order to verify that terrorists are not trying to infiltrate the refugee population."

(…)

Mr. Ryan said he would invite Democrats to join Republicans in addressing the worries about terrorists arriving in the United States as refugees. "All of this rises above politics," Mr. Ryan said.

Still, a robust debate seems likely, especially if Congress considers authorizing military force, which could increase the number of refugees, while simultaneously refusing to give shelter to at least some of the millions of people already displaced by the long war in Syria.

The chairman of the House Homeland Security Committee, Michael McCaul, Republican of Texas, said he was drawing up legislation to suspend the refugee resettlement program.

"I call on you to temporarily suspend the admission of all additional Syrian refugees into the United States pending a full review of the Syrian refugee resettlement program," Mr. McCaul wrote in a letter to Mr. Obama.
Given the politics of this situation, which I've discussed in earlier posts, this is, of course entirely unsurprising even if the objections being raised don't seem to have much merit beyond fearmongering. As I said this morning, though, given that the political realities are what they are it seems clear that the Administration is going to need to do a better job of explaining exactly what is involved in the refugee screening process that is being used here, how it has worked in the past, and how it would worked in the future. This should be done not only in private discussions with Senators, Members of Congress, and the nation's Governors, but also as part of a broader outreach to the American public. We haven't seen any polling on this issue in the wake of Paris just yet, but it is most assuredly coming and I anticipate that it will be rather negative toward the Administration's position unless they find a way to get out in front of it. This move is unlikely to change the minds of many on the right, of course, but the effort needs to be made in any case and the Administration owes it to the American public to be open about what's going on and how they are screening refugee claims.