Perry and Galileo
Governor, that analogy does not mean what you think it means.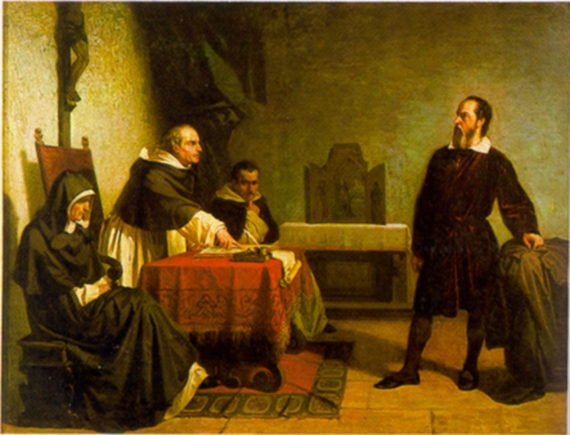 In regards to John Huntsman's appeal to science, Rick Perry said the following regarding climate change:
"The science is not settled on this.  The idea that we would put Americans' economy at jeopardy based on scientific theory that's not settled yet to me is just nonsense," Perry said.  "Just because you have a group of scientists who stood up and said here is the fact. Galileo got outvoted for a spell," he said. (source)
The video is here:
The first thing that struck me about this was the phrase "The science is not settled" as that has been the conservative mantra on evolution for decades.  It is also a phrase that demonstrates an ignorance of what science is and how it works.  It is like the favorite "evolution is just a theory!"
A corollary to this is that Huntsman's position, i.e., that science has to be taken seriously, is currently rejected, in general, by the GOP candidates (and, by extension, many GOP voters).
It is one think to disagree over the appropriate policy responses to the science, but yet another to simply dismiss science out of hand because one doesn't like what it is saying.
The second thing that struck me is the Galileo line.  I think that the best retort to the deployment of said scientist comes from James Fallows:
To spell it out: until this evening's debate, the only reason anyone would use the example of Galileo-vs-the-Vatican was to show that for reasons of dogma, close-mindedness, and "faith-based" limits on inquiry, the findings of real science were too often ignored or ruled out of consideration. And Perry applies that analogy to his argument that we shouldn't listen to today's climate scientists? There are a million good examples of scientific or other expert consensus that turned out to be wrong, which is the point Perry wanted to make.

[…]

The reason I think this stings over time is that it's like someone who tries to fancy himself up by using a great big word — and uses it the wrong way.  Hey, I'll mention Galileo! Unfortunately in mentioning him, I'll show that I don't know the first thing about that case or what an "analogy" is. It's better to be plain spoken.
This is on target, methinks.
Indeed, Perry presented this analogy as if Galileo was caught up in a scientific battle with other scientists when, in fact, he was the scientist battling non-scientists.  As such, governor, that analogy does not mean what you think it means (or, to. paraphrase a debate line from many years ago:  you, governor, are no Galileo).
The third thing that struck me is that everything Perry said will resonate with a lot of voters.  A lot of voters, especially in the GOP base, do not believe the science, and even if they are unsure on the subject, they tend to believe that all talk of climate change is just an excuse for liberals to destroy the economy (as such, like everything GOP these days, the opposition to even discussing climate change is based in concerns about higher taxes and more regulations).