Philip Mountbatten, 1921-2021
Queen Elizabeth's husband has died two months shy of his 100th birthday.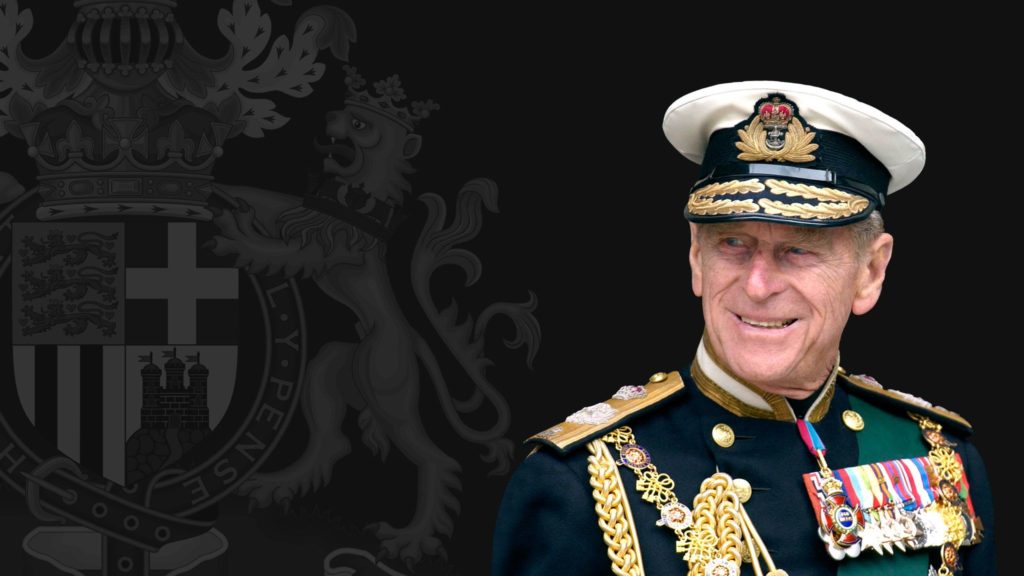 BBC ("Prince Philip has died aged 99, Buckingham Palace announces"):
Prince Philip, Queen Elizabeth II's husband, has died aged 99, Buckingham Palace has announced.

Buckingham Palace said: "It is with deep sorrow that Her Majesty The Queen has announced the death of her beloved husband, His Royal Highness The Prince Philip, Duke of Edinburgh.

"His Royal Highness passed away peacefully this morning at Windsor Castle."

Boris Johnson said he "inspired the lives of countless young people".

Speaking at Downing Street, the prime minister added: "He helped to steer the Royal Family and the monarchy so that it remains an institution indisputably vital to the balance and happiness of our national life."

Mr Johnson said he received the news of the duke's death "with great sadness".

"Prince Philip earned the affection of generations here in the United Kingdom, across the Commonwealth, and around the world," he said.

Paying tribute to the duke's role as the longest serving consort in history, Mr Johnson also remembered Prince Philip as one of the last surviving people to have fought in World War II.

"From that conflict he took an ethic of service that he applied throughout the unprecedented changes of the post-War era," Mr Johnson said.

"Like the expert carriage driver that he was, he helped to steer the Royal Family and the monarchy so that it remains an institution indisputably vital to the balance and happiness of our national life."
NYT ("Prince Philip, Husband of Queen Elizabeth II, Is Dead at 99"):
Prince Philip, the Duke of Edinburgh, husband of Queen Elizabeth II, father of Prince Charles and patriarch of a turbulent royal family that he sought to ensure would not be Britain's last, died on Friday at Windsor Castle in England. He was 99.

His death was announced by Buckingham Palace, which said he passed away peacefully.

Philip had been hospitalized several times in recent years for various ailments, most recently in February, the palace said.

He died just as Buckingham Palace was again in turmoil, this time over Oprah Winfrey's explosive televised interview with Philip's grandson Prince Harry and Harry's biracial wife, Meghan, on March 7, when the couple, in self-imposed exile in California, lodged accusations of racism and cruelty against members of the royal family.

As "the first gentleman in the land," Philip tried to shepherd into the 20th century a monarchy encrusted with the trappings of the 19th. But as pageantry was upstaged by scandal, as regal weddings were followed by sensational divorces, his mission, as he saw it, changed. Now it was to help preserve the crown itself.

And yet preservation — of Britain, of the throne, of centuries of tradition — had always been the mission. When this tall, handsome prince married the young crown princess, Elizabeth, (he at 26, she at 21) on Nov. 20, 1947, a battered Britain was still recovering from World War II, the sun had all but set on its empire, and the abdication of Edward VIII over his love for Wallis Simpson, a divorced American, was still reverberating a decade later.

The wedding held out the promise that the monarchy, like the nation, would survive, and it offered that reassurance in almost fairy-tale fashion, complete with magnificent horse-drawn coaches resplendent in gold and a throng of adoring subjects lining the route between Buckingham Palace and Westminster Abbey.

More, it was a heartfelt match. Elizabeth told her father, King George VI, that Philip was the only man she could ever love.

Philip occupied a peculiar place on the world stage as the husband of a queen whose powers were largely ceremonial. He was essentially a second-fiddle figurehead, accompanying her on royal visits and sometimes standing in for her.

And yet he embraced his royal role as a job to be done. "We have got to make this monarchy thing work," he was reported to have said.
BBC royal correspondent Jonny Dymond ("Prince Philip: An extraordinary man who led an extraordinary life"):
He outlived nearly everyone who knew him and might explain him.

And so we have been left with a two-dimensional portrait of the duke; salt-tongued and short-tempered, a man who told off-colour jokes and made politically incorrect remarks, an eccentric great-uncle who'd been around forever and towards whom most people felt affection – but who rather too often embarrassed himself and others in company.

With his death will come reassessment. Because Prince Philip was an extraordinary man who lived an extraordinary life; a life intimately connected with the sweeping changes of our turbulent 20th Century, a life of fascinating contrast and contradiction, of service and some degree of solitude. A complex, clever, eternally restless man.

His mother and father met at the funeral of Queen Victoria in 1901. At a time when all but four of Europe's nations were monarchies, his relatives were scattered through European royalty. Some royal houses were swept away by World War One; but the world into which Philip was born was still one where monarchies were the norm. His grandfather was the King of Greece; his great-aunt Ella was murdered along with the Russian tsar, by the Bolsheviks, at Ekaterinberg; his mother was a great-granddaughter of Queen Victoria.

His four older sisters would all marry Germans. While Philip fought for Britain in the Royal Navy, three of his sisters actively supported the Nazi cause; none would be invited to his wedding.

When peace came, and with it eventual economic recovery, Philip would throw himself into the construction of a better Britain, urging the country to adopt scientific methods, embracing the ideas of industrial design, planning, education and training. A decade before Harold Wilson talked of the "white heat of the technological revolution", Philip was urging modernity on the nation in speeches and interviews. And as the country and the world became richer and consumed ever more, Philip warned of the impact on the environment, well before it was even vaguely fashionable.
The British monarchy has always struck me as an oddity and I know its modern incarnation mostly through fiction. I came to appreciate its pressures from Tom Clancy's Patriot Games, the second of his Jack Ryan books and a prequel to the first, Hunt for Red October. And Philip has been a central character of the very good (but extremely fictionalized) Netflix series The Crown.
Dymond is right that Philip lived an extraordinary life, although it must have been a very odd one. He was born a prince in a monarchy that was overthrown and married into a figurehead monarchy and then elevated to consort when his wife became Queen. And thereby went from a promising career as a Navy officer to second banana, a role we still see as noteworthy when it's the American Vice President's husband doing it but must have been quite uncomfortable in 1947.