Queen Elizabeth II, 1926-2022
The UK's longest-reigning monarch has passed, aged 96.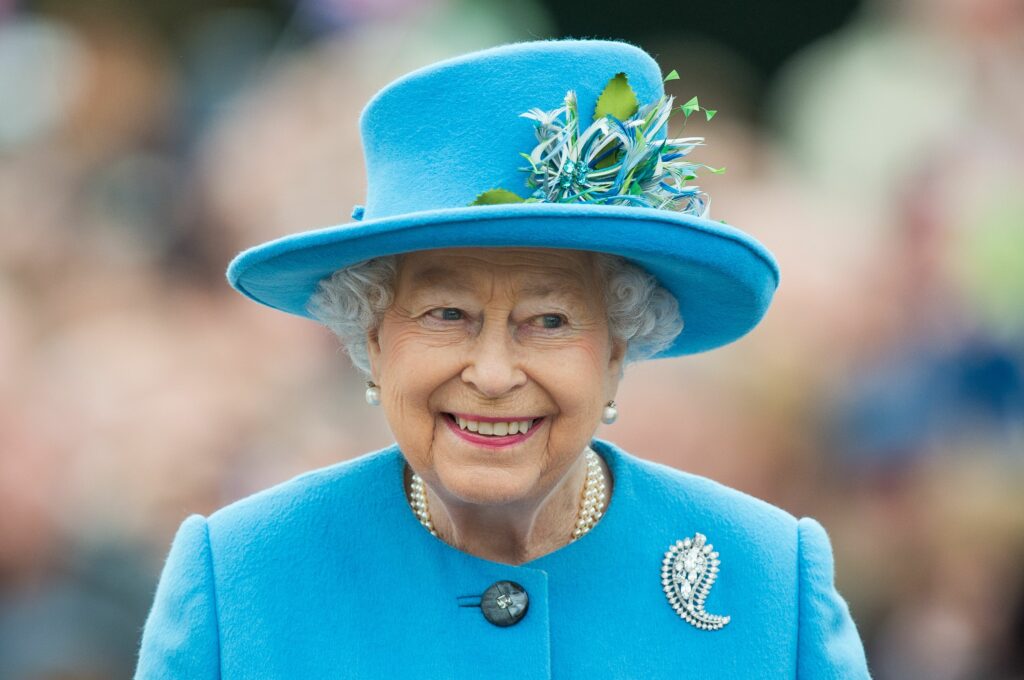 New York Times, "Queen Elizabeth II Dies at 96; Was Britain's Longest-Reigning Monarch"
Queen Elizabeth II, Britain's longest-serving monarch, whose broadly popular seven-decade reign survived tectonic shifts in her country's post-imperial society and weathered successive challenges posed by the romantic choices, missteps and imbroglios of her descendants, died on Thursday at Balmoral Castle in Scotland, her summer retreat. She was 96.

The royal family announced her death online, saying she had died peacefully. The announcement did not specify a cause.

[…]

A day earlier, she met with the incoming Conservative prime minister, Liz Truss — the 15th prime minister the queen dealt with during her reign — though in doing so, because of infirmity, she broke with longstanding tradition by receiving her at Balmoral rather than at Buckingham Palace.

Elizabeth's long years as sovereign were a time of enormous upheaval, in which she sought to project and protect the royal family as a rare bastion of permanence in a world of shifting values.

At her coronation on June 2, 1953, a year after she acceded to the throne, she surveyed a realm emerging from an empire of such geographical reach that it was said the sun never set on it. But by the new century, as she navigated her advancing years with increasing frailty, the frontiers had shrunk back. As Britain prepared to leave the European Union in 2020, a clamor for independence in Scotland was rekindled, potentially threatening to narrow her horizons yet further.

Her coronation was the first royal event of its kind to be broadcast almost in full on television. But it was a token of the changes — and global fascination — that accompanied her time as queen that her reign became the subject of a Hollywood movie and a blockbuster series on Netflix, while her family's travails offered voluminous grist to the busy mill of social media.

Just as telling in the chronicles of her rule, Britons' unquestioning deference to the crown had been supplanted by a gamut of emotions ranging from loyal and often affectionate tolerance to unbridled hostility. The monarchy was forced, more than ever, to justify its existence in the face of often skeptical public attention and scrutiny.

Elizabeth, though, remained determinedly committed to the hallmark aloofness, formality and pageantry by which the monarchy has long sought to preserve the mystique that underpinned its existence and survival. Her courtly and reserved manner changed little.
Statement of President Joe Biden and First Lady Jill Biden on the Death of Queen Elizabeth II
Her Majesty Queen Elizabeth II was more than a monarch. She defined an era.

In a world of constant change, she was a steadying presence and a source of comfort and pride for generations of Britons, including many who have never known their country without her. An enduring admiration for Queen Elizabeth II united people across the Commonwealth. The seven decades of her history-making reign bore witness to an age of unprecedented human advancement and the forward march of human dignity.

She was the first British monarch to whom people all around the world could feel a personal and immediate connection—whether they heard her on the radio as a young princess speaking to the children of the United Kingdom, or gathered around their televisions for her coronation, or watched her final Christmas speech or her Platinum Jubilee on their phones. And she, in turn, dedicated her whole life to their service.

Supported by her beloved Prince Philip for 73 years, Queen Elizabeth II led always with grace, an unwavering commitment to duty, and the incomparable power of her example. She endured the dangers and deprivations of a world war alongside the British people and rallied them during the devastation of a global pandemic to look to better days ahead. Through her dedication to her patronages and charities, she supported causes that uplifted people and expanded opportunity. By showing friendship and respect to newly independent nations around the world, she elevated the cause of liberty and fostered enduring bonds that helped strengthen the Commonwealth, which she loved so deeply, into a community to promote peace and shared values.

Queen Elizabeth II was a stateswoman of unmatched dignity and constancy who deepened the bedrock Alliance between the United Kingdom and the United States. She helped make our relationship special.

We first met the Queen in 1982, traveling to the UK as part of a Senate delegation. And we were honored that she extended her hospitality to us in June 2021 during our first overseas trip as President and First Lady, where she charmed us with her wit, moved us with her kindness, and generously shared with us her wisdom. All told, she met 14 American presidents. She helped Americans commemorate both the anniversary of the founding of Jamestown and the bicentennial of our independence. And she stood in solidarity with the United States during our darkest days after 9/11, when she poignantly reminded us that "Grief is the price we pay for love."

In the years ahead, we look forward to continuing a close friendship with The King and The Queen Consort. Today, the thoughts and prayers of people all across the United States are with the people of the United Kingdom and the Commonwealth in their grief. We send our deepest condolences to the Royal Family, who are not only mourning their Queen, but their dear mother, grandmother, and great-grandmother. Her legacy will loom large in the pages of British history, and in the story of our world.
Maya Jasanoff, Harvard history professor, has a less laudatory take in the NYT ("Mourn the Queen, Not Her Empire"):
"The end of an era" will become a refrain as commentators assess the record-setting reign of Queen Elizabeth II. Like all monarchs, she was both an individual and an institution. She had a different birthday for each role — the actual anniversary of her birth in April plus an official one in June — and, though she retained her personal name as monarch, held different titles depending on where in her domains she stood. She was as devoid of opinions and emotions in public as her ubiquitous handbags were said to be of everyday items like a wallet, keys and phone. Of her inner life we learned little beyond her love of horses and dogs — which gave Helen Mirren, Olivia Colman and Claire Foy rapt audiences for the insights they enacted.

The queen embodied a profound, sincere commitment to her duties — her final public act was to appoint her 15th prime minister — and for her unflagging performance of them, she will be rightly mourned. She has been a fixture of stability, and her death in already turbulent times will send ripples of sadness around the world. But we should not romanticize her era. For the queen was also an image: the face of a nation that, during the course of her reign, witnessed the dissolution of nearly the entire British Empire into some 50 independent states and significantly reduced global influence. By design as much as by the accident of her long life, her presence as head of state and head of the Commonwealth, an association of Britain and its former colonies, put a stolid traditionalist front over decades of violent upheaval. As such, the queen helped obscure a bloody history of decolonization whose proportions and legacies have yet to be adequately acknowledged.

Elizabeth became queen of a postwar Britain where sugar was still rationed and rubble from bomb damage still being cleared away. Journalists and commentators promptly cast the 25-year-old as a phoenix rising into a new Elizabethan age. An inevitable analogy, perhaps, and a pointed one. The first Elizabethan Age, in the second half of the 16th century, marked England's emergence from a second-tier European state to an ambitious overseas power. Elizabeth I expanded the navy, encouraged privateering and granted charters to trading companies that laid the foundations for a transcontinental empire.

Elizabeth II grew up in a royal family whose significance in the British Empire had swollen even as its political authority shrank at home. The monarchy ruled an ever-lengthening list of Crown colonies, including Hong Kong (1842), India (1858) and Jamaica (1866). Queen Victoria, proclaimed empress of India in 1876, presided over flamboyant celebrations of imperial patriotism; her birthday was enshrined from 1902 as Empire Day. Members of the royal family made lavish ceremonial tours of the colonies, bestowing upon Indigenous Asian and African rulers an alphabet soup of orders and decorations. In 1947, then-Princess Elizabeth celebrated her 21st birthday on a royal tour in South Africa, delivering a much-quoted speech in which she promised that "my whole life, whether it be long or short, shall be devoted to your service and the service of our great imperial family to which we all belong." She was on another royal tour, in Kenya, when she learned of her father's death.

On Coronation Day in 1953, The Times of London proudly broke the news of the first successful summiting of Mount Everest by the Sherpa Tenzing Norgay and the New Zealander Edmund Hillary, calling it a "happy and vigorous augury for another Elizabethan era." The imperialistic tenor of the news notwithstanding, Queen Elizabeth II would never be an empress in name — the independence of India and Pakistan in 1947 stripped away that title — but she inherited and sustained an imperial monarchy by assuming the title of head of the Commonwealth. "The Commonwealth bears no resemblance to the empires of the past," she insisted in her Christmas Day message of 1953. Its history suggested otherwise. Initially imagined as a consortium of the "white" settler colonies (championed by the South African premier Jan Smuts), the Commonwealth had its origins in a racist and paternalistic conception of British rule as a form of tutelage, educating colonies into the mature responsibilities of self-government. Reconfigured in 1949 to accommodate newly independent Asian republics, the Commonwealth was the empire's sequel and a vehicle for preserving Britain's international influence.
Philip Bump, WaPo ("Nine in 10 living humans were born after Elizabeth became queen"):
Queen Elizabeth II's death Thursday afternoon brings an end to one of the longest leadership tenures in world history. For parts of eight decades, Elizabeth served as monarch of Britain, with more than 70 years passing between her ascension to the throne in 1952 and her death.

The scope of her tenure can be encapsulated quite simply. Until Thursday, at least 9 out of every 10 living human beings have never known a British monarch other than Elizabeth.
Indeed. My parents were 8 when she became Queen. My mom's been gone now almost four years and dad more than 12. I'm almost 57 now and never knew a world without her before yesterday.
Living to be 96 is remarkable in its own right. Having significant responsibilities right through the end even more so. That she lived just long enough to install yet another prime minister is, I suppose, fitting.
Her son, the new King Charles III, is almost 74. It must be odd, indeed, to wait around that long as the heir, presumably wishing the best for your mother's health and yet not realizing one's purpose in life until she dies.