Political Polarization vs Political Warfare
Polarization is not the cause of our problems.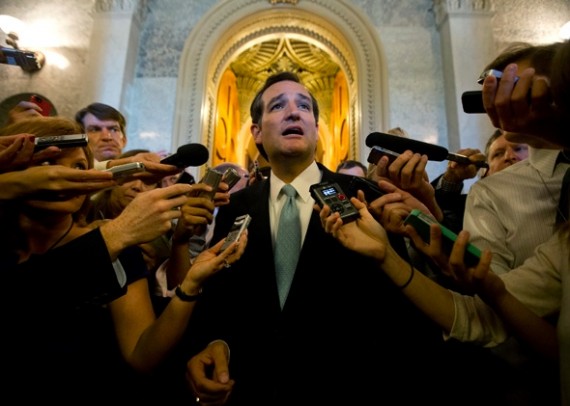 Texas political scientist Sean Theriault makes a distinction I've made many times over the years but names and defines it more precisely than I have:
I have been studying party polarization in Congress for more than a decade. The more I study it, the more I question that it is the root cause of what it is that Americans hate about Congress. Pundits and political scientists alike point to party polarization as the culprit for all sorts of congressional ills. I, too, have contributed to this chorus bemoaning party polarization. But increasingly, I've come to think that our problem today isn't just polarization in Congress; it's the related but more serious problem of political warfare.

[…]

Parties that are divided over policy can have a serious and honest debate, which can even become heated. In the first half of the famous idiom, the opposing sides can "agree to disagree." Quite apart from the serious policy disagreement, though, the debate between the opposing sides can degenerate into a shouting match in which the policy prescriptions are lost in a fight over legislative games-and in which the combatants question the motives, integrity, and patriotism of their opponents. Under such a situation, the second half of the idiom-"without being disagreeable"-is never realized.

This partisan warfare dimension is harder to quantify, though it most certainly exists. What I call "warfare" is what Frances Lee characterized as "beyond ideology" in her book of the same name. Lee argues that only so much of the divide between the parties can be understood as a difference in ideology. The rest of the divide-by some accounts, the lion's share of the divide-is motivated by some other goal. I argue that it is this portion of the divide beyond ideology is what causes the angst of those participants and observers of today's Senate.

[…]

Perhaps my home state of Texas unnecessarily reinforces the distinction I want to make between these two dimensions. Little separates my two senators' voting records – of the 279 votes that senators took in 2013, Ted Cruz and John Cornyn disagreed less than 9 percent of the time (the largest category of their disagreement, incidentally, was on confirmation votes). In terms of ideology, they are both very conservative. Cruz, to no one's surprise, is the most conservative. Cornyn is the 13th most conservative, which is actually further down the list than he was in 2012, when he ranked second. Cornyn's voting record is more conservative than conservative stalwarts Tom Coburn and Richard Shelby. Marco Rubio and Ted Cruz disagreed on twice as many votes as John Cornyn and Ted Cruz.

The difference between my senators is that when John Cornyn shows up for a meeting with fellow senators, he brings a pad of paper and pencil and tries to figure out how to solve problems. Ted Cruz, on the other hand, brings a battle plan.
This strikes me as exactly right.
While, for a variety of reasons, I've genuinely become more ideologically moderate over the course of the almost eleven years I've been sharing my musings here, my political analysis has been relatively moderate all along. That's because, with rare exceptions, I've tended to view political opponents as people of good will who fundamentally want what's good for the country and simply have honorable disagreements about how to prioritize limited resources or balance liberty and security.
Increasingly, it's hard to believe that.
The Cornyn-Cruz distinction is a perfect illustration of that. Most Democrats would, I think, privately concede that, while they disagree with Cornyn on practically everything, he's an honorable colleague who's there to do what's best for the people of Texas and, more broadly, America. I'm not sure most Republicans honestly think that of Cruz.
Cornyn is very partisan and very conservative. He's not averse to playing hardball to advance his political or ideological agenda. And that's fine. He represents Texas and his views are in line with his the views—if not necessarily the interests—of his constituents.
Cruz goes a great leap further. He genuinely seems to view those who disagree with him in the least—including even by all reasonable counts conservative Republicans—as the enemy. And he's willing to harm the interests of his constituents and his party–to say nothing of the country–in order to score political points.
The Cornyn approach is not only within bounds, it's arguably healthy. The Framer's designed a system that pit sectarian interests against one another and forced compromise among them. This satisfies no one but also precludes a thin minority from running roughshod over a large plurality that's violently opposed to a change in policy. The Cruz approach, by contrast, inflames those parochial passions and tears the country apart.
The "agree without being disagreeable" formulation, then, doesn't get to the heart of the problem. To be sure, there's much to be said for simple civility. Respect for those with different positions is a necessary prerequisite to a functioning democracy. But it's not simply a matter of language and tone. For the system—and therefore the society—to work requires going beyond being pleasant and actually working to resolve disagreements.
The compromises that the Framers reached in agreeing to a better Constitution for the Republic were less than ideal. The Great Compromise to this day radically under represents the people of large states—including both Texas and California. The 3/5 Compromise shamefully institutionalized slavery into our social compact. But these less-than-perfect solutions were necessary to form, to turn a phrase, a more perfect union. The end result, by no means perfect, were a genuine advance over the status quo.
It's hard to conceive of getting something like the Constitution done with today's representatives. Much less with a room full of Ted Cruzes.