Political Warfare in WI
Is asking to see a professor's e-mails a legitimate open records request or is it an attempt at silencing a critic?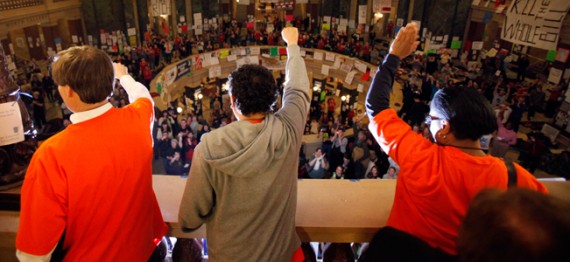 From the beginning of the brouhaha in Wisconsin over benefits for public sector employees and the issue of collective bargaining rights, I have been amenable to the argument that public sector employees should, especially in the context of substantial fiscal strain on the state, contribute more towards their benefits.  As such, the notion that teachers and other public sector employees should start contributing more toward their health insurance and their pensions struck me as reasonable, even knowing that such changes to take home pay (a figure I have seen reported as 8%) would be a challenge to family budgets.  I have also been amenable to the argument that public sectors unions may, indeed, have too cozy of a relationship with certain elected officials.  However, I must confess that while I understand the philosophical argument, I came away from the whole drama not all that convinced (and also think that a full conversation on this topic would require some discussion of the relationship between corporations and other groups with government as well–that, however, is a separate topic).
One thing that has vexed me from the beginning was the argument that curtailing collective bargaining rights for Wisconsin public sector employees  (excluding, of course, police, state troopers and firefighters) would mean immediate remedies to the state's fiscal woes.  Throughout the debate I sought out such explanations, but could not find them.
Indeed, my fundamental position from the beginning was that compromise should have been more on Governor Walker's agenda than it was—see, for example, my post Wisconsin and Practical Politics (Not to Mention Compromise).
The way events unfolded, such as Republicans deciding that the striping of collective bargaining rights was actually more important than other fiscal considerations, led me to conclude (and this is no shock) that the whole thing was far more about ideology than it was about good governance or even simple fiscal issues.
A story that helps underscore this is the following story:  Abusing Open Records to Attack Academic Freedom.
Short version:  a history professor at Wisconsin, William Cronon, wrote a blog post about the fight in his state and the actors animating much of it.  The response has been for an official of the Republican Party of Wisconsin to file an open records request for Cronon's e-mails (Cronon also wrote an op-ed in the NYT, that was published after the records request—so the below was triggered by a blog post):
******************************************

From: Stephan Thompson [mailto:ST*******@wi****.org" data-original-string="bIzQkPmpG5+W2ZDyYXC1UbEhSf0PPaL90shQIiqsJmk=" title="This contact has been encoded by CleanTalk. Click to decode. To finish the decoding make sure that JavaScript is enabled in your browser.]
Sent: Thursday, March 17, 2011 2:37 PM
To: Dowling, John
Subject: Open Records Request

Dear Mr. Dowling,

Under Wisconsin open records law, we are requesting copies of the following items:

Copies of all emails into and out of Prof. William Cronon's state email account from January 1, 2011 to present which reference any of the following terms: Republican, Scott Walker, recall, collective bargaining, AFSCME, WEAC, rally, union, Alberta Darling, Randy Hopper, Dan Kapanke, Rob Cowles, Scott Fitzgerald, Sheila Harsdorf, Luther Olsen, Glenn Grothman, Mary Lazich, Jeff Fitzgerald, Marty Beil, or Mary Bell.

We are making this request under Chapter 19.32 of the Wisconsin state statutes, through the Open Records law. Specifically, we would like to cite the following section of Wis. Stat. 19.32 (2) that defines a public record as "anything recorded or preserved that has been created or is being kept by the agency. This includes tapes, films, charts, photographs, computer printouts, etc."

Thank you for your prompt attention, and please make us aware of any costs in advance of preparation of this request.

Sincerely,

Stephan Thompson

Republican Party of Wisconsin

608-257-4765

******************************************
I think James Fallows sums up this situation quite well with the following:
The reason this strikes me particularly hard at the moment: I am staying in a country where a lot of recent news concerns how far the government is going in electronic monitoring of email and other messages to prevent any group, notably including academics or students, from organizing in order to protest. I don't like that any better in Madison than I do in Beijing.
The only reason to seek to look at a critic's e-mails is the hope of intimidating that critic or hoping to find something embarrassing about said critic (with the ultimate goal of silencing said critic).  This all has absolutely noting to do with the state budget or even the philosophical legitimacy of public sector unions.  This is about ideology and one of the outgrows of ideology is often thuggery.  This should be roundly criticized.
I will conclude with portions of Cronon's blog post in response to this situation:
My most important observation is that I find it simply outrageous that the Wisconsin Republican Party would seek to employ the state's Open Records Law for the nakedly political purpose of trying to embarrass, harass, or silence a university professor (and a citizen) who has asked legitimate questions and identified potentially legitimate criticisms concerning the influence of a national organization on state legislative activity. I'm offended by this not just because it's yet another abuse of law and procedure that has seemingly become standard operating procedure for the state's Republican Party under Governor Walker, but because it's such an obvious assault on academic freedom at a great research university that helped invent the concept of academic freedom way back in 1894.

[…]

Most of my professional colleagues will instantly recognize this request for access to a professor's emails as a potential threat to academic freedom: an effort by a powerful political group—the Republican Party of my own state, no less—to seek weapons they can use against me. Most of us would feel at least a little nervous about giving someone carte blanche to rummage through our online communications, and in the academic world this raises special concerns because such inquiries have often in the past been used to suppress unpopular ideas.
Indeed.