"Politicizing" Sports
A reminder that all choices are political to one degree or the other.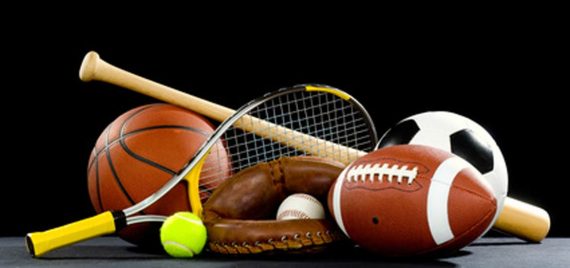 Ok, so part of me feels like I should just have moved on after reading this opinion piece in The Washington Examiner, Democrats must stop politicizing sports. For one thing, the author is a summer intern, which means this is probably one of his first published pieces and I feel a tad guilty for being harsh in my criticism. And, moreover, it is just a minor topic (well, at first blush it is, but it really hits some big issues). However, it hit several notes that got my attention. First, I like sports and second, I find that the term "politicize" is frequently misused. Hence, the headline itself drew me in. Then the piece itself makes a number of other claims/assertions that stoked my blogging gene.
The piece is an attempted contrast of how the Los Angeles Dodgers and the Texas Rangers are dealing with Pride month-related topics:
Today, athletes are forced to enter the political fray because of the way Democrats have politicized sports. While the Los Angeles Dodgers celebrated Pride Night by honoring anti-religion drag queens who mock God and faith, the Texas Rangers are facing widespread criticism for being the only Major League Baseball (MLB) team that does not host Pride Nights.

[…]

The Texas Rangers are playing it smart by catering to the personal and political opinions of all their fans and preventing a controversy from stirring. At the same time, they are also maintaining the essence, purpose, and spirit of sports by refusing to get involved in political stunts, unlike the other 29 MLB teams.
First and foremost, all of this is politics and the Rangers choosing to not participate in Pride Night is a political decision as much as the Dodgers' decision to do as they have done. Part of that is, no doubt, about the politics of the state of Texas, but it is more likely about the politics of the ownership and management of the team. It is a frequent error made, especially in conservative circles, to state that lack of action is somehow apolitical. Or, more to the point, to identify "doing the thing that I like" with "not being political."
To that point, let me highlight "The Texas Rangers are playing it smart by catering to the personal and political opinions of all their fans and preventing a controversy from stirring" (emphasis mine). So, from the essay's POV, all the fans in Texas don't want Pride Night. This is, of course, demonstrably not true, but it directly speaks to my point that the author is defining being "political" as avoiding talking about something that he doesn't like. It is a sleight of hand that attempts to define any attempt at dealing with including new points of view as the disruptive force while giving a pass to anyone who stands in the way of change. It is a claim that the status quo ante is the valid state of being (and therefore not "political") while it is the agents of change that are steeped in "politics" (which, I would note, is given a thoroughly negative connotation).
Further, the notion that sports aren't/shouldn't be political is simply absurd as a general matter, insofar as sports are embedded in the broader culture and the broader culture is influenced by politics. The fact that June is Pride Month and that many businesses engage in Pride-based marketing is a result of broader socio-political forces, as is the fact that we are seeing a backlash to Pride activities is also political. The MLB is just operating within this context. And the fact that there are Pride Nights in 2023 but there wasn't any such thing in 1973 is a sign of the shifting culture, not the radical choices of the MLB.
The fact that so many businesses now engage in some level of Pride Month marketing is a sign of the broader social acceptance of LBGTQ+ individuals. Corporations are not known for cutting-edge activism and indeed are incentivized not to engage in activities that will rile their customers. Indeed, if anyone s behaving "politically" the way the column seems to define the term (as in bucking social trends to appease one's in-group), then it is the Rangers organization so behaving, not the other 29 teams.
Further, and probably the thing that set me down the path of blogging on this piece was the intro:
Gone is the time when Michael Jordan confidently asserted, "Republicans buy sneakers, too." Today, athletes are forced to enter the political fray because of the way Democrats have politicized sports.
Well, again, not only was that a political choice made by Jordan (it is not an apolitical stance, as it is rather actively acknowledging politics as a reason to behave a certain way–and, really, making a political statement that he, himself, was not very political), but it is not as much emblematic as suggested.
Off the top of my head, the following examples of sports being connected to politics come to mind (and note that not all of these are liberal political actions):
Jesse Owens at the Berlin Olympics
Jackie Robinson
Mohammed Ali
The 1968 Olympics and the Black Power Salute
Singing the National Anthem at ballgames
Military flyovers
Military appreciation month in the NFL
Cancer awareness month in the NFL
Indeed, the entire issue of Black athletes competing in college and pro sports was political to its core. I have no doubt that during the period of the desegregation of sports, a lot of people were bemoaning how sports had become "political" and why couldn't they just play the damn games.
The notion that sports has been a politics-free zone until Democrats came in and messed it all up is a myth. And in contrast with the Jordan example, I can think of political statements made by LeBron James, Steve Kerr, and Greg Popovitch in recent years. There is a whole side conversation to be had about kneeling at NFL games (which the author does mention)–to include both sides of that issue (with the more "conservative" position winning the day, I would add). Not to mention there is also the whole issue of team names and mascots–no politics there, no sir.*
The conclusion of the piece tries to make the case that the author is concerned about the corrosive effect of politics on sports:
It makes fans resent their teams.

[…]

Athletes must do more to come together and fight against the politicization of sports. The bureaucracy and backlash accompanying this phenomenon negatively affect both athletes and fans. There is no reason for the woke agenda to polarize sports any further than what is considered healthy sports rivalry.
On the one hand, I am sure some fans are upset by these things. (And I will ignore all the silly, cliched usage of "woke" in all of this because this post is already a lot longer than I intended). On the other, the piece made me wonder where the Dodgers ranked in terms of attendance this season.
Care to guess?
It is a number between 1 and 30.
Got it?
Well, according to ESPN, the team with the number one overall average attendance is, wait for it, the LA Dodgers. More specifically, they are number one at home and number two on the road (beaten only by the Yankees). The Rangers (which is my team, BTW), are 14th at home and 18th overall. FWIW, the Dodgers have the second largest stadium in terms of seating capacity and the Rangers have the 22nd. Of course, that isn't everything, insofar as the Oakland A's have the most seating capacity and currently are 30th in home attendance (and 30th overall).
Side note: the Dodgers aren't even in first place in their division (Texas is having one of their best seasons in years).
At any rate, I think that there are real issues here. The first is simply the idea that sports or pop culture broadly, isn't going to be influenced by politics is a profound misunderstanding of what politics is. There is, to put it bluntly, no escape from politics. And pop culture is, as the term denotes, linked to the culture, which includes politics.
The second point, which I think is both pretty obvious when you think about it, but also ignored by a lot (most, really) people is that even what is considered "normal" or apolitical is drenched in power politics–it is just that the politics in question are the dominant ones so its seems like it isn't a choice. This is why these changes affect people who are conservative the hardest. The nature of conservative politics is the preservation of existing power structures. So when things change, this definitely rankles conservatives.
This is especially true when a dominant group (e.g., whites, males, Christians, heterosexuals, etc.) is asked to give ground to a group that has had less power or focus. You know, like white folks who get upset about Black History Month or, well, Pride Month. Or, the notion that acknowledging same-sex partners in an elementary school is sexualizing without realizing that so is a mention of traditional marriage, but since traditional marriage is "normal" that it doesn't count. (Just consider what happens anytime a previously white character from pop culture is recast as being a person of color).
At a minimum, this kind of piece is instructive in terms of thinking about the ongoing tensions in a pluralistic society wherein the small-c conservative forces will frequently claim that any attempt to expand inclusion (broadly defined) is a political attack on the status quo without acknowledging (or even always understanding) that maintaining the status quo is also inherently a political choice.
Politics is, at its core, about the power relationships between citizens and so maintaining or shifting those power relationships is political.
(And I have thought of more and more examples of how politics has suffused sports for decades, but sometimes it is just time to quit).
---
*And look, it is not just about liberal reaction to race-based names. The very fact that that "Redskins" was once acceptable is steeped heavily in American mythology and politics about westward expansion. The University of Mississippi's usage of "Colonel Reb" and calling the university "Ole Miss" had political connotations linked to the Civil War and Reconstruction. Indeed, the usage of "Rebels" as a mascot in southern schools is political, and not in a liberal sense. The usage of "Patriot" as a mascot is political, and one is not really liberal or conservative.