Poll: 58% Of Americans Support Same-Sex Marriage
A new ABC News/Washington Post poll puts support for same-sex marriage at the highest level ever seen:
Public support for gay marriage has hit a new high as Americans increasingly see homosexuality not as a choice but as a way some people are, according to a new Washington Post-ABC News poll.

The poll shows that 58 percent of Americans now believe it should be legal for gay and lesbian couples to get married; 36 percent say it should be illegal. Public attitudes toward gay marriage are a mirror image of what they were a decade ago: in 2003, 37 percent favored gay nuptials, and 55 percent opposed them.

The Supreme Court takes up the issue of gay marriage next week, and nearly two-thirds of all Americans say the matter should be decided for all states on the basis of the U.S. Constitution, not with each state making its own laws.

Among young adults age 18 to 29, support for gay marriage is overwhelming, hitting a record high of 81 percent  in the new poll. Support has also been increasing among older adults, but those aged 65 years old and up remain opposed, on balance: 44 percent say same-sex marriage should be legal; 50 percent say illegal.

A slim majority of Republicans and GOP-leaning independents under 50 years old now support gay marriage. Nearly seven in 10 of those aged 65 and up oppose it, although that is down from more than eight in 10 just four years ago.

There has been a related movement in public opinion about homosexuality. Fully 62 percent of Americans now say being gay is just the way some people are, not something people choose to be. About 20 years ago, fewer than half of the public said so.

In the current data, about three-quarters of those who do not see homosexuality as a choice support gay marriage, with most supporting it "strongly." More than two-thirds of those who see it as a choice oppose gay marriage, with almost all intensely against it.

Currently, gay marriage is legal in only nine states and the District of Columbia, but public views are more similar than not across state lines. In the states that allow gay marriage, 68 percent say such same-sex marriages should be legal, but so too do 56 percent of those in states where the practice is not legal.
This mirrors results we've seen from other polls, and this chart seems to demonstrate that there was a sea change in public opinion on this issue within the last several years, and that there doesn't seem to be any sign of going back: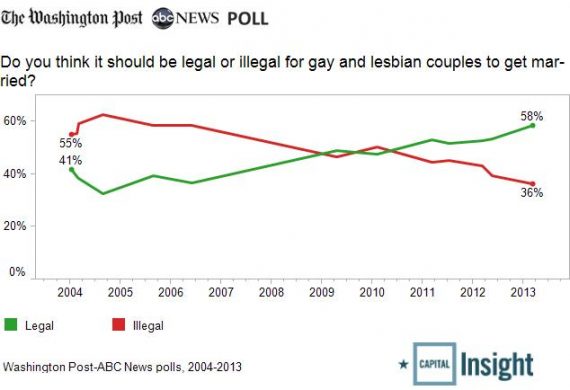 It's also worth noting that, as highlighted above, a substantial majority of those polled oppose the idea of letting marriage be left "to the states," which seems to be coming the position that many conservatives are starting to take on the issue. Logically, the majority seems to have latched on to what is the only acceptable answer to this question. If marriage equality is an individual right, as I believe that it is, than it's simply wrong to take the position that some states can choose to violate the rights of their citizens because of some misplaced devotion to "state's rights."
Also worth noting is the fact that support for banning same-sex marriage, which was the majority opinion less than ten years ago, now appears to garner just a little more than a third of the populations support. The times truly have changed.