Poll: Americans Want Free Stuff
A shocking new polls shows that most Americans would like to receive Social Security and not pay for it.
A shocking new polls shows that most Americans would like to receive Social Security and not pay for it.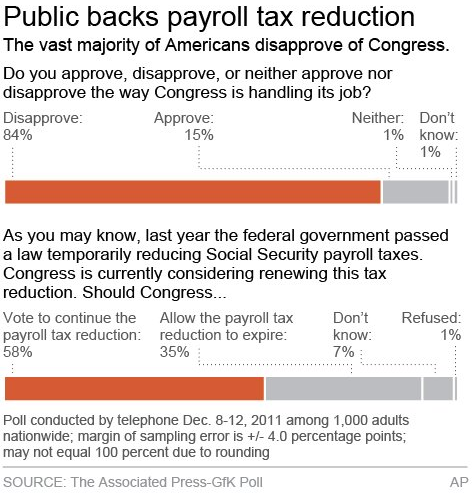 AP ("Poll: Most Americans want payroll tax extension"):
Most Americans want Congress to vote to continue the payroll tax reduction, according to a new Associated Press-GfK poll that comes as Democrats and Republicans wrestle over whether to extend the cut through 2012.

[…]

Nearly 6 in 10 respondents say they want Congress to pass the extension, according to the poll. Letting the payroll tax break expire would cost a family making $50,000 about $1,000.

[…]

On the payroll tax deduction, 58 percent of respondents said they want Congress to extend the break, while 35 percent want it to expire.

Democrats and independents are the strongest supporters of continuing the tax cut, while Republicans were evenly divided. But the difference is more partisan than ideological: Conservatives supported an extension, 54 percent to the 42 percent who prefer to let the reduction expire.

Those with annual incomes below $50,000 more strongly support the extension compared with higher-income respondents, and seniors were more likely than younger adults to back the extension.
In news that is actually news, it seems that, if getting free stuff is not an option, people would rather not get the stuff than pay for it.
As for how to balance the federal budget, more now favor cutting government services as the best means to bring federal spending into balance. Sixty percent think lawmakers should focus on budget cuts over tax increases. That figure had been as low as 53 percent in August, during the showdown over raising the country's debt limit.

The biggest shift on that question has come from independents. In the August poll, 37 percent said lawmakers should focus on increasing taxes and 42 percent said cutting services. Now, that divide stands at 28 percent for raising taxes and 59 percent for cutting services.
This is very interesting, in that it reverses recent trends in which people preferred to pay for services by raising taxes on other people. Presumably, it reflects the fact that Republicans have been hammering spending cuts for two years and the Obama administration has largely relented.