Poll: Latino Voters Oppose Borders-First Approach To Immigration Reform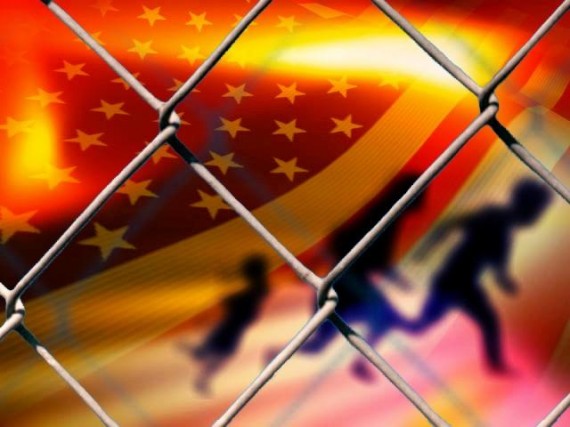 According to a new poll, Latino voters strongly oppose an approach to immigration reform that would require some form of certification that the nation's borders are "secure" before any other provisions of an immigration reform bill could take effect:
A strong majority of Latino voters reject the idea that border enforcement should come before a path to citizenship for undocumented immigrants, according to a poll released Tuesday from Latino Decisions and pro-reform group Presente.org.

The poll, like other surveys on the topic, found strong support — 81 percent — for measures that provide a path to citizenship for undocumented immigrants at the same time as they increase border security. But it also found that many Latino voters are unaware of certain parts of the "gang of eight" bill that passed its first hurdle Tuesday on the Senate floor. That bill would immediately legalize many undocumented immigrants, but would also require that certain border security provisions be met before a plan for a path to citizenship could move forward.

Latino Decisions found that 47 percent of Latino voters had heard little or nothing about the bill's measure to increase the number of border agents, while 44 percent said they had not heard about its provision for more fencing along the U.S.-Mexico border. Fifty-four percent of Latino voters had heard little or nothing about the major increase in spending on border enforcement in the bill, according to the poll.
On the other hand, the poll finds strong support among Latino voters for other provisions of the bill currently before the Senate:
The Latino Decisions/Presente.org poll found support from Latino voters for several provisions in the gang of eight bill that would mark steps on the path to citizenship. A strong majority — 94 percent — said undocumented immigrants should be required to go through a background check before becoming legal residents. But most — 78 percent — also opposed allowing undocumented immigrants to become legal residents without the chance of becoming citizens. Additionally, Latino voters largely oppose increasing the number of detentions of unauthorized immigrants, according to the poll.
Republicans, of course, have been pushing changes to the bill that would include provisions that would require some kind of certification on border control before the rest of the bill could go into effect. How to accomplish this varies depending on who you're speaking to. Senator Rand Paul's proposal would require Congress to affirmatively vote to certify that the border is "secure" before any part of the bill could go into effect, other proposals would purport to accomplish this goal by other means. As I've noted before, though, it seems fairly clear to me that the real purpose of these proposals is to prevent real immigration reform from taking place. By tying immigration reform to a concept as amorphous as "border security," proponents of this idea are essentially giving a future Congress a veto power over immigration reform largely because there is no objective definition of what constitutes a "secure" border.
The biggest take away from this, of course, is that the warning that it sends to Republicans. If they come out of this immigration debate looking like they want to kill the bill, then they are likely to only further sour their relationship with Latino voters, a constituency they've already done a very good job of alienating. I'm not sure they can afford to alienate it any further.