Poll: Only 22% Of Americans Have Favorable Opinion of Sarah Palin
More confirmation that Sarah Palin is the most polarizing political figure in quite some time:
Sarah Palin is viewed unfavorably by nearly 50 percent of Americans, a new CBS News poll finds, a significant challenge for her to overcome should she enter the 2012 presidential race.

Palin is viewed favorably by just 22 percent of Americans, according to the poll – including less than half (44 percent) of Republicans. Twenty-one percent of independents and 6 percent of Democrats view her favorably.

Forty-eight percent of Americans have an unfavorable view of Palin. That includes 73 percent of Democrats, 44 percent of independents and 22 percent of Republicans.

Twenty-nine percent said they are undecided or not sure how they feel about Palin, including about one in three Republicans and independents.
Perhaps it's easier to put it in graph form: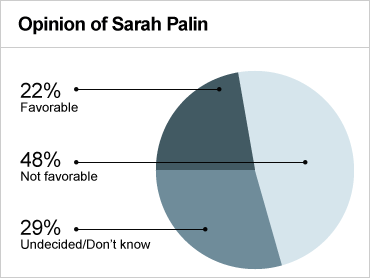 An ordinary politician faced with numbers like this would realize that winning national office simply isn't possible, and thus wouldn't even make the attempt.
Sarah Palin, however, is no ordinary politician, so I still wouldn't be surprised to see her run.