Postal Service to End At-Door Delivery
The US Postal Service is struggling to make delivery more efficient.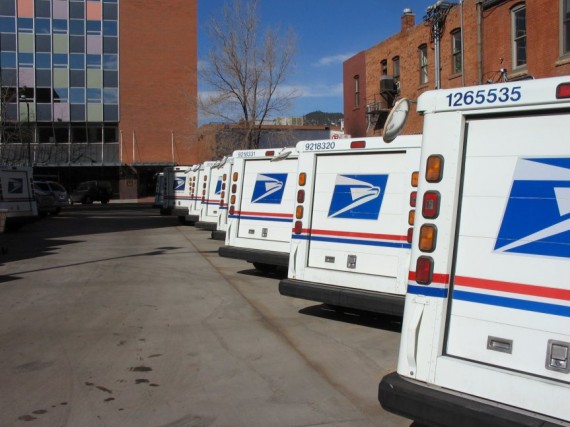 Struggling with an antiquated business model, the US Postal Service is looking to make delivery more efficient.
CNN Money ("Postal Service looks to end at-your-door mail"):
If you're moving to a newly built house, say goodbye to mail delivery at your door.

And if some House Republicans get their way, all door-to-door mail delivery will go away.

The U.S. Postal Service is marching towards a more "centralized delivery," where residents pick up their own mail from clusters of mail boxes located in their neighborhood. Local postmasters are sending hundreds of letters to fast-growing communities, warning that cluster boxes will be the way mail will be delivered to new developments.

In the past year, the cash-strapped Postal Service has been asking companies in industrial parks and shopping malls to also adopt this form of mail delivery.

But Rep. Darrell Issa, the California Republican leading the House effort to save the postal service, wants more. He has made doing away with doorstep delivery a key part of his bill, which would require everyone to get mail at a curbside box or from a cluster box.

"A balanced approach to saving the Postal Service means allowing USPS to adapt to America's changing use of mail," said Issa, who is chairman of the House Oversight and Government Reform Committee.

Moving away from door-to-door delivery saves a lot of money. Right now, 35 million residences and businesses get mail delivered to their doorstep.

It costs $353 per stop for a delivery in most American cities, taking into account such things as salaries and cost of transport. By contrast, curbside mail box delivery costs $224, while cluster boxes cost $160, according to a report from the Postal Service's Office of Inspector General.

Delivering mail is the agency's largest fixed cost — $30 billion. Ending such door deliveries would save $4.5 billion a year. That's more than the $3 billion it would have saved from ending Saturday mail service, according to government reports.
This makes good, practical sense. As I've noted many times, it's silly to treat mail delivery as a for-profit business. It's part of a nation's infrastructure and should be treated as such. But that doesn't mean we have to be stupid about it, either. Current delivery patterns have little rhyme or reason; they're vestiges of a different time.
Most people who live in apartments and other high-rise arrangements tend to have clustered delivery, regardless of how nice they are. I doubt Donald Trump gets his mail delivered directly to his door, at least by the Postal Service.
In most houses I've lived, we had to walk down to the street to get our mail where it was delivered by someone riding in a truck and who dismounted only if they needed to bring a package to the door. At my parents' current house in Alabama, where we moved 33 years ago, we had to pick up mail across a high-traffic road because it had once been part of the old Rural Route system. Eventually, they deigned to pick it up on the residential road itself–but all the boxes had to the on one side of the road, such that the driver could just go around the loop one time.
But, when I lived in a newly built townhouse complex in Ashburn, Virginia a decade ago, the mailboxes were all clustered at central locations.  At the other end of the spectrum, my mother-in-law's house down the road still has a postman delivering mail on foot to a little box mounted on the door; so did the house my late wife and I lived in when we first got married. Why? Well, because that's how they delivered mail when those houses were built.
My current neighborhood has variation. There are three parallel cul-de-sacs connected by a perpendicular road. Then there's another, smaller, cul-de-sac off that road in the other direction. Finally, there's an even more private cul-de-sac-like enclave nestled in behind the three cul-de sacs.  Most of us get our mail delivered to a box at the bottom of our driveways but the people in the cul-de-sac-like enclave and the smaller cul-de-sac off the connecting road have clustered boxes. Frankly, given how much of a time suck driving down cul-de-sacs is, we should all be picking our mail up from a box on the connecting road.
Shifting to clustered delivery where it's reasonable and taking away the odd perk of door-to-door delivery would save billions of dollars with minimal inconvenience to customers.