President Know Nothing
The absurdity of this presidency illustrated yet again.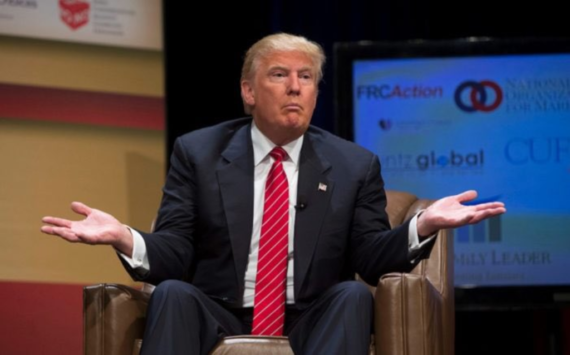 All joking about demon sperm and alien DNA aside, it is profoundly disturbing that we have a president who would promote a clearly fringe individual because that individual agrees with one of Trump's pet theories about Covid-19 treatment. Trump's retweet of a video (now taken down by Twitter) of Stella Immanuel, a medical doctor and minister with dubious medical and theological positions (to engage in some understatement) is just another in a long list of his lack of concern with truth or facts.
All that mattered to Trump was that she purported to have successfully treat Covid-19 with hydroxychloroquine so he shared her video with his 84.3 million followers.
When asked about it yesterday:
Because, of course, the best way to assess how important someone's voice might be is to know nothing about them.
This is, of course, ridiculous.
And irresponsible.
It is the kind of lazy work that would earn one a failing grade in school or get one fired from a job. And, yet, there are all too many people willing to make excuses because he is the leader of their team.
There is so much that Trump deserves criticism for, but at the end of the day this kind of gross laziness and lack of fealty to the basic assessment of evidence and truth is probably what frustrates me the most. We would not accept this behavior from our lawyer, accountant, teacher, doctor, dentist, or any number of other professionals we might rely on. This is truly "crazy uncle who forwards e-mail chains" level of discourse (and typically the only reason we tolerate said uncle is because we are related to him and even then we can only stand him on rare occasions).
It remains a travesty that he holds arguably the most powerful office in the world and, worse, that there are so many American citizens who think he should retain it (and I say that fully understanding what I have repeatedly written about partisan identification and the way it shapes choice). The man is manifestly not qualified for the office he holds and while bringing international attention to a woman who thinks endometriosis and other uterine ailments are caused by demon sex is the least of his sins, it is thoroughly indicative of his qualities as a thinker and leader.
(Really that I wrote the previous sentence underscores the asininity of this president).
It is both laughably absurd and profoundly disturbing that we are all making demon seed jokes because of the actions of the President of the United States and the fact that his only standard for promoting the opinions of others is that those opinions conform with his own. There is no consideration of the quality of the information nor any notion of responsibility in sharing it.
None of this is new and this is by no means the worse thing he has done, but it is such a clear illustration of the absurdity of this presidency and of any pretense that he should be entrusted with the office he holds.
---
And, BTW, lest anyone think that the Daily Beast's story detailing Immanuel's beliefs was overwrought, I give you Dr. Immanuel: