President Trump Thinks The Media Hates His Twitter Habit. He Couldn't Be More Wrong.
Donald Trump thinks the media doesn't like his Twitter habit. In reality, they love it.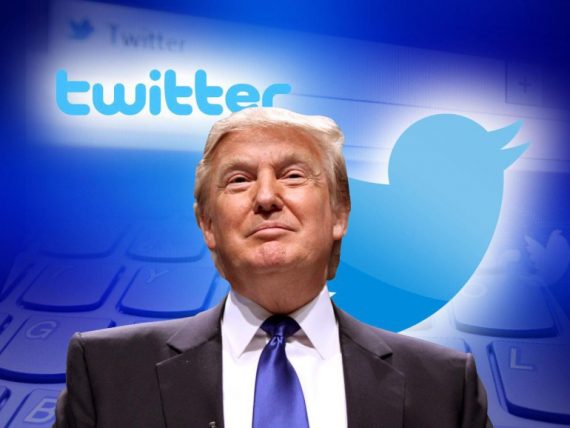 President Trump was on Twitter again this morning — surprise! — discussing everything from the independent counsel investigation, which even he now acknowledges includes a look at whether he committed obstruction of justice, to the supposedly great state of the economy. His most amusing claim, though, came in what he said about the media:
The Fake News Media hates when I use what has turned out to be my very powerful Social Media – over 100 million people! I can go around them

— Donald J. Trump (@realDonaldTrump) June 16, 2017
This isn't the first time that Trump has claimed that the so-called "mainstream media" hate when he uses social media sites like Twitter. He said much the same thing earlier this month:
The FAKE MSM is working so hard trying to get me not to use Social Media. They hate that I can get the honest and unfiltered message out.

— Donald J. Trump (@realDonaldTrump) June 6, 2017
This led to bemused responses from several members of the media:
Also, to be clear: NO ONE in the media "hates" when Donald Trump tweets.

Not. One. Person. https://t.co/XiAe5ixpDp

— Chris Cillizza (@CillizzaCNN) June 16, 2017
We actually love it — when have we ever before had a direct look into a president's psyche in real time? https://t.co/leAOtYcum0

— Jake Tapper (@jaketapper) June 16, 2017
As well as this observation from yours truly:
Are you kidding? The media loves it when you tweet, as do your many, many opponents. Keep destroying yourself! https://t.co/2f1PQ2RjLv

— Doug Mataconis (@dmataconis) June 16, 2017
As Chris Cillizza goes on to note in a piece at CNN.com, if Trump really believes the media doesn't like when he uses social media, then he doesn't understand how this process works:
If Trump believes this — and he certainly seem to — it shows a fundamental misunderstanding of how the media views the president's Twitter feed and how he employs it.

The reality is this: Every political journalist in the world is absolutely thrilled that Donald Trump not only tweets but does with the frequency and bluntness that he does. NO reporter wants Donald Trump to stop tweeting. Not one.

Trump's Twitter feed gives the political media — and anyone else who follows him — a direct look into his thought processes. We know what he is thinking about — or angry about — at all times of day. That's absolutely invaluable. It's "The President: Raw and Uncut."

We've seen time and time again that what Trump's White House says and what the president actually thinks are very different things. (Sidebar: How are you enjoying workforce development and apprenticeships week?)

Even as his White House will be excoriating the media for focusing too little on some policy roll-out or another, Trump will drop a series of tweets about the "witch hunt" Russia investigation or complain, as he did yesterday, about why the Justice Department isn't investigating alleged improprieties surrounding Hillary Clinton's presidential campaign.

All presidents have private thoughts that sometimes (often?) run counter to the official message the White House is pushing in a given day, week or month. But, no past president has been willing to put those discrepancies on public display in front of the tens of millions of people who follow him on Twitter before Trump.

What sort of reporter would want that pipeline to end?

The people who do want Trump to stop tweeting or to tweet less aren't the media. They're Republicans and Trump loyalists who believe his willingness to tell people exactly what is on his mind at any minute of the day fundamentally undermines the White House's efforts to find some consistent messaging and build the momentum the administration has been sorely lacking to date.

"[Twitter is] a powerful tool, but I do believe that it can be used more effectively to achieve his purpose," New York Rep. Lee Zeldin, a Trump supporter, said on CNN Friday morning. "I don't know the strategy behind, you know, this morning — this latest tweet you are asking me about. But if there is a bigger strategy that makes sense, I'm all ears."

If you're reading this, Mr. Trump, let me be crystal clear as a card-carrying member of the media: Please keep tweeting. It provides us insight into how you think that we have never had before and may never get again from a president. Period.
Cillizza is, of course, absolutely correct. Not only doesn't "the media" mind that he tweets so often, they love it because it gives them something to talk about regardless of what else may be in the news. I generally watch Morning Joe in the morning, and this week updating the world on the tweets coming from the President of the United States are a regular topic of conversation. This is especially true when those tweets seem to be, as they so often are, stepping all over the agenda that the White House itself is trying to set in a given week. For one thing, as Cillizza notes, it's rare that the media gets a real insight into what a President is actually thinking before it gets filtered through the vetting of communications staff. Here we have a President who is telling us what we think and doing it in a manner that neither his staff nor his closest advisers seem to be able to get any control over. And it looks as though this isn't going to end anytime soon. More than once since the election, we've seen reports in the media that Ivanka Trump or someone else close to Trump has been trying to talk him out of giving in to the reflex of taking to Twitter every time he feels the impulse to comment publicly about something. More recently it was speculated that the fact that Melania and Barron Trump had finally moved to Washington to live full-time at the White House would mean that Trump would have less time alone, which would break him off the Twitter habit to some extent, That obviously hasn't happened, although one must admit that he's Tweeted as much while he was alone in Washington as he did when he was living in New York before becoming President indicates that the presence of his wife and youngest sons does nothing to relieve him of his cable news and Twitter habits.
In addition to the media, of course, Trump's Twitter habit is also beloved by his many opponents. Not only has it proven to be successful in moving his own White House off its agenda on numerous occasions, it has also turned into an important source of ammunition against him. At least six times since January, Trump's own words on the campaign trail and on Twitter have been used against him by a Federal Court to strike down the two versions of his Muslim Travel Ban Executive Order that he has signed since taking office. He's also made admissions about the reasons that he fired former F.B.I. Director James Comey that could end up being used against him in the ongoing investigation. The more he tweets, the more he seems to dig his own grave politically and perhaps legally.
So, speaking for both the media and the opposition I can say…. Mr. President, keep on tweeting!