Pro Athletes Boycotting Games
The NBA playoffs have been hit with a work stoppage.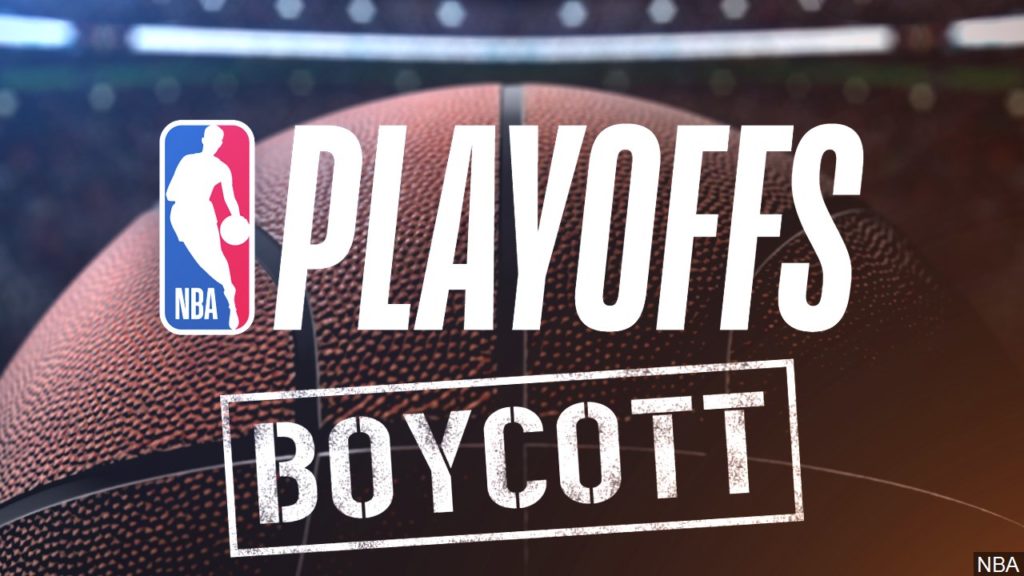 Frustrated by yet another police killing of a young Black man caught on video, athletes from the NBA and other sports leagues are refusing to play.
New York Times ("Led by N.B.A., Boycotts Disrupt Pro Sports in Wake of Blake Shooting"):
Athletes from the N.B.A., W.N.B.A., Major League Baseball and Major League Soccer took their boldest stand yet against systemic racism and police brutality, boycotting games on Wednesday in response to the police shooting of a Black man in Kenosha, Wis. The moves dramatically escalated a season of athletes demonstrating for social justice as some expressed doubts about continuing to play amid widespread social unrest.

The wave of boycotts and postponements was sparked by Milwaukee Bucks players' responding to the shooting of Jacob Blake by refusing to come out of their locker room on Wednesday afternoon for a playoff game against the Orlando Magic. Two more N.B.A. playoff games scheduled for Wednesday night were quickly postponed, inspiring players in other leagues to follow the Bucks' lead and causing numerous professional basketball, baseball and soccer games to be called off because athletes would not participate.
When I saw the news that Bucks players had staged a walkout ahead of a playoff game, I was stunned. It struck me as a pointless gesture that was much more likely to spark backlash than help the cause. Meanwhile, the NBA's reaction was brilliant: postpone the game in question and the two others scheduled for the evening rather than allow the postseason to be tainted by forfeits.
The rationale offered by players, however, is reasonable enough:
The shooting prompted numerous N.B.A. players and coaches to express frustration and anger that the various measures they have been taking for weeks to support the Black Lives Matter movement, such as kneeling during the national anthem and wearing jerseys bearing social justice messages, were having little impact. Some also began to question, as the Nets' star guard Kyrie Irving did in June before the 2019-20 season resumed, whether providing entertainment through basketball was actually diverting public attention away from the broader social justice movement.
So, on the one hand, the boycott is misdirected. Neither NBA officials nor team owners have any responsibility for the shootings. Neither do Milwaukee Bucks fans. And, certainly, the ordinary wage-earners who make their living supporting the games, cleaning the facilities and the like, are innocent.
But, yes, resuming basketball and other entertainment options do signal a partial return to normalcy. While it was initially the pandemic that suspended play, the massive protest movement has in some ways overshadowed it, especially in major urban centers. So there's something to be said for flipping that on its head by boycotting.
And it's worth noting that the Bucks are the top seed in the inferior Eastern Conference. They have a very good chance of making it to the NBA Finals. This isn't a token gesture.
"We are calling for justice for Jacob Blake and demand the officers be held accountable," [Bucks point guard George] Hill said. "For this to occur, it's imperative for the Wisconsin state Legislature to reconvene after months of inaction and take up meaningful measures to address issues of police accountability, brutality and criminal justice reform."
While I've been to Wisconsin a handful of times, I claim no expertise in their local politics. Apparently, they're still operating on the antiquated model of part-time legislators who have other jobs. Still, it strikes me as unlikely that they're going to be spurred into action by basketball players.
Beyond that, while I fully understand why each additional incident adds fuel to the fire, it's unreasonable to expect a transformation of our law enforcement culture overnight. That's just not how the world works. Even if "meaningful measures" are taken, it's going to be years before this problem is solved.
Which leaves everyone with a dilemma:
A meeting Wednesday night was open to players and coaches from the 13 teams still at Walt Disney World to determine next steps — in essence to decide how soon, or even if, the N.B.A. playoffs should resume.

Players from the Boston Celtics and Toronto Raptors were already deep into discussions about boycotting the teams' second-round series opener Thursday when the Bucks staged their boycott. A league spokesman, when asked about Thursday's three scheduled games, said no determination had been made about the N.B.A.'s upcoming schedule.
If the playoffs are canceled over these boycotts, the damage done to the league will be incalculable. It took years for Major League Baseball to recover from the 1994 players' strike that canceled that sport's postseason.
Unlike the National Football League, the NBA's owners and league leadership have maintained a good relationship with the players. They've issued statements in support of their efforts here and done a good job of accommodating the need to express solidarity with the larger protest movement. I strongly suspect cooler heads will prevail and the playoffs will resume soon.