The New College Football Playoff System Won't Be Any Better Than the B.C.S. Was
The B.C.S. was far from perfect, and the College Football Playoff system will be, at best, only slightly better.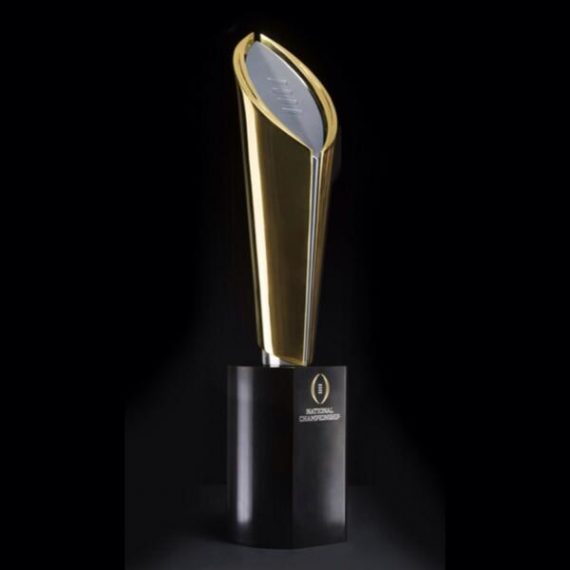 Last night, the committee that will ultimately decide the four teams that will meet for the playoffs that will end in a National College Football Championship Game in January released their first set of rankings last night:
The College Football Playoff selection committee revealed its first set of rankings Tuesday night, placing Mississippi State, Florida State, Auburn and Mississippi as its top four teams, in that order.

The 12-person committee met Monday and Tuesday in a conference room at the Gaylord Texan hotel near Dallas to debate the merits of each team and then determine its top 25. The top four teams when the final rankings are released on Dec. 7 will gain entry into the inaugural playoff.

While Mississippi State and Florida State are undefeated, Auburn and Mississippi each have one loss. Rounding out the committee's top 10 were other one-loss teams in No. 5 Oregon, No. 6 Alabama, No. 7 Texas Christian, No. 8 Michigan State, No. 9 Kansas State and No. 10 Notre Dame.

The committee's top four did not mirror those selected by The Associated Press this week: in that ranking, Alabama was third and Auburn was fourth.

The highest-profile team to lose the most spots between the A.P. poll and the committee's was Notre Dame, which slipped from No. 6 to No. 10.

The biggest beneficiaries of the committee were Mississippi (A.P.'s No. 7), which is coming off a 10-7 loss at Louisiana State, and Texas Christian (No. 10). Placing Mississippi above Alabama most likely reflects an emphasis on head-to-head results — the Rebels beat the Crimson Tide, 23-17, on Oct. 4.

In an interview on ESPN minutes after the rankings were released, Jeff Long, the committee's chairman and Arkansas's athletic director, stressed that the members looked at teams' complete body of work.

"It's important for me to point out we really don't look at it as a conference," Long said. "We look at those teams, we analyze the teams they played, and we looked at the successes they had, the failures they had."

The final rankings, released the Sunday after several conferences hold their championship games, will determine the composition of the six playoff-affiliated bowls, including the two semifinal bowls.

There are many more weeks of action left to jumble the playoff picture. Four of the top six teams are in the Southeastern Conference's West Division, and there are several matchups between them, including Auburn's game at Mississippi on Saturday night.

Tuesday's rankings were nonetheless intensely anticipated because they offer the first glimpse at what the committee will place value on before it decides the final four.
There will undoubtedly be much debate about these rankings, and the ones that will follow between now and the final list that is released in December, but it strikes me that my initial opinions about the new system are being borne out. Most of the complaints about the Bowl Championship Series appeared to center around the fact that the formula that it used didn't take things like strength of schedule and other factor into account sufficiently enough and that it often seemed to benefit teams that were in one of the big conferences at the expense of lesser known schools such as Boise State and Baylor that had comparable records but were often ranked lower for reasons that seemed to be arbitrary. In the end, though, it isn't clear to me how a playoff selection system based on a committee like this can be any less arbitrary than the BCS computers allegedly were. Defenders of the idea of the new system, or of the idea of expanding it to eight teams instead of just four, argue that such a system is better than what we had with the BCS, but as I noted when I wrote about the new playoff system when it was announced, it's rather obvious that fans are going to be just as disappointed with this system as they were with the BCS:
The computer-based system, taking into account different polls as well as other factors, was intended to have been an objective way to determine rankings between teams that play inherently different schedules in different leagues, and often different styles of football. It was inevitable that fans of teams that would lose out under such as system, such as recent years when Boise State was often placed far down in BCS Rankings largely on the basis of "Strength Of Schedule." The first time that a similar situation happens to a team that is ranked at 5th or 6th, or 7th or 8th for that matter, you're going to hear similar complaints about this new system as well.

In the end, though, I'm not sure there is such a thing as a perfect answer to this kind of "problem." Expand this to a six team playoff and you're going to get the same criticisms from fans of teams on the bubble. Indeed, you often do hear such criticisms after the selections for the NCAA basketball tournament, although its far less common mainly because that is a 64 team (plus play-in games) tournament. Of course, a 64 game football playoff would be unworkable and I've got to think that anything beyond 6 or 8 games wouldn't work all that great either. After all, the NCAA and the conferences do have to keep in mind that, as the schedule moves in to December and January, they are going to be competing for television time with the NFL Playoffs.
And, yesterday, FiveThirtyEight's Neil Paine argued quite strongly that the BCS wasn't any worse than this system will be no matter how many playoff games there are:
The BCS, which mixed polls with the supposed objectivity of computers, was supposed to fix all that. The existence of mathematical ranking systems in college football dated back at least 70 years prior, but since the AP began continuously issuing polls in 1936 these systems had never been the game's preeminent selectors.

It didn't go smoothly. The computers became an easy punching bag for everything that fans and media hated about the BCS as a whole. "I think over the years, the computers were a scapegoat," algorithm-maker Richard Billingsley told ESPN's Mark Schlabach in August. "If there was an issue or if somebody didn't like the results, it was the computers' fault, and that wasn't fair at all."

(…)

perhaps the BCS's biggest sin of all was banishing computer rating systems that took into account a team's margin of victory in its games. It was seeking to reduce the incentive for coaches to run up the score on overmatched opponents, but in doing so it also deprived the computer ratings of key data points. One of the most crucial findings in sabermetrics, across virtually all sports, is that the average margin by which a team wins or loses conveys more information than wins and losses alone. This is especially true in a sport like college football, where the sample of games is so small.

Perhaps a computerized system could work if it were deployed with more skill. But college football's decision-makers have decided instead that using no data — or at least a fuzzy interpretation of what's available — is better than rigidly adhering to a defective model.

And it may not make much of a difference.

There will likely be a great deal of crossover between the playoff committee's selection and the teams the BCS would have listed in its top four slots. In the estimation of SB Nation's Bill Connelly, no fewer than 75 percent of the top four teams in the BCS rankings each year from 1998 to 2012 — and probably closer to 85 percent to 90 percent — aligned perfectly with the teams a hypothetical playoff committee would have selected had the current system been in place over those years.

There also isn't much distinction between the BCS's and the CFP's accuracy in determining the nation's true best team. The CFP's four-team bracket would be more likely to feature the deserving champion (a four-team playoff system has about a 45 percent greater chance of including the best team than a two-team setup like the BCS). But the CFP loses that advantage by forcing the top team to play an additional game, opening it up to becoming the victim of bad luck. According to past research of mine, a two-team playoff is won by the best team in the country about 29 percent of the time, while a four-team playoff crowns the best team at a 31 percent clip — hardly any improvement at all.
Theoretically, those numbers would increase slightly if the playoffs were expanded to six or eight teams, but I would suspect that it wouldn't improve by all that much, and that instead of the complaints of the fans of the teams that get ranked fifth through eighth at the end, we'll be hearing the complaints of the fans ranks 9th through 12th, and so on down the line. In the end, given how different the schedules of all of these football teams are, the fact that there are far fewer games up on which to judge performances in football than there are in basketball, the fact that you could never really have the kind of massive round robin tournament for football that basketball has, and other issues such as contractual and other obligations that require teams that could potentially be ranked higher to play FCS Division and lower ranked teams, it's just not possible to come up with anything approaching an objective list of contenders for the best college football team in the country. Some people have suggested the idea of giving preference to conference champions, but even that idea has its flaws for many of the same reasons I mentioned above. Eventually, though, if conference consolidation continues as it has over the past decade or so, that may be exactly where we're headed, or alternatively we may see the "big" conferences —- SEC, Big Ten, Big 12, and the PAC-12, — expand even further and create their own championship series outside the NCAA.
In any case, the new playoff system is likely to be with us for some time. There will likely be some reforms made along with way, much like there were reforms made to the B.C.S. about halfway through its run, but it's not going to eliminate the controversies any more than various rule changes on the field eliminate controversies that erupt when the fans or one team or another complain about a "blown" call. The B.C.S. wasn't perfect, but it was better than what preceded it if your concern was for some kind of designation of an "objective" national champion. The new system is, at best, only slightly better it seems and demanding perfection that can never be attained seems rather silly.