College Football Playoff: It's Complicated
College football will get a four-team playoff. What it'll look like is anyone's guess.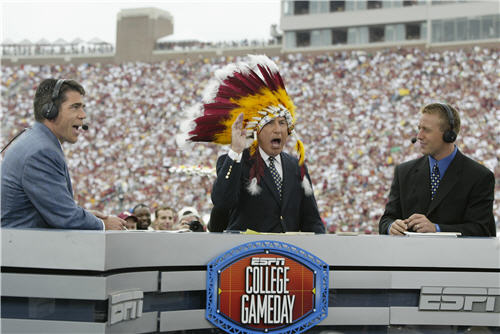 In "Holdups for BCS playoff plans: Where, when and how are vital playoff questions that remain unanswered," ESPN's Brad Edwards notes that the NCAA looks to be moving to a four-team playoff for the top division of college football. But the details are incredibly complicated.
In very brief summary: college isn't the NFL. There are vastly more teams, with vastly different facilities, local infrastructure, and fan bases. There's also the matter of differing academic calendars and final exam schedules. There's the tradition of the bowl games. And there's also the fact that the NFL is the Big Kahuna, which means no games can be played on Sundays.
Where to play the games is hard. Preserving the BCS bowls mean that it's quite possible that the 4 seed will have de facto home field advantage over the 1 seed. Setting up neutral site games is next to impossible until you know which teams are playing and it's hard to schedule big time venues late. And playing the games on campus is tough because few schools have the facilities to host a big time game and many possible playoff participants live in backwater towns that can't accommodate the massive media influx.
It looks like the commissioners are leaning toward playing the semi-final games at the traditional bowl sites affiliated with the conferences of the top 2 seeds. That works for me, although it does present some travel problems for fans.
When is an even bigger nightmare, especially if you want to preserve the myriad bowl games. And the NCAA does, since they're not only a big part of the tradition of college football but a huge money maker.
How to select playoff teams is easier–there are all manner of methods people could live with–but it's more controversial than the other to, making agreeing to one the biggest sticking point of all. Talk has settled on the current BCS model, an even more computer driven model, and a selection committee taking the computers out of it altogether. All have advantages and disadvantages.
In addition to these three selection methods, there has been much discussion about granting playoff spots only to teams that are conference champions. After all, the final two months of the regular season are devoted almost entirely to conference games, and many great conference races have been somewhat undervalued in recent years because of the national focus on the top two spots in the BCS standings. A "champions only" format might restore proper value to winning conference titles … but that could come at a price.

College football's greatest asset is a regular season that ranks as the most significant in American sports, and conference commissioners have often stated that they wouldn't want any form of a playoff that might jeopardize this. Unfortunately, it's possible to clinch some conference championships prior to the final game of the season, just as it's possible to clinch a divisional title before the last week of conference play.

Go back to 2006, when Ohio State and Michigan were undefeated and ranked as the top two teams in the nation entering their season-ending rivalry game. If that happened now, with the teams in opposite divisions of the Big Ten, both would've already clinched their side and would be locked into a rematch in the conference championship game. The winner of that second game would be the league champ, and if a four-team playoff were in place and restricted to conference champions, it would render the regular-season finale meaningless.

Imagine a No. 1 versus No. 2 game in late November with absolutely no meaning. For fans of the sport, that would be tough to swallow.

Another argument against this model is just plain common sense. You'd have to go back no further than last season to find an instance where a "champions only" format would've eliminated the No. 2 team in the nation from a four-team playoff and included the No. 10 team. That would be nothing short of ludicrous. After decades of ridicule for being the only sport that couldn't figure out that it needed a playoff, college football would instead be ridiculed for being the only sport that didn't understand how to execute a playoff.

But simply choosing the top four teams might not solve all the problems, either. Let's presume Arkansas had beaten Alabama last season, and the Razorbacks had been unbeaten going into their final scheduled game at undefeated LSU. Because the teams play in the same division, the loser's regular season would be over. And since there were no other undefeated teams at that point of the season, it's doubtful that a road loss to the top team in the nation would've dropped the Hogs out of the top four, meaning that there might not have been any urgency for them to win that game if the top four teams all made it into a playoff.

Perhaps a compromise would be to guarantee three of the four spots to conference champions, leaving an opening for any non-champion to make it with a top two ranking. It's not ideal, but it might be the best solution that can be reached. And this doesn't even consider the issue of handling teams that aren't in a conference, such as Notre Dame.

The reality is that when the "I's" are dotted and the "T's" crossed on this four-team playoff, very few people are likely to be completely satisfied with all the details. After 16 seasons of an imperfect two-team resolution to the season, we'll have an imperfect four-team model to fuel our complaints for the next several years.

Anything else wouldn't feel like college football.
I commend the piece to you in its entirety. You'll appreciate why it's taken so long to pull the trigger on this.