Proposed Virginia Law Will Force Women To Undergo Invasive Ultrasound Examinations
A bill likely to become law in Virginia will require all women seeking abortions to undergo an invasive ultrasound examination.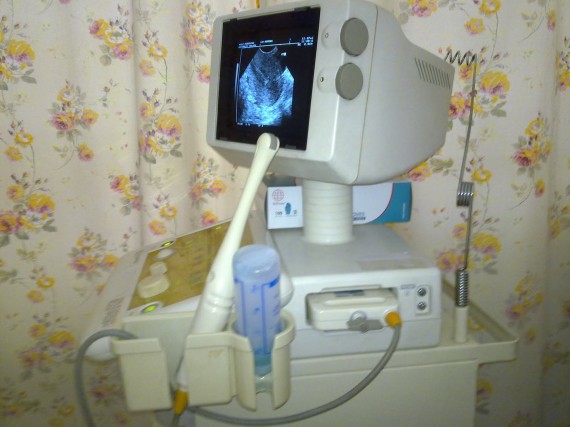 The Commonwealth of Virginia is on the verge of passing into a law a bill that would require every woman seeking an abortion to undergo a completely unnecessary and invasive medical procedure whether she wants it to happen to her or not:
Virginia is set to add itself to a list of seven states that require woman to get an ultrasound before receiving an abortion.

Kristi Hamrick, a spokeswoman for American's United for Life, said that the issue surrounding the Virginia bill is not "some kind of political phenomenon," but instead "about a life-saving test."

"Ultrasounds are the gold standard in medical care for pregnant woman," Hamrick said. "Woman have died from abortion-inducing drugs, when there is an ectopic pregnancy, for example. It is vital to protect woman's health, and ultrasounds are absolutely vital for protecting woman's health, for determining how far along is the pregnancy."

Amy Bryant, an OB/GYN at the University of North Carolina, Chapel Hill who offers abortions as part of her practice, said, however, that, "there is no absolute medical necessity for this," and the determination to do an abortion, "should be at the physician's discretion."

"Physicians that do abortions are fully medically trained and know when it's indicated to do an ultrasound or not, and do it accordingly," Bryant said. "And sometimes, women present for abortion having had an ultrasound elsewhere. Requiring them to have this specific kind of ultrasound prior to an abortion can be stressing, can be unnecessary… and, in my opinion, should not be mandated in such a way that it might not be medically necessary for a particular patient."

Hamrick, however, said, "determining what is sound medical care, is absolutely of interest to states," adding that state oversight, "happens in a number of other settings, not just this one."

The law would require a woman, without her consent, to receive an ultrasound and give her "an opportunity to view the ultrasound image of her fetus prior to the abortion," an option she can decline.
Virginia isn't the first state to pass a law like this, of course. Such laws have become law in recent years in states such as Texas and Oklahoma and, so far at least, they have been upheld by the Courts that have considered them. It's worth considering, though, exactly what laws like this require. I've gotten the impression that when many people hear about a law requiring a pregnant woman to get a sonogram, they have in mind the type of external devices that have become common for most pregnant mothers to be exposed to during various stages of their pregnancy. We're talking, of course, about what some have referred to as the "jelly on the belly" external sonogram that requires no penetration of the body. That's not the only form of sonogram device, however, and given the fact that most abortions take place within the first 12 weeks of pregnancy, the type of medical test that these laws require is particularly invasive:
Many women receive abortion very early in their pregnancies, which would mean that, in some cases, a trans-vaginal ultrasound would be required.

Bryant described it as an invasive procedure, where a probe goes inside the vagina to see the pregnancy, adding that, "every woman who has had an abortion thinks long and hard about the decision she's making and does not need [a] state-mandated, coercive procedure to try and help dissuade her from having an abortion."
Democratic Delegate David Englin issued a statement this week blasting GOP support for the bill:
This bill will require many women in Virginia to undergo vaginal penetration with an ultrasound probe against their consent in order to exercise their constitutional right to an abortion, even for nonsurgical, noninvasive, pharmaceutical abortions. This kind of government intrusion shocks the conscience and demonstrates the disturbing lengths Republican legislators will go to prevent women from controlling their own reproductive destiny.

I offered an amendment that would have protected women from the unwanted vaginal penetration required by this bill. House Republicans rejected that amendment. The next time Virginia Republicans speak the words 'government intrusion' I hope voters will remember this vote and hold them accountable for their hypocrisy
Proponents of the bill, of course, don't see it that way. To them, this law requiring non-consensual penetration by an ultrasound device is necessary in order to ensure that woman are "informed" before going ahead with an abortion. It's a patently silly idea, of course. The idea that a woman getting an abortion doesn't know what it is that's going to happen to her is just absurd. Do these people actually believe that a woman faced with an unplanned pregnancy just wakes up one morning and says "Gee, I think I'll get an abortion today."? Perhaps they do, but the reality of the situation is far different. Countless anecdotal evidence makes it clear that, for nearly every woman that goes through this, the decision terminate a pregnancy is one fraught with emotion, suggesting that it is something that these women find as easy to do as getting their hair done is both ignorant and offensive.
Just how offensive? Well, Dahlia Lithwick does a good job of capturing that:
Proponents seem to be of the view that once a woman has allowed a man to penetrate her body once, her right to bodily autonomy has ended.

During the floor debate on Tuesday, Del. C. Todd Gilbert announced that "in the vast majority of these cases, these [abortions] are matters of lifestyle convenience." (He has since apologized.) Virginia Democrat Del. David Englin, who opposes the bill, has said Gilbert's statement "is in line with previous Republican comments on the issue," recalling one conversation with a GOP lawmaker who told him that women had already made the decision to be "vaginally penetrated when they got pregnant." (I confirmed with Englin that this quote was accurate.)*

That's the same logic that animates the bill's sponsor in the House of Delegates, Del. Kathy J. Byron, who insisted this week that, "if we want to talk about invasiveness, there's nothing more invasive than the procedure that she is about to have." Decoded, that means that if you are willing to submit to sex and/or an abortion, the state should be allowed to penetrate your body as well.
That certainly seems to be where the bills supporters are coming from. How else to explain their apparent desire to force every woman in Virginia to submit themselves to a state-mandated examination if they want to get a procedure permitted under the law? Oh that's right, they want to "inform" women.
The reality, of course, is that laws like this have nothing to do with "informing" women, and everything to do with making it more and more difficult for them to obtain legal abortions. If the law requires an ultrasound prior to having an abortion, that means that abortion clinics that can't afford ultrasound equipment will find it difficult to stay in business. Since the ultrasound itself is unlikely to be covered by any insurance plan, it also means that the procedure itself becomes more expensive for women, who will now have to fork over the additional money for the test itself, which often runs into the hundreds of dollars. Since current law makes it impossible for states to outlaw early-term abortions, they are passing laws like this for the sole purpose of making it harder for them to be obtained even though they're technically legal. We saw something very similar last year in Kansas, where new regulations regarding the condition of abortion clinics that had little to do with sound medical practice threatened to shut down nearly every clinic in the state.
This isn't really an abortion issue to my mind, though. Yes, it's wrapped up in abortion politics and ones opinion on laws like this is likely to be influenced heavily by how one feels about abortion. At the same time, though, there are fundamental issues of personal liberty involved here that go beyond that one divisive issue. Regardless of how you feel about abortion itself, the real question is whether the state should have any right at all to force anyone to undergo a medical procedure of any kind against their will. In this particular case, there is no evidence that a trans-vaginal ultrasound is medically necessary and the invasiveness of the procedure itself is such an affront to personal liberty and dignity that Virginia should be embarrassed to have this statute on its books.
What's ironic about all of this is the hypocrisy that's being revealed here. While Republicans in Washington and on the campaign trail are speaking out against an HHS regulation that they contend would improperly require religious institutions to violate their fundamental beliefs, their colleagues just an hour and a half south in Richmond are on the verge of passing a law that would require every woman in Virginia who wants an abortion to lie on a table, open her legs, and have a probe stuck inside of her for no reason other than to propagandize about the supposed evils of abortion. David Frum notes the mixed message that this sends:
Conservatives in Washington correctly argue that the state should allow religious institutions latitude for their conscientious beliefs free from government mandates. It does dangerously complicate the narrative if—at the same time—conservatives down the road in Richmond are enacting mandates requiring physical intrusion into women's bodies before those women are allowed to exercise their own conscientious beliefs. Freedom for some must be freedom for all, and the rights of churches are most convincingly upheld by those who also uphold the rights of women.
In the end, it shouldn't matter how one feels about abortion when it comes to a law like the one Virginia is considering. There is no acceptable justification for a state to require anyone to undergo an unnecessary medical procedure. Virginia Republicans should be ashamed of themselves.