Protestors Getting Hit By Cars
A researcher has documented 66 separate incidents since May 27.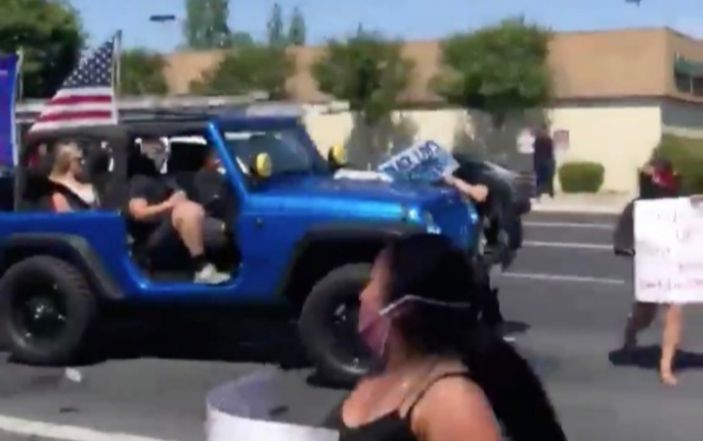 USA Today ("'I would be very careful in the middle of the street': There have been at least 66 vehicle-ramming attacks in US since May 27"):
People running, screaming and shouting words of disbelief. Bodies thrown in the air, lifted onto windshields or trapped under cars and semi-trucks. It's become a horrifying and familiar scene in recent weeks.

Amid thousands of protests nationwide against police brutality, dozens of drivers have plowed into crowds of protesters marching in roadways, raising questions about the drivers' motivations.

While witnesses, law enforcement and terrorism experts say that some of the vehicle incidents appear to be targeted and politically motivated, others appear to be situations where the driver became frightened or enraged by protesters surrounding their vehicle.

"There are groups that do want people to take their cars and drive them into Black Lives Matters protesters so that they won't protest anymore. There's an element of terrorism there. Is it all of them? No," said J.J. MacNab, a fellow at George Washington University's Program on Extremism. "I look at it as an anti-protester group of acts, some of which are white supremacist, some not."

There have been at least 66 incidents of cars driving into protesters between May 27 and July 6, including 59 by civilians and seven by law enforcement, according to Ari Weil, a terrorism researcher at the University of Chicago's Project on Security and Threats. Weil began tracking the incidents as protests sprung up in the wake of George Floyd's death in police custody.

There have been two fatalities — in Seattle and in Bakersfield, California — and at least 24 of the civilian cases have been charged by law enforcement, Weil said.

Many of the incidents were captured in photos or videos shared to social media – two New York police vehicles plowing into demonstrators as the crowd pushes a barricade against one of them, a woman in a black SUV driving through a crowd in Denver, a Detroit police vehicle accelerating away with a man flailing on the hood.

This week, drivers struck protesters in Bloomington, Indiana, and Huntington Station, New York. Similar scenes have played out in Los Angeles, Boston, Tulsa, Tallahassee, and San Jose.

Weil said that, by analyzing news coverage, court documents and patterns of behavior — such as when people allegedly yelled slurs at protesters or turned around for a second hit — he determined that at least 19 of the 59 civilian incidents were malicious and four were not. Weil said he did not have enough information to classify the motives of the remaining 36 incidents.

One of the more "clear-cut" cases of malice, MacNab said, was in early June in Lakeside, Virginia. An "avowed Klansman" drove up to protesters on a roadway, revved his engine and then drove through the crowd, wounding one person, Henrico County Commonwealth's Attorney Shannon Taylor said in a statement.

The 36-year-old man was "a propagandist of Confederate ideology," Taylor said. He was later charged with four counts of assault with hate crimes, two counts of felonious attempted malicious wounding and one count of felony hit and run.

"We lived through this in Virginia in Charlottesville in 2017," Taylor said, referencing when a neo-Nazi plowed his car through a crowd of counterprotesters at a Unite the Right rally, killing Heather Heyer. The driver was sentenced to life in prison on hate crime charges.

Around the same time in Visalia, California, occupants of a Jeep displaying a "Keep America Great" flag hit two protesters who were in the road, causing minor injuries, according to Visalia police. Witnesses said those inside the car were mocking protesters by cupping their ears as if they couldn't hear their chants. The protesters started chanting profanities and throwing items before they approached the Jeep, which then accelerated, hitting the protesters before driving off.
While acknowledgimg that McNabb, who makes her living documenting white supremacist movements, and Weil, who's finishing up a masters on terrorist groups, have incentives to play up the role of malice in these cases, this is a disturbing trend. Even granting that we don't have a baseline for the number of protestors in the streets over the period, 66 incidences of protestors being struck by vehicles is more than one would expect.
The headline warning, "I would be very careful in the middle of the street," would seem rather obvious. But MacNab follows it with, "There's a significant amount of people who think that any protester hit in the street has it coming, and that's a dangerous mindset."
There's a lot at work here.
Someone who finds themselves blocked or surrounded by angry protestors is likely to be frightened or frustrated. And there have certainly been incidences where drivers are pulled out of their cars and beaten in the midsts of racial protests.
But, rather clearly, there is a movement out there to encourage violence against the protesters.
In an ideal world, protestors wouldn't be in the streets at all except with a permit, police barriers, and police protection. But, given the nature of these particular protests, that's obviously not realistic. And, indeed, at least two of the incidences have been police cars ramming protestors.
UPDATE (0829): This from the American Civil Liberties Union is worth noting:
You don't need a permit to march in the streets or on sidewalks, as long as marchers don't obstruct car or pedestrian traffic. If you don't have a permit, police officers can ask you to move to the side of a street or sidewalk to let others pass or for safety reasons.
Certain types of events may require permits. These include a march or parade that requires blocking traffic or street closure; a large rally requiring the use of sound amplifying devices; or a rally over a certain size at most parks or plazas.
While certain permit procedures require submitting an application well in advance of the planned event, police can't use those procedures to prevent a protest in response to breaking news events.
Restrictions on the route of a march or sound equipment might violate the First Amendment if they are unnecessary for traffic control or public safety, or if they interfere significantly with effective communication to the intended audience. [emphases mine]
Even the ACLU acknowledges the need to keep the roadways open.