Protests And Court Orders Push Back Against Trump's Muslim Ban
The first day of implementation of President Trump's order barring immigration from certain Muslim nations did not go smoothly for the Administration.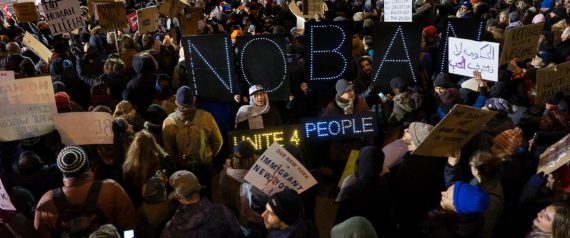 After being in effect for less than twenty-four hours, Donald Trump's Executive Order barring immigration from certain majority Muslim nations has become the subject of nationwide protests and has at least in part blocked by four different Federal Court Judges:
WASHINGTON — A federal judge in Brooklyn came to the aid of scores of refugees and others who were trapped at airports across the United States on Saturday after an executive order signed by President Trump, which sought to keep many foreigners from entering the country, led to chaotic scenes across the globe.

The judge's ruling blocked part of the president's actions, preventing the government from deporting some arrivals who found themselves ensnared by the presidential order. But it stopped short of letting them into the country or issuing a broader ruling on the constitutionality of Mr. Trump's actions.

The high-stakes legal case played out on Saturday amid global turmoil, as the executive order signed by the president slammed shut the borders of the United States for an Iranian scientist headed to a lab in Massachusetts, a Syrian refugee family headed to a new life in Ohio and countless others across the world.

The president's order, enacted with the stroke of a pen at 4:42 p.m. Friday, suspended entry of all refugees to the United States for 120 days, barred Syrian refugees indefinitely, and blocked entry into the United States for 90 days for citizens of seven predominantly Muslim countries: Iran, Iraq, Libya, Somalia, Sudan, Syria and Yemen.

The Department of Homeland Security said that the order also barred green card holders from those countries from re-entering the United States. In a briefing for reporters, White House officials said that green card holders from the seven affected countries who are outside the United States would need a case-by-case waiver to return.

Mr. Trump — in office just a week — found himself accused of constitutional and legal overreach by two Iraqi immigrants, defended by the American Civil Liberties Union. Meanwhile, large crowds of protesters turned out at airports around the country to denounce Mr. Trump's ban on the entry of refugees and people from seven predominantly Muslim countries.

Lawyers who sued the government to block the White House order said the judge's decision could affect an estimated 100 to 200 people who were detained upon arrival at American airports.

Judge Ann M. Donnelly of Federal District Court in Brooklyn, who was nominated by former President Barack Obama, ruled just before 9 p.m. that implementing Mr. Trump's order by sending the travelers home could cause them "irreparable harm." She said the government was "enjoined and restrained from, in any manner and by any means, removing individuals" who had arrived in the United States with valid visas or refugee status.

The ruling does not appear to force the administration to let in people otherwise blocked by Mr. Trump's order who have not yet traveled to the United States.

The judge's one-page ruling came swiftly after lawyers for the A.C.L.U. testified in her courtroom that one of the people detained at an airport was being put on a plane to be deported back to Syria at that very moment. A government lawyer, Gisela A. Westwater, who spoke to the court by phone from Washington, said she simply did not know.

Hundreds of people waited outside of the courthouse chanting, "Set them free!" as lawyers made their case. When the crowd learned that Judge Donnelly had ruled in favor of the plaintiffs, a rousing cheer went up in the crowd.

Minutes after the judge's ruling in New York City, another judge, Leonie M. Brinkema of Federal District Court in Virginia, issued a temporary restraining order for a week to block the removal of any green card holders being detained at Dulles International Airport.

In a statement released early Sunday morning, the Department of Homeland Security said it would continue to enforce all of the president's executive orders, even while complying with judicial decisions. "Prohibited travel will remain prohibited," the department said in a statement, adding that the directive was "a first step towards re-establishing control over America's borders and national security."

Around the nation, security personnel at major international airports had new rules to follow, though the application of the order appeared chaotic and uneven. Humanitarian organizations delivered the bad news to overseas families that had overcome the bureaucratic hurdles previously in place and were set to travel. And refugees already on flights when the order was signed on Friday found themselves detained upon arrival.

"We've gotten reports of people being detained all over the country," said Becca Heller, the director of the International Refugee Assistance Project. "They're literally pouring in by the minute."

Earlier in the day, at the White House, Mr. Trump shrugged off the sense of anxiety and disarray, suggesting that there had been an orderly rollout. "It's not a Muslim ban, but we were totally prepared," he said. "It's working out very nicely. You see it at the airports, you see it all over."

But to many, the government hardly seemed prepared for the upheaval that Mr. Trump's actions put into motion.

There were numerous reports of students attending American universities who were blocked from returning to the United States from visits abroad. One student said in a Twitter post that he would be unable to study at Yale. Another who attends the Massachusetts Institute of Technology was refused permission to board a plane. A Sudanese graduate student at Stanford University was blocked for hours from entering the country.

Human rights groups reported that legal permanent residents of the United States who hold green cards were being stopped in foreign airports as they sought to return from funerals, vacations or study abroad. There was widespread condemnation of the order, from religious leaders, business executives, academics, political leaders and others. Mr. Trump's supporters offered praise, calling it a necessary step on behalf of the nation's security.

Homeland Security officials said on Saturday night that 109 people who were already in transit to the United States when the order was signed were denied access; 173 were stopped before boarding planes heading to America. Eighty-one people who were stopped were eventually given waivers to enter the United States, officials said.

Legal residents who have a green card and are currently in the United States should meet with a consular officer before leaving the country, a White House official, who spoke on the condition of anonymity, told reporters. Officials did not clarify the criteria that would qualify someone for a waiver, other than that it would be granted "in the national interest."

But the week-old administration appeared to be implementing the order chaotically, with agencies and officials around the globe interpreting it in different ways.
As yesterday went on, reports began to filter out about more and more people being detained at American or foreign airports pursuant to the Executive  Order, including not only people in the country on student, tourist, or temporary work visas, but also people from the targeted nations who are Permanent Residents and even people who have dual citizenship who are attempting to either return to the United States or to leave, even if they are leaving on trips to someplace other than one of the countries covered by the ban. As word continued to spread about such people being held for extended periods of time at airports around the country, crowds gathered at places such as John F. Kennedy Airport in New York and Dulles Airport outside Washington, D.C. that included lawyers who quickly went to work drafting Habeus Corpus petitions for people being detained. As a result, but the end of the night we ended up with Orders putting holds of various kinds on the Executive Order from four separate Federal Judges, including not just the Orders from New York City and Virginia but also from Judges in Massachusetts and Washington state. Given the fact that reports continue to persist this morning of individuals being detained in other states notwithstanding the four existing orders, it's likely that we'll hear from more Federal Judges, as well as politicians on Capitol Hill once Congress reconvenes on Monday.
At the very least, it's clear that the Trump Administration did not think these Executive Orders before getting them signed on Friday afternoon at what seemed like an odd hour of the day for what they should have been touting as a high-profile moment to cap off the first week in office. In interviews today as well as reporting that developed overnight, though, it was revealed that the order was rushed out the door in what appears to be an odd amount of haste. For example, it was drafted entirely without input from either the Department of Justice or the Department of Homeland Security, the two agencies that would be charged with implementing it. Officials at DHS apparently were not even aware that the order was in the pipeline until shortly before it was signed and when officials there initially interpreted it the order to not be applicable to Resident Aliens (a.k.a. Green Card Holders) they were told by Trump's inner circle, principally led by Steve Bannon and Stephen Miller that in fact it did apply to such individuals. This morning, White House Chief of Staff Reince Preibus was claiming that the order doesn't apply to such people, and seemingly ignored the fact that permanent resident aliens traveling to or from the affected countries were being impacted by the order in that they were being detained or being prevented from boarding flights to return to the United States.
There really isn't much that can be said about what's happening this weekend that I haven't already said on social media over the past thirty-six hours. What we have here on the part of the Trump Administration is nothing short of an apparently illegal Executive Order that is unconstitutionally and unfairly targeting innocent people while at the same time ignoring the fact that nations left off the list from which immigration is banned have been the ones that have been the primary source of terrorism against American citizens over the past sixteen years. It's also deeply concerning that this Order was drafted essentially in secret and without any consultation with lawyers or the experts in government charged with implementing these policies. Given these circumstances, it's hard to see how, in the end, the order is not motivated by the same blatant bigotry and xenophobia that was behind Trump's initial proposal for a far broader ban against immigration from Muslim countries. It also makes it clear that, given the order itself and the circumstances under which it was drafted, Trump will feel free to expand the scope and nature of his targeting of Muslims if he's permitted to get away with this without consequences. This is why the protesters and the attorneys who have stood up against it in such short order, principally including the American Civil Liberties Union, deserve credit for what they have done and why more people need to speak out against this.
Here are the four Court Orders issued last night:
Federal Court Orders on Trump E.O.'s by Doug Mataconis on Scribd