Public Accepts Body Scanners, Divided On Pat-Down Searches
Despite the recent media outrage over TSA search procedures, public attitudes on the subject remain largely supportive.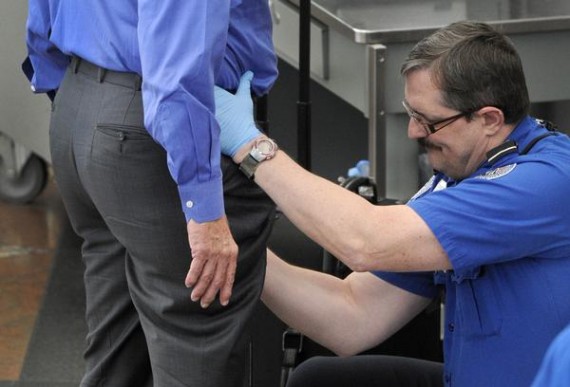 After almost two weeks of media coverage, the American public still seems to support the presence of body image scanners in airports, but is far less comfortable with the new pat-down searches that some have described as "groping," according to a new poll:
Nearly two-thirds of Americans support the new full-body security-screening machines at the country's airports, as most say they put higher priority on combating terrorism than protecting personal privacy, according to a new Washington Post-ABC News poll.

But half of all those polled say enhanced pat-down searches go too far.

The uproar over the new generation of security technology, and the frisking of those who refuse it, continued Monday with Homeland Security Secretary Janet Napolitano saying the new measures are necessary for public safety.

"There is a continued threat against aviation involving those who seek to smuggle powders and gels that can be used as explosives on airplanes," she said. "The new technology is designed to help us identify those individuals."

According to the Transportation Security Administration, less than 3 percent of travelers receive the pat-downs.

But Napolitano said the TSA would "listen to concerns. Of course we will make adjustments or changes when called upon, but not changes or adjustments that will affect the basic operational capability that we need to have to make sure that air travel remains safe."

One possibility that could generate public support is the use of profiling at airports, where the TSA would single out specific passengers for extra screening based on available information. Overall, 70 percent of Americans back the idea, which has been floated as an alternative.
These numbers are down from the 80% support that body image scanners had in a poll taken before the controversy erupted, which is probably a reflection of the almost non-stop negative coverage that has come out about TSA procedures in general over the past ten days or so. Not surprisingly, the numbers are somewhat different for people who fly on a regular basis:
Two factors behind the public's reaction to the new airport-screening procedures: Few Americans fly regularly and their concern about the risk of terrorism on commercial aircraft remains muted.

Just 15 percent of those polled say they travel by plane every few months. Most say they fly less than once a year or never. Sixty-six percent say the risk of terrorism on airplanes is not that great.

Those who say they take flights at least once every year are less supportive of the new scanners than those who rarely or never fly, although most still like the idea. By 54 percent to 43 percent, those who fly at least once annually say the pat-down procedure goes too far.
Meanwhile, via Hit & Run, airline security expert Bruce Schneier says that all of these security methods are nothing more than "security theater" that will have no real impact on actual security:
Q: Has there been a case since 9/11 of an attempted hijacker being thwarted by airport security?

A: None that we've heard of. The TSA will say, "Oh, we're not allowed to talk about successes." That's actually bullsh*t. They talk about successes all the time. If they did catch someone, especially during the Bush years, you could be damned sure we'd know about it. And the fact that we didn't means that there weren't any. Because the threat was imaginary. It's not much of a threat. As excess deaths go, it's just way down in the noise. More than 40,000 people die each year in car crashes. It's 9/11 every month. The threat is really overblown….

Q: Do you think there's been an over-reaction, on the part of the government and the press, to the underwear bomber?

A: That case was really instructive. Nobody was injured, and the plane landed safely. It was a success! And it was pre 9-11 security that made it a success. Because we screen for superficial guns and bombs, he had to resort to a syringe and 90 minutes in the bathroom with a bomb that didn't work. This is what success looks like. Stop bellyaching!

Q: What's the motive behind introducing this new level of security?

A: It's politics. You have to be seen as doing something, even if nothing is the smart thing to do. You can't be seen as doing nothing.

Q: Is this security theater?

A: 100 percent. It won't catch anybody.
Of course, that assumes that "catching" anyone is the motive behind security ramp-ups like the one we're experiencing now. Like Schneier says, this has more to do with the powers-that-be making sure that they're seen to be doing something even if what they're doing isn't actually dealing with a security threat and is doing little more than inconveniencing large numbers of innocent air travelers and subjecting Americans to searches usually reserved for suspected criminals being taken into custody. As this poll indicates, despite the outcry we've seen in the media, that seems to be working out just fine. It reminds me of something a wise man once said; "They who can give up essential liberty to obtain a little temporary safety, deserve neither liberty nor safety."