Backlash at TSA Security Finally Happening?
It appears that full body scanners, operated by leering yahoos under the cover of government authority, may finally be rousing the sheep who have meekly submitted to the absurd delays and indignities that have been piled on since 9/11 and sundry botched attempts.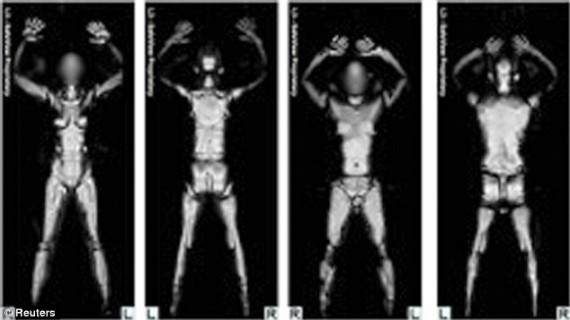 It appears that full body scanners, operated by leering yahoos under the cover of government authority, may finally be rousing the sheep who have meekly submitted to the absurd delays and indignities that have been piled on since 9/11 and sundry botched attempts.  CNN reports a "Growing backlash against TSA body scanners, pat-downs."
A growing pilot and passenger revolt over full-body scans and what many consider intrusive pat-downs couldn't have come at a worse time for the nation's air travel system.

Thanksgiving, the busiest travel time of the year, is less than two weeks away.  Grassroots groups are urging travelers to either not fly or to protest by opting out of the full-body scanners and undergo time-consuming pat-downs instead.

Such concerns prompted a meeting Friday of Homeland Security Secretary Janet Napolitano with leaders of travel industry groups.  Napolitano met with the U.S.Travel Association and 20 travel companies "to underscore the Department's continued commitment to partnering with the nation's travel and tourism industry to facilitate the flow of trade and travel while maintaining high security standards to protect the American people," the department said in a statement.

[…]"While the meeting with Secretary Napolitano was informative, it was not entirely reassuring," the U.S. Travel Association said in a statement.  "We certainly understand the challenges that DHS confronts, but the question remains, 'where do we draw the line'? Our country desperately needs a long-term vision for aviation security screening, rather than an endless reaction to yesterday's threat," the statement said. "At the same time, fundamental American values must be protected."

The travel industry is concerned that consumers may decide not to take a plane to Aunt Gertrude's for the holiday.  "We have received hundreds of e-mails and phone calls from travelers vowing to stop flying," Geoff Freeman, an executive vice president of the U.S. Travel Association, told Reuters.  A 2008 survey found that air travelers "avoided" 41 million trips because they believed the air travel system was either "broken" or in need of "moderate correction," the U.S. Travel Association said. The decisions cost airlines $9.4 billion, the survey said.

One online group, "National Opt Out Day" calls for a day of protest against the scanners on Wednesday, November 24, the busiest travel day of the year.  Another group argues the TSA should remove the scanners from all airports. The Electronic Privacy Information Center (EPIC), a non-profit privacy advocacy group, is taking legal action, saying the TSA should be required to conduct a public rule-making to evaluate the privacy, security and health risks caused by the body scanners.

Pilots' unions for US Airways and American Airlines are urging their members to avoid full-body scanning at airport security checkpoints, citing health risks and concerns about intrusiveness and security officer behavior.  "Pilots should NOT submit to AIT (Advanced Imaging Technology) screening," wrote Capt. Mike Cleary, president of the U.S. Airline Pilots Association, in a letter to members this week. USAPA represents more than 5,000 US Airways pilots.  "Based on currently available medical information, USAPA has determined that frequent exposure to TSA-operated scanner devices may subject pilots to significant health risks," Cleary wrote.

Napolitano told industry leaders that biometric identification, such as retinal scanning and thorough background checks will expedite the screening of 80,000 passengers who participate in "trusted traveler" programs, the department said.

In a blog posting this week, the TSA said pat-downs "have long been one of the many security measures TSA and virtually every other nation has used in its risk-based approach to help detect hidden and dangerous items such as explosives like the one we saw in the failed terrorist attack last Christmas Day."

[…]

The TSA has deployed nearly 350 advanced imaging technology (body scanner) units in nearly 70 U.S. airports, administrator John Pistole said recently. "By the end of calendar year 2011, we plan to have deployed approximately 1,000 units."  The agency is exploring enhancements to the technology.  "This capability would make screening more efficient and would eliminate most privacy concerns about the technology," Pistole said.

Privacy concerns aren't the only reason for protests.  Some scientists and two major airline pilots unions contend not enough is known about the effects of the small doses of X-ray radiation emitted by one of the two types of airport scanning machines.  The Transportation Security Administration's advanced imaging technology machines use two separate means of creating images of passengers — backscatter X-ray technology and millimeter-wave technology.  While the TSA says the machines are safe, backscatter technology raises concerns among some because it uses small doses of ionizing radiation. The use of millimeter-wave technology hasn't received the same attention, and radiation experts say it poses no known health risks.
The Atlantic's James Fallows links several articles pointing to more evidence of a backlash.  Among them is a Salon piece by Patrick Smith ("News flash: Deadly terrorism existed before 9/11") which reminds us that there were all manner of terrorist attacks involving air travel in the 1980s and we didn't flip out.
Fallows' colleague Jeffrey Goldberg has been chronicling his personal resistance for a few weeks. In "For the First Time, the TSA Meets Resistance," he reports on a trip last month through Baltimore:
At BWI, I told the officer who directed me to the back-scatter that I preferred a pat-down. I did this in order to see how effective the manual search would be. When I made this request, a number of TSA officers, to my surprise, began laughing. I asked why. One of them — the one who would eventually conduct my pat-down — said that the rules were changing shortly, and that I would soon understand why the back-scatter was preferable to the manual search. I asked him if the new guidelines included a cavity search. "No way. You think Congress would allow that?"

I answered, "If you're a terrorist, you're going to hide your weapons in your anus or your vagina." He blushed when I said "vagina."

"Yes, but starting tomorrow, we're going to start searching your crotchal area" — this is the word he used, "crotchal" — and you're not going to like it."

"What am I not going to like?" I asked.

"We have to search up your thighs and between your legs until we meet resistance," he explained.

"Resistance?" I asked.

"Your testicles," he explained.

'That's funny," I said, "because 'The Resistance' is the actual name I've given to my testicles."

[…]

I asked him if he was looking forward to conducting the full-on pat-downs. "Nobody's going to do it," he said, "once they find out that we're going to do."

In other words, people, when faced with a choice, will inevitably choose the Dick-Measuring Device over molestation? "That's what we're hoping for. We're trying to get everyone into the machine." He called over a colleague. "Tell him what you call the back-scatter," he said. "The Dick-Measuring Device," I said. "That's the truth," the other officer responded.

The pat-down at BWI was fairly vigorous, by the usual tame standards of the TSA, but it was nothing like the one I received the next day at T.F. Green in Providence. Apparently, I was the very first passenger to ask to opt-out of back-scatter imaging. Several TSA officers heard me choose the pat-down, and they reacted in a way meant to make the ordinary passenger feel very badly about his decision. One officer said to a colleague who was obviously going to be assigned to me, "Get new gloves, man, you're going to need them where you're going."

[…]

I draw three lessons from this week's experience: The pat-down, while more effective than previous pat-downs, will not stop dedicated and clever terrorists from smuggling on board small weapons or explosives. When I served as a military policeman in an Israeli army prison, many of the prisoners "bangled" contraband up their asses. I know this not because I checked, but because eventually they told me this when I asked.

The second lesson is that the effectiveness of pat-downs does not matter very much, because the obvious goal of the TSA is to make the pat-down embarrassing enough for the average passenger that the vast majority of people will choose high-tech humiliation over the low-tech ball check.

The third lesson remains constant: By the time terrorist plotters make it to the airport, it is, generally speaking, too late to stop them. Plots must be broken up long before the plotters reach the target. If they are smart enough to make it to the airport without arrest, it is almost axiomatically true that they will be smart enough to figure out a way to bring weapons aboard a plane.
In a follow-up ("'Are Any Parts of Your Body Sore?' Asks the Man From TSA")
Reagan National, 6:40 a.m. today. I opt-out of the humiliating back-scatter machine and ask for a pat-down. Once again, the TSA officers eye me suspiciously. "Wait here," one says. I wait, and wait some more. One obvious technique the TSA is using to funnel passengers through the back-scatter imager is to waste their time — many people can't afford to wait five minutes for a pat-down, and will exchange the humiliation of the Federal Dick-Measurer for a speedier trip through security.
So, Americans are going to either have to give up the right to fly — something we've taken for granted for nearly a century — or endure further indignities and invasions of our privacy from immature, low IQ yahoos to whom we've foolishly given badges and empowered as Federal agents.  All, incidentally, as a bit of security theater to give the illusion of safety that virtually no one is buying anymore.
Alas, the agents have all the power here.  Their ability to embarrass, harass, and delay citizens while conducting unreasonable searches and seizures will ensure that only a token number resist the scans.  And full-body gropings aren't exactly less intrusive.
The more likely way to change this is for the airline industry to use their muscle to force a change. They haven't managed to do it so far, despite the annoyances and delays of the previous layers of security theater.   And, surely, they're losing money as more of us opt to drive for mid-length trips.
Regardless, I'm slightly amused that scanners seem to be the final straw.  While they're intrusive, they at least potentially make flying infinitesimally safer.  That's more than I can say for tacking  my laptop out and putting it in a separate tray, taking off my shoes, taking off my sport coat, putting all my toiletries in a plastic bag, disallowing normal sized tubes of toothpaste, and so forth.