Rahm Emanuel Leaving White House, Running For Chicago Mayor
White House chief of staff Rahm Emanuel is leaving his job at week's end to run for mayor of Chicago.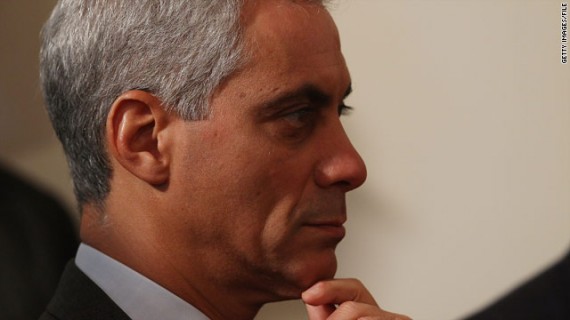 White House chief of staff Rahm Emanuel is leaving his job at week's end to run for mayor of Chicago, multiple sources report.   ABC's Jake Tapper and Sunlen Miller:
Although no final decision has been made because of family considerations, ABC News has learned that White House officials are preparing for Chief of Staff Rahm Emanuel to announce on Friday — as Congress adjourns for recess — that he is leaving his post to explore a run for mayor of Chicago.

White House officials expect that President Obama will also name an interim chief of staff, perhaps senior adviser Pete Rouse, at the announcement.

[…]

The former Chicagoan has never been coy about his desire to head the proverbial City With Shoulders.

"One day I would like to run for mayor of the city of Chicago. … That's always been an aspiration of mine, even when I was in the House of Representatives," Emanuel said in April to Bloomberg's Charlie Rose. With Daley's announced exit, ambitious Chicago Democrats quickly began angling to replace him, creating pressure for Emanuel to make a decision on his White House position soon, even coming from the president himself.

"I think that Rahm will have to make a decision quickly, because running for mayor of Chicago is a serious enterprise," President Obama said Monday on NBC's "Today Show." "He hasn't told me yet. But as soon as he does, I'm sure that we'll announce it."

The president has been clear that Emanuel has his blessing when the job opened, aides calling it an "unbelievably attractive opportunity" for anyone that the president would support.
While ABC's story has all manner of hedging language, CNN has already sent out a Breaking News alert and John King says it's a done deal.
Three Democratic sources close to Rahm Emanuel tell CNN that the White House chief of staff informed senior colleagues he is all but certain to run for mayor of Chicago, and will leave the White House to take the final exploratory steps.

Close associates are already building a campaign team according to sources.

An announcement by Emanuel is expected to be scheduled for Friday, sources said.  One of the sources, a prominent Democrat close to the White House chief of staff, told CNN, "We see nothing that will stop a run. But you don't announce a campaign for mayor of Chicago in Washington, D.C. You leave and go home and finish your business there."

[…]

Assuming there is no hitch – and none is expected – longtime Obama adviser Pete Rouse is in line to be tapped as interim chief of staff, two of the sources said.
We discussed this a couple weeks back on OTB Radio, with longtime Chicagoan Dave Schuler saying that the key to winning the Democratic nomination, and thus all but guaranteeing the mayoralty, is securing the support of the Daley Machine. One presumes Emanuel has either received strong assurances that he'll have it.