Raising Taxes on Other People Very Popular
President Biden's pollster has made an amazing discovery.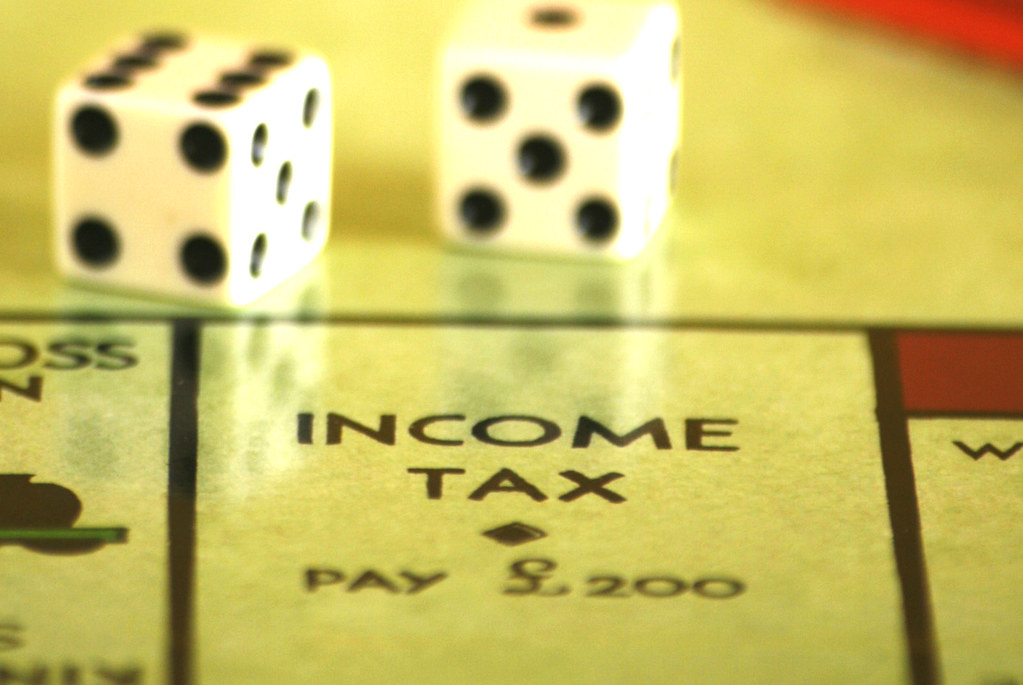 Axios ("Biden pollster urges blunt tax talk"):
The top pollster for Joe Biden's presidential campaign is advising the White House to do something that often makes Democrats nervous: Talk loudly and proudly about raising taxes on the rich.

Why it matters: John Anzalone tells Axios his extensive polling and research has found that few issues receive broader support than raising taxes on corporations and people earning more than $400,000 a year. Anzalone's view — which he pushed during the campaign, and which the new president's inner circle seems to share — is that Biden should go on offense on tax hikes. He should make raising taxes on the wealthy and corporations a standout feature of his messaging, rather than a necessary evil to fund his $3 trillion-plus spending plans, Anzalone argues.

[…]

Anzalone says Republicans will brand Democrats as "tax increasers" regardless of what they do, so they would be best served by framing the tax debate themselves. "The middle class is tired of carrying the tax burden for the country," he said. "They are pissed off. They aren't anti-rich or anti-corporate. They are anti-not paying your fair share." He said voters "know the rich and big corporations have the power, accountants, lawyers and tax law on their side to avoid paying their fair share" and "they just want those holes plugged and a fair rate so the country can make investments in the economy, health care and education."

By the numbers: Poll after poll after poll after poll support Anzalone's analysis. A November New York Times / Survey Monkey poll found "two-thirds of Americans (67%) support raising taxes on those making $400,000 or more," including "70% of independents and nearly half of Republicans and GOP leaners (45%)."
That raising taxes on other people is popular is hardly surprising. George Bernard Shaw told nearly eighty years ago that "A government which robs Peter to pay Paul, can always count on the support of Paul." By defining "the rich" as those making more than 98 percent of people, it's not shocking that 67 percent agree with taxing them more; indeed, the shock is the 21 percent below that threshold who don't.
Beyond that, I don't recall Democrats being afraid to talk about taxing the rich. Indeed, it's been a central message as long as I can remember. They've just been careful to make sure "the rich" are defined in a way that the average voter can't imagine themselves joining the cohort.
The silliness of the popularity argument aside, most Americans at least vaguely understand the law of diminishing marginal utility. A hundred dollars is a windfall to a very poor person and meaningless to a billionaire. While what constitutes a "fair share" is, of course, debatable, our tax system is and always has been progressive, taxing those with means at a higher rate and excusing those who earn very little from paying federal income taxes altogether.
The nonpartisan Tax Foundation looks at 2017, the most recent year data is available, and reports:
*In 2017, 143.3 million taxpayers reported earning $10.9 trillion in adjusted gross income and paid $1.6 trillion in individual income taxes.

*The share of reported income earned by the top 1 percent of taxpayers rose to 21 percent, from 19.7 percent in 2016. Their share of federal individual income taxes rose to 38.5 percent, from to 37.3 percent in 2016.

*In 2017, the top 50 percent of all taxpayers paid 97 percent of all individual income taxes, while the bottom 50 percent paid the remaining 3 percent.

*The top 1 percent paid a greater share of individual income taxes (38.5 percent) than the bottom 90 percent combined (29.9 percent).

*The top 1 percent of taxpayers paid a 26.8 percent average individual income tax rate, which is more than six times higher than taxpayers in the bottom 50 percent (4.0 percent).
A Kiplinger report puts the same data into tabular form: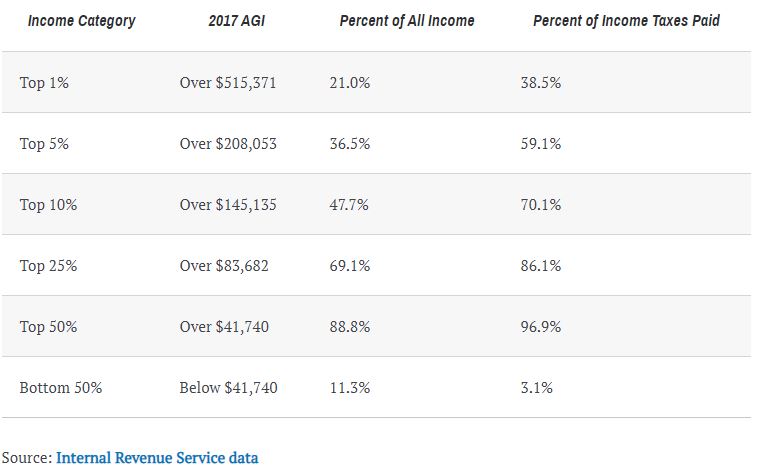 Now, this was the last year of the Obama-era tax code, so things likely skewed somewhat in the other direction after the Trump tax reforms that went into effect the following year. They radically reduced the corporate tax rate but also eliminated or capped loopholes, notably the state and local tax write-off, that mostly benefitted the well-off.
Also, as the Intercept's Jon Walsh rightly notes, federal income taxes are only part of the picture. State and local taxes tend to be less progressive, especially given their reliance on sales taxes. That's relevant when talking about the overall tax burden—but not when talking about the federal tax code.
More to the point, as Walsh and Brookings' David Wessel note, even at the federal level, the cap on Social Security payroll taxes (currently $142,800) exempts most of the income of truly high earners. Because we treat Social Security as a separate account—and cap monthly Social Security benefits at $3,148 a month—it's perfectly reasonable to also cap the taxes. But, given that Social Security is simply an entitlement paid for out of the general Treasury, we could simply eliminate separate payroll taxes for it and Medicare altogether in favor of a higher income tax, all of which would be subject to collection.
Regardless, the claim that "the rich" are evading taxes because they have armies of lawyers and accountants—and that "the middle class" is carrying the burden for them—is mostly a lie. Its true of massive corporations, who can make hide their profits such that appear to be made in tax havens like Ireland and, to a lesser extent, the ultra-rich whose income is mostly from the financial sector. But the lawyer, physician, or entrepreneur pulling in $500,000 a year is likely paying what he owes.