Rand Paul Admits What Ted Cruz Won't: The "Defund Obamacare" Plan Won't Succeed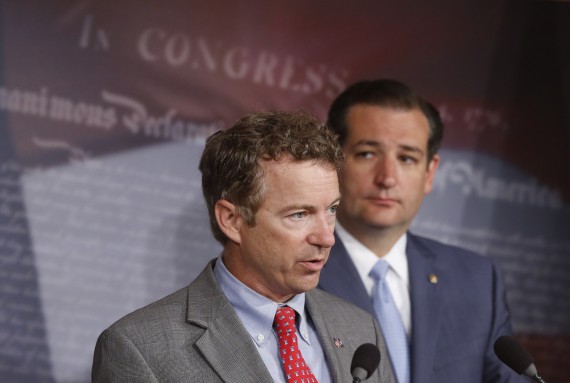 Rand Paul is playing politics of the "Defund Obamacare" movement far differently than his fellow Senator Ted Cruz:
U.S. Sen. Rand Paul, a libertarian leader and potential presidential contender, said Saturday Republicans likely have lost the battle on repealing Obamacare and should focus on improving the president's signature health care law.

Paul struck a tone of realism Saturday — a day after the U.S. House voted for the 42nd time to derail the Affordable Care Act. The latest effort was a condition of funding federal operations past Sept. 30 or risking a government shutdown.

"I'm acknowledging that we probably can't defeat or get rid of Obamacare but by starting with our position of not funding it maybe we get to a position where we make it less bad," Paul, R-Ky., told reporters at the Mackinac Republican Leadership Conference.

(…)

As for Obamacare, Paul says the GOP are united about defunding it because their constituents are universally urging them to. But there needs to be agreement on strategy.

"Because Democrats perceive disunity, our leverage doesn't really work," Paul said. "Leverage doesn't work unless people believe you'll actually do something. The fact that Democrats don't believe we'll do anything, in the end they'll get what they want and a bill will be cobbled together."

The Democratic-led Senate will take up the defunding legislation next week. President Obama has threatened to veto the plan and the Senate is expected to strip out offending Obamacare provisions and send a clean version back the the U.S. House.

Had the U.S. House leadership pushed the strategy three months ago, perhaps the different House and Senate versions could be hashed out in a conference committee and result in compromise on improving Obamacare, Paul said. But with a week left before the government runs out of money, Paul says lawmakers shouldn't shut down the government over this issue.
Ironically, one of the people blocking efforts to set up a House-Senate Conference Committee to iron out the differences between the Budgets the two chambers had passed was a Senator from Texas named Ted Cruz.
As for Paul, it's clear that he agrees with the general Republican idea that the PPACA is flawed and should be repealed. Indeed, I doubt you'll find a single member of the Senate GOP caucus who feels otherwise. Many of those Senators clearly don't agree with Cruz's tactics, though, and Paul is at least willing to admit that the entire scheme isn't going to work.