Rand Paul: Delay Immigration Reform Because Of Boston Attacks
Another Senator wants to delay immigration reform because of the attacks in Boston.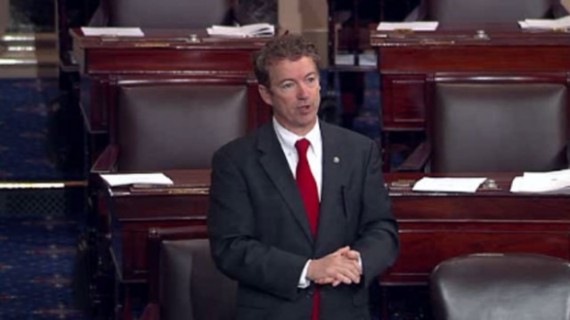 Senator Rand Paul has joined the list of those calling for a delay in discussions about immigration reform because of the issues raised by the attacks in Boston:
Sen. Rand Paul (R-Ky.) on Monday threw some cold water on the just-begun process ofdebating new immigration legislation, saying any such push should be delayed until after the country can address why the two suspected Boston bombers were allowed to immigrate to the United States.

"We should not proceed until we understand the specific failures of our immigration system," Paul said in a letter to Senate Majority Leader Harry Reid (D-Nev.). "Why did the current system allow two individuals to immigrate to the United States from the Chechen Republic in Russia, an area known as a hotbed of Islamic extremism, who then committed acts of terrorism?"

Paul added: "The facts emerging in the Boston Marathon bombing have exposed a weakness in our current system. If we don't use this debate as an opportunity to fix flaws in our current system, flaws made even more evident last week, then we will not be doing our jobs."
I addressed the merits of the arguments of people like Paul regarding how to proceed in immigration reform in my post yesterday. As I noted in that post, it's completely illegitimate to try to tie the Boston attacks to "failures of our immigration system" as Paul calls it. When the Tsarnaev brothers came to the United States, they were roughtly 8 and 14 years old respectively. How, exactly, were the relevant immigration officials that handled their family's refugee status request supposed to make any determination about what might happen more than ten years in the future when those two boys would become adults? It's absurd, of course, just as it's absurd to point to the Tsarnaev case as an example of anything relevant in the immigration reform debate. There were no immigration failures in the Tsarnaev case because, at the time they entered the country, there were obviously no signs that the Tsarnaev children, or the family, were some kind of national security threat, at least not according to any evidence available to us today.
There's one other issue that comes to mind.
The only reason that "border security" is an issue in the immigration reform debate is because it's fairly clear that there's no way that a reform package can make it through Congress without Republican support, and there's no way it's going to get Republican support is if it addresses border security in some manner. Ideally, border security would be seen for what it is, a national security issue, and not tied up in a debate over reforming a broken immigration system. The same goes for any issues related to terrorism. Just as "border security" has become wrapped up in the immigration debate for political reasons, it's entirely possible that the same thing will happen with the terrorism issue. What that means for the future of immigration reform remains to be seen.